PUNJAB

HARYANA

JAMMU & KASHMIR

HIMACHAL

REGIONAL BRIEFS

NATION

OPINIONS

LETTERS

BUSINESS

SPORTS

WORLD


M A I N N E W S
Parliament attack mastermind Afzal Guru hanged
Body buried in Delhiís Tihar Jail after early morning execution
President had rejected his mercy plea on February 3
Tribune News Service
It was over in 8 minutes

Late Friday evening: Afzal informed about his hanging in Tihar Jail after a death warrant by a Delhi court


Saturday, 5 am: Woken up, offers prayers


7.30 am: Led to the gallows; calmly approaches noose


8 am: Hanged in front of eight persons in a procedure that took 8 minutes


The hanging took place about 20 metres from his 16x12-ft cell in Jail No. 3 where he spent over 10 years in solitary confinement


He was happy and healthy before being hanged, said jail Director General Vimla Mehra. Sources said he was Ďremorselessí


A Muslim cleric was present during his hanging


Tihar Jail, the countryís largest prison, witnessed a hanging after 24 years. Afzal is the 7th man hanged inside the prison since 1981
ó TNS & Agencies
New Delhi, February 9
Parliament attack convict Afzal Guru was hanged to death in Tihar Jail here on Saturday morning, less than a week after President Pranab Mukherjee rejected his mercy plea.
The execution was carried out in a meticulously-planned manner at 8 am inside the jail. His body was buried on the premises in accordance with religious rites. The jail witnessed a hanging after 24 years. Guru was the seventh man hanged inside the prison since 1981.
Guruís is the second hanging of a terror-related convict in three months, signalling what is seen as a firm resolve of the ruling UPA combine to deal with terror-related cases.
Ajmal Kasab, one of the 26/11 Mumbai attackers, was hanged at Puneís Yerwada Jail on November 21, 2012. Like last time, official confirmation of the hanging was made public only after it was carried out. ďWe donít announce our steps... Law and justice is taking its course,Ē Union Home Secretary RK Singh said.


Dec 13, 2001
Vicious attack that brought India, Pak close to war
The assault on Parliament was masterminded by Lashkar-e-Toiba and Jaish-e-Mohammed. It led to the death of eight securitymen and one gardener. It also led to increased tensions between India and Pakistan and the 2001-2002 stand-off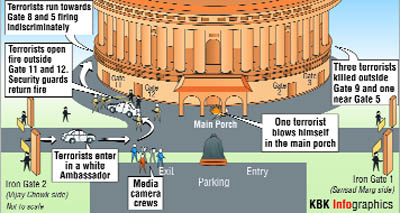 Five gunmen infiltrated Parliament complex in a car with Home Ministry and Parliament labels


While both Houses had been adjourned 40 minutes prior to the incident, many MPs and ministers such as Home Minister LK Advani and MoS for Defence Harin Pathak were in the House


The gunmen drove their vehicle into Vice-President Krishan Kantís car (he was inside the building), got out, and began firing


The Vice-Presidentís guards and securitymen shot back, started closing gates


Constable Kamlesh Kumari first spotted the terrorists. One gunman wearing a suicide vest was shot dead; the vest exploded. The other four gunmen were also killed


Seven policemen, a Parliament security guard and gardener killed; 18 injured. MPs, ministers, escaped unhurt


Dec 15: Afzal Guru, a Jaish member from J&K detained. SAR Geelani of Delhi varsity picked up; Afsan Guru and her husband Shaukat Hussain Guru detained later

Nine persons were killed in the December 13, 2001, attack on Parliament House when five heavily-armed Pakistani terrorists drove into the complex and opened fire. There were about 100 MPs, including then PM Atal Bihari Vajpayee and his Cabinet members, in the building at the time of the attack.
All the terrorists were shot dead. Guru was convicted of plotting the attack, which had triggered one of the biggest deployments of the Indian Army along its border with Pakistan, bringing the nuclear-armed neighbours to the brink of war.
A final call on Guruís mercy petition had been pending since 2006 when his wife had petitioned the President. The Supreme Court had handed out the death sentence to Afzal Guru in 2005. However, the execution, originally scheduled for October 2006, was stayed, once the mercy petition was filed.
The last movement in the case was when the President sent it back to Shinde for a review and to seek a confirmation of whether he agreed with the views of his predecessor P Chidambaram on Guruís sentence.