Three cheers to love
Reviewed by Geetu Vaid

Love Stories that Touched My Heart
Edited by Ravinder Singh.
Penguin. Pages 242. Rs 125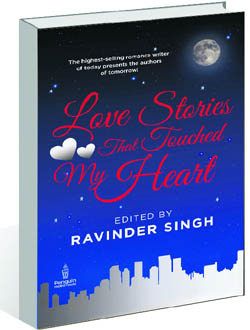 Come February and the hype about Valentine's Day starts building up all around. Love and love stories seem to be the flavour of the month. So the three titles under review have this four-letter word as the common thread.
Everyone has a love story, beautiful, sad or sordid; successful or heartbreaking, but a story nonetheless. The perennial appeal of each story lies in its uniqueness as the repertory of love is fathomless and the shades of this complex emotion are immense. Love Stories that Touched My Heart is a collection of short stories by budding writers. Chosen and edited by Ravinder Singh, who had touched a million hearts with his first book, I Too Had a Love Story, this collection basically provides a platform to wannabe writers to get their works published. Each of the 24 tales presents a different take on love ranging from the very modern, Just Because I Made Love To You Doesn't Mean I Love You to Love Is Also a Compromise. The stories have been chosen to present a 'holistic' picture of this 'simply complex' emotion. The amateur feel of the collection lends it a fresh appeal which makes it a good leisurely read as well as a good gift for your Valentine. Our cultural values add another dimension to the way love and relationships are seen and assessed.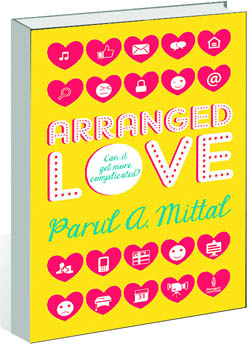 Arranged Love
By Parul Mittal.
Penguin. Pages 234. Rs 150.
Arranged Love by Parul Mittal mirrors the dilemmas of a "modern" Gen X in this love marriage vs. arranged marriage set up. Through software professional Suhaani's quest for love and her Mr Right, Mittal presents a very FaceBook-generation take on love and relationships. The setting is the fast-paced dotcom world and the main protagonist is the independent girl who can flirt and talk freely about the 'taboo' word. Mittal, an IITian with a "way with words", scores a point on the language front and keeps up the momentum like a seasoned story teller. The basic plot, however, does get cliched and much like a well-worn marriage where one knows what to expect. Though it is difficult to shake off the M&B feel, read it for language and taste some absolute knock outs like: "Love is like a game of poker. The longer you play the higher your stakes become and the harder it is to give up"; and the mushy , A college fling is like a Friday evening plan. You have a plan B and C in case plan A doesn't work out. Love is like the smile that you want to wear everyday for the rest of your life. You don't want options when you are in love".
Love Stories 1 to 14
By Annie Zaidi.
Harper Collins. Pages 314. Rs 350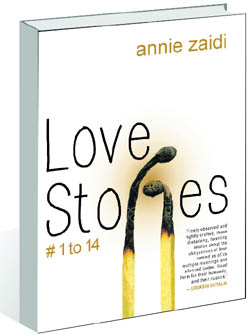 Annie Zaidi's Love Stories 1 to 14 is another collection of short stories that traverses the quicksilver terrain of this emotion. She celebrates the formlessness and fluidity of love through an intentional destructuring of the basic premises of a literary work. The stories, though numbered, are not presented in a sequence. Her characters have no names and stories have titles like The One With Cheese In It, The one that was announced, and the third person narrative keeps one vacillating between involvement and detachment with the story. With this collection, Zaidi presents a refreshing syntax. Poignant and poetic, each story makes one explore the magical depths, colours and the very soul of this emotion like a deep sea diver. With each story, Zaidi unveils a different layer of love, whether it is a young woman's almost obsessive love for a dead cop that salvages her affair in The One That Was Badly Wanted, or the irony of friends who end up marrying "suitable" partners in The One That Was Foolish. The One That Stepped Off A Broken Down Bus is a kind of philosophical take on relationships through a dialogue between two co passengers, and The One That Came Limping Back projects the pain of heartbreak. Whether it is the desire, frustration, need for companionship or heartbreak, she manages to capture all nuances through her characters. Zaidi's poetic touch is unmistakable in each story. Cerebral but not cynical, stark yet subtle these stories bring a different perspective on love. And this is what makes this collection worth reading.