M A I N N E W S
15 Kumbh pilgrims die in Allahabad train station chaos
Tribune News Service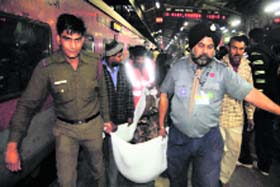 Policemen and rescuers carry the body of a victim of the stampede at the Allahabad rail station on Sunday. — PTI
Lucknow, February 10
At least 15 pilgrims were killed and several others injured in a stampede on a foot overbridge on platform number 6 at the Allahabad railway station when the police reportedly resorted to lathicharge to control the rush of pilgrims returning to catch trains after taking a holy dip at the Sangam on the occasion of Mauni Amavasya.
No official figure of those killed or injured in the stampede had been released by the authorities till midnight. Those killed included at least six women, sources said.
Chief Minister Akhilesh Yadav has announced an ex gratia of Rs 5 lakh each for the dead and Rs 1 lakh for the injured. He has also ordered an inquiry to be conducted by the chairperson of the Revenue Board.
As grievously injured were still in the process of being shifted to the district and railway hospitals even five hours after the accident, the death toll is likely to go up. The platforms were full with the shocked and wailing relatives of the victims. Hours after the accident, they were seen squatting around the uncovered bodies of their family members.
Relatives and eyewitnesses were angry at the "gross negligence" of the authorities in anticipating the situation and provide relief in its aftermath. Relatives were seen waiting for shrouds to cover the bodies and assistance to remove injured to hospitals.
Despite the much-hyped preparedness of the mela administration, there was hardly any semblance of disaster management, sources said.
Prime Minister Manmohan Singh, UP Chief Minister Akhilesh Yadav, Railway Minister Pawan Bansal and BSP national president Mayawati have expressed grief over the incident that took place a little before 7 pm.
Senior officers of the Railways, district and mela administration and even the mediapersons could not reach the place for at least two hours after the accident as all roads were blocked due to a heavy rush of pilgrims. Even around 10 pm, more than 2 lakh persons were reported to be present at the railway station, forcing the administration to block all entry points. This made it difficult for the medical teams to reach there.
Eyewitnesses said the police had to use force to control the massive crowd at the railway station. This led to disorder on the stairs of the overbridge on platform number 6, leading to death of pilgrims in the stampede. The authorities, however, denied that the police lathicharge was a reason behind the stampede.
how it happened
6.30 pm: Platform Nos. 5 and 6 teeming with thousands returning after a holy dip at the Maha Kumbh
A railing leading to the foot overbridge over Platform 6 collapses as hundreds rush to board a train after an announcement
Eyewitnesses claim a lathicharge compounded the tragedy
Divisional Railway Manager Harinder Rao says the incident happened when passengers were being told to stand in a line to regulate crowd movement
stampede at maha Kumbh
Earlier in the day, two pilgrims were killed in a stampede at the Maha Kumbh here as over three crore people converged for a holy dip on the occasion of 'Mauni Amavasya', a day considered the most auspicious day during the 12-yearly congregation. A woman from Varanasi and a middle-aged man from West Bengal were killed