Indian-origin man in Rs 800-cr US green card fraud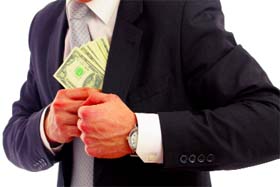 Washington, February 10
US markets regulator SEC has charged an Indian-origin person of running a fraud investment scheme, wherein Chinese and other investors were allegedly duped of at least $150 million (over Rs 800 crore) in hope of green-card American residency.
The Securities and Exchange Commission (SEC) said in a statement that a district court has granted it a "temporary restraining order and asset freeze" against 29-year old Anshoo Sethi and two of his companies involved in running this fraudulent scheme, as its investigations continue further.
As per SEC's charges, Illinois-based Sethi created two entities, namely A Chicago Convention Center (ACCC) and Intercontinental Regional Center Trust of Chicago (IRCTC), and fraudulently sold more than $145 million in securities and collected $11 million in administrative fees from over 250 investors, primarily from China.
Sethi and his companies duped investors into believing that by purchasing interests in ACCC, they would be financing construction of the "World's First Zero Carbon Emission Platinum LEED certified" hotel and conference centre near Chicago's O'Hare Airport, SEC said.
"Investors were misled to believe their investments were simultaneously enhancing their prospects for US citizenship through the EB-5 Immigrant Investor Pilot Program, which provides foreign investors an avenue to US residency by investing in domestic projects that will create or preserve a minimum number of jobs for US workers," it added.
According to the SEC's complaint filed in US District Court for the Northern District of Illinois, the EB-5 program enables foreign investors to possibly qualify for a green card if they invest $1 million (or $500,000 in a Targeted Employment Area with a high unemployment rate) in a project that creates or preserves at least 10 jobs for US workers, excluding the investor and his or her immediate family.
SEC's complaint further said that 29-year-old Sethi claimed to have "over 15 years experience in real estate development and management", while the project's developer was projected as having experience of more than 35 years of experience despite being set up only in 2010.
Sethi and his companies have also been accused of falsely boasting to investors that they had acquired all the necessary building permits and that several major hotel chains had signed onto the project. — PTI