Love-ly affair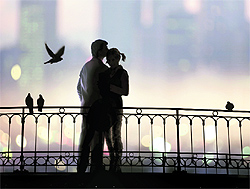 This is just another day when both of them will go out for dinner. She dresses up, nothing special, only adding an extra layer of kohl in her eyes. Both drive down to a restaurant, not talking much. He looks at her admiringly, something she is witnessing after a long time. They take their place on the 'reserved' table. She buries herself behind the menu card and in a split second he is on his knees with a flower in hand -'you are the most precious part of my life.' A moment that gets engraved in the heart forever! Here are some people sharing their special moments with us.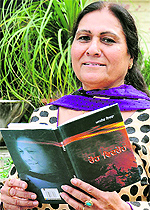 Angst, anguish & rebellion
Punjabi poetess Manjit Indira is a born rebel, a woman who dares to call spade a spade. Only as she brings out her new book of poetry Roh Vidroh after a gap of eight years, the voice of rebellion is steeped in deep anguish. Pained by the happenings around her, she registers her protest not just against the subservient position of women in society, but other injustices too. Says she, "I am a woman…call me a feminist voice if you wish but that doesn't mean I am not a human being."


Write Move: Manjit Indira
The business of beauty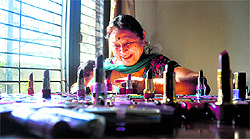 If South India can boast of an entrepreneur Kiran Majumdar Shaw of Biotique fame, we in the North have 'The lipstick lady '- the ever-smiling and graceful cosmetologist Vijay Dhingra, whose brainchild 'Beautyka' has grown from a mere sapling in 1990 to a full grown tree today, which has spread its branches not only all over Punjab but also Himachal Pradesh, Uttar Pradesh, Haryana and Jammu & Kashmir.
Roll on: Vijay Dhingra. Photo: Himanshu Mahajan
fashion funda
Clean & clear

Fashion designer Raj Shroff started his label in 2004 and has gone places since then, quite literally. He set off his designer journey from Bengaluru and touched Florida, Milan, London and Colombo. In his spring summer collection at the WIFW, he presented an ensemble dominated by the ivory and ebony. He shares his tips on fashion for the season and tells what he admires Marc Jacobs for.
Black & white: Raj Shroff
Flavours of Italy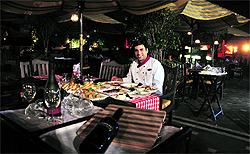 It's time to relish Italian cuisines as Terrace Grill (Ludhiana) is donning Italian flavours with Vilaggio Italiano food festival. Garden fresh salads, homemade pastas like gnocchi, ravioli, tortellini tossed in sauces like arrabiatta, aglio olio e, peperocino, boscaiola, carbonara, nasone, bolognese are being served. Pollo picatta, pan seared fish, char grilled lamb loin, agnolotti di agnello brasato add to the Italian experience.
On the platter: Relish the spread of Italian cuisines at Terrace Grill
Trendsetter
Elegance redefined
Here's a girl who is as confident as cheerful she can be while keeping it dangerously stylish and elegant. Bani Seth was clicked by the Vogue magazine for Ensemble, a fashion house for all Indian brands, and her latest obsession is fashion photography. Currently pursuing her Bachelors degree in SD College, Sector 32, she comes candid with her signature style.
stress buster
Give yourself quality time
Being busy and remaining that way is a way of life in today's world. If we are not living our lives at a certain pace we feel left behind. Being busy now days is the rule and not the exception. If you are busy, stressed and not paying enough attention towards it then you are in serious trouble.
Shop till you drop
DLF City Centre mall in IT Park has been decorated to welcome Valentine's Day as part of the Be My Valentine shopping fiesta on till March 2,2013. The mall has been decked up in red and pink. The main attraction of the fiesta is a mega draw in which a shopper can shop for ~5,000 or above and win diamond jewellery worth ~2.2 lakhs.

Kajol's got the looks
Kajol has lost eighteen kilos and is looking more gorgeous than ever. Here is how she worked her magic. We do not want you to get into comparison mode but simply want you to be inspired. Keep in mind that she had the resources of time, wealth, domestic help and professional help handy as she underwent her superb makeover.

Makeover magic: Kajol
Balancing act
Chitrangda Singh is known as Tina to her family and friends in Delhi. This stunning mother of one is unabashedly hot and sexy. She talks about balancing her family, movies and more.

Ranbir Kapoor turns producer!
In a bid to emulate his grand dad Raj Kapoor, we have been hearing that Ranbir Kapoor has been toying with the idea of producing a film. Now, here comes the news that the actor has taken the first significant step in that direction. The actor, who is gearing up for Anurag Kashyap-led Phantom Productions' ambitious project Bombay Velvet, has decided to come on board as a co-producer for the same.
New role: Ranbir Kapoor
Freedom of expression
As finally the dusts of controversies settle around the movie Vishwaroopam, Kamal Haasan is a visibly relieved man. The movie was banned by the Tamil Nadu government on the context that the movie contained certain scenes which would hurt the sentiments of the Muslim community.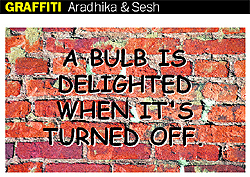 star track
Happy union
Singer Shibani Kashyap got married in Delhi's cold recently. She got married to Rajiv Roda and it was an intimate affair and lasted till the wee hours of the morning where all the guests and bride and groom sang and danced and ate in high spirits! We wish the couple a happy union!
chatter box
Wedding can wait
Pooja Gor and Raj Singh Arora, who have been dating each other for a few years, say they have no plans to tie a knot in the near future. Pooja, who rose to fame with her hit TV show Pratigya, is currently seen in Channel V's The Serial.
Astro turf
ARIES: You can achieve quite a lot once you get going. Never trust a stranger. Socially, you may have some problems with a loved one; however, it would not be too serious. Tarot message: You need to be creative if you want to retain your grip over your business. Lucky colour: Fuchsia. Lucky number: 60
The year ahead
If your birthday is February 11...