Pelvic discharge: Prevention is better than cure
Dr Meenal Kumar
Not-so-shy Meera, 21, confided in her gynaecologist the symptoms that she could no longer hide, "foul smelling discharge, burning during urination, itching around the genitals and not feeling well and…..avoiding boy friends".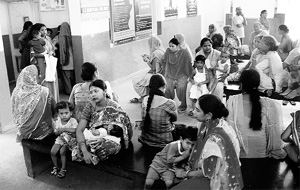 "It could be due to some infection with bacteria, protozoa, virus or fungi, sometimes more causes than one can be present at the same time," the doctor opined and enquired if she could undergo internal examination!
"Well, I don't mind an examination, but I want to recover fast from this nuisance, which has lowered my self-esteem to the extent that I feel dehumanised before my friends," Meera blurted and then put a volley of questions impatiently.
"What it could be? Is it contagious? Is it serious? Can it be a venereal disease? Can it lead to cancer? Can it be cured in a short time? Will it require surgery? Will it affect my life when I get married? I am worried doctor."
The doctor counselled, "It could be vaginitis, it will require some investigations and adequate treatment. Your contacts will also require attention for any infection. But prevention would be necessary to ward off subsequent episodes.
The discharge may be normal
The discharge is such a common condition that every woman would have experienced it at one time or the other. There could be normal discharge that may be clear or white, thin or thick. It is not odorous, and there is no itching. The amount can vary, as can odour and hue (its colour can range from clear to a milky whitish), depending on the time in your menstrual cycle. For example, there will be more discharge if you are ovulating, breastfeeding, or are sexually aroused. The smell may be different if you are pregnant, or you haven't been diligent about your personal hygiene. None of those changes is a cause for alarm. However, if the colour, smell or consistency seem significantly unusual, especially if accompanied by vaginal itching or burning, you could be noticing an infection.
Causes of abnormal discharge
When the discharge is yellow or green in colour, it is unlikely to be normal. A foul-smelling discharge is usually from an infection. A thick, white, itchy, cottage cheese-like non-odorous discharge is often caused by a yeast infection. Infections of vagina are termed as vaginitis. Vaginitis may also occur because of chemical irritation (e.g. excessive douching, or the excessive use of over-the-counter medications or cosmetics). Sexually transmitted diseases like Gonorrhoea and Chlamydia may cause abnormal discharge along with pain with urination, pelvic pain and bleeding.
Chlamydia is most common in young women (18 to 35 years) who have multiple sexual partners. Herpes simplex virus is also common and is spread by sexual contact. The primary symptom of herpes vaginitis is pain associated with lesions or "sores".
These sores usually are visible on the genitals but occasionally are inside the vagina. Another source of viral vaginal infection is the human papilloma virus (HPV). This requires PAP smear testing.
Use of steroids and antibiotics, birth control pills, diabetes, cancer of the cervix, pelvic inflammatory disease, menopause and some foreign body in the passage may be other causes.
How to prevent vaginitis
* Keep your genital area clean. Wash daily.
* Keep your genital area dry. Wear cotton underwear. Avoid nylon panties, pantyhose without a cotton panel and tight jeans.
l* Good hygiene is important; toilet paper should be used to wipe from the front to the back side, and water ablution is better than the use of paper.
* Do not douche or use chemicals that may cause irritation or allergy.
* Do not use feminine hygiene products.
* Do not take an antibiotic on your own, since antibiotic kills "friendly" bacteria that normally keep the yeast in balance.
* Do treat diabetes early, if detected.
* Use condom, if sex is a must. Restraint and caution are the watchwords.
* Screening for sexually transmitted diseases and PAP smear at intervals is a good practice in the case of multiple sexual partners.
*l While taking full treatment for yourself, take adequate treatment for your partner(s) also.
* Ask specifically, should I abstain from intercourse? Should I continue using the vaginal cream during my period, date for the next visit.
* Avoid cigarette smoking and other toxic products.
* One research study found a definite role of vaginal probiotic capsule in the prevention of subsequent attacks of bacterial vaginosis.
* The possibility of cancer cervix rises with multiple partners. Shun the game and lead a sober life.
The writer is a senior gynaecologist based in Chandigarh. Email — drkumar232@hotmail.com