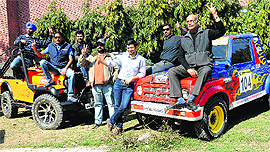 Storm in the desert
The only sound that breaks the silence of the place is the grinding of the engines. Any passersby can raise an eyebrow over the decibels and might even qualify it as 'noise pollution'. To these guys, however, it is the most peaceful sound that they have ever heard; it is like a pace-maker for their heart!
SPEED DEMONS: The participants in the 11th edition of the Maruti Suzuki Desert Storm 2013 are all eager to perform. Photo: Pradeep Tewari

Notes to each other
Right below where he keeps all his new collection of music, Neeraj Sarkar, a bank employee from Mohali, finds a folded paper; he pulls it out in an instant. He can't believe his eyes — it is the first love letter he got from a college friend, expressing her one-sided, undying love for him!
Doc Talk
For the love of beauty
Love is all around, and it's time to look your best. And this is how you can do that.
Raise a toast

It hits you like a hurricane of flavours and it takes you just a while to gulp it down. It defies all norms of traditional eating. Fast food has come a long way through generations and in this era it gives you the liberty to throw your forks, spoons, knives and table mats far away and bite into the lip-smacking subs, pizzas and sammies.
fast forward: (L-R) Jagrit Sahni, Jitender Sahni & Jagjot Pangli. Photo: Pradeep Tewari

CELEB POINT
Life's lessons
I was irritated for having missed a deal because of date issues. That was something I really wanted to do. As my car stopped at the signal, I saw a man standing there in tattered clothes. Looked like he hadn't had a bath for ages, he had a bottle of chilled mineral water in hand. Someone, it seems, must have given it to him at the signal.

No Flop show
Flip-flops are certainly adding some style to the world of fashion. The 'desi' rubber V-shape chappals have had a make-over and are out to make a statement. These have also become part of many footwear brands' collections for both men and women.
Classical touch
Anzer Furniture has unveiled a comprehensive range of furniture for bed room, dining room, living room and office to mark their first anniversary of its inception. 
star track
Kareena's style dilemma
Kareena Kapoor has a strange dilemma. The fashionable actress is spoilt for choice when it comes to style icons and cannot choose between her sister Karisma Kapoor and mother-in-law Sharmila Tagore.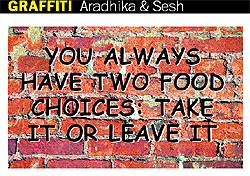 chatter box
New innings
Kavita Kaushik, who gained popularity with the comedy show FIR, telecast on Sab TV, has quit the show because she does not want to do two shows on the same channel simultaneously. She signed the show, Tota Weds Maina (TMW), which replaced FIR's time slot last month. The six-year-old FIR was shifted to weekends by the channel.
The year ahead
If your birthday is February 13...
Astro turf
ARIES: Heartaches of the past are forgotten as you get a new lease of life at work. There is an annoying tendency of someone in a position of authority. You can expect visitors or a communication from overseas. Tarot message: Use your instinct to get into the top circle of power. Lucky colour: White. Lucky number: 35