Piece de resistance
Furniture today is no longer boring or functional. It makes a distinctly personal statement
Divisha Saran
How would you like your chair to give you the experience of riding on the back of an elephant or a walrus or your tabletop to be held up by a grizzly bear or sitting on a dining table suspended in air? No, this is not fiction. All this is being dreamed up by designers and turned into reality. There's an absolute furniture revolution going on out there. If you have deep pockets and an avant garde style, it may be time to give your pad a whole new look by chucking out those couches and cabinets and indulging in some fantasy stuff.
Time was when furniture shopping was need-based. People generally preferred practical, useful and heavy pieces that would last them a lifetime. However, nowadays like all things beautiful, furniture has moved out of the realm of the mundane. No longer a boring or functional buy, furniture today makes a personal statement.
Today, trends and ideas tend to reflect a person's myriad moods. There is no one individual style. Modern furniture blends the traditional Indian with the contemporary, and sometimes, quirky Western. It is simply a synthesis of kitsch and elegance creating a range of products that echo the owner's persona.
Classy and stunning
Such classy furniture is no longer cheap and inexpensive. With the entry of global designers like Casa Armani, Hulsta, Lava East, Visionaire and others, the designs have gone international, and so have the prices. For example, the French luxury brand Lalique Maison offers a classy and stunning bedroom revamp at its showroom in Emporio Mall in Delhi for Rs 55 lakh, which includes a bed, console, mirror, lamp and cigar box.
Despite the costs, the business of modern furniture is booming. At the same venue as Lalique, the Casa Paradox interiors and furniture stores owned by Raseel Gujral and Naveen Ansal specialises in distinctive decoratives that instantly catch the eye. The pieces are a connoisseur's delight and the store retails some of the most exclusive collection of furniture and art décor. All the pieces are handpicked and have a distinctive style of their own. Furniture styles are changing like clouds before the wind. Heavy and bulky pieces are out. Today's furniture is noticeably light and airy, with sleek metallic touches. A delicate decoration like a glass-topped centre table with carved wooden peacocks for bases can add pizzaz to any room in the house.
Daring trends
Designing experts say that traditional wood is out, as it tends to give furniture a weighty look. Pastels and dull colours, too, have given way to daring reds, blues, yellows and pinks. Today, trendy means simple lines that are sleek and extremely chic.
The forms are aimed at providing sophisticated yet functional and trendy furniture for the design conscious. Elegance and a touch of quirkiness are the keywords of modern furnishings. Wildlife and nature-inspired themes, bold colours and wacky shapes are in vogue.
A Delhi-based design house Idus, for example, imports a lot of exotica that showcases the changing preferences of high-end consumers. It recently got special chairs designed by celebrated Filipino designer Kenneth Cobonpue.
These were no ordinary chairs. Some of these were made of microfibre stitched over a resin top with a steel base, others had poly-cotton and sunbrella fabrics twisted and wrapped around a frame. Yet another set of chairs were made of natural and stained rattan vines woven on a frame of mild steel in a design. Needless to say, the price of each chairs ranged between Rs 46,000 and Rs 1.25 lakh.
Customised designs
Gautam Dhawan, who launched his flagship store of customised Interior designs in Delhi called the Exhibit D, has collaborated with Singapore's furniture and interior accessories company Lava East known for using everything that nature has to offer for its creations, including such wood species as suar, myrtle, acacia, satinwood, and the rare kengklang and exotic cocobolo.
According to designer Niharika Das, "Exclusivity, individuality and uniqueness are the buzzwords when it comes to designer furniture. Fusion and style are all about a unique class. The idea is to let your imagination roll, and let nature help you fuse some oomph into your interiors."
Furniture today, adds Niharika, should be light and durable but with an element of fun. People should give up sticking to the tried and tested because it is all about exploring the beauty of art and nature within your four walls.
DUFFY'S TABLE WITH SHADOW CHAIRS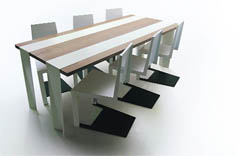 A dining table from London design house Duffy uses its runners as its structure. The runners run the length of the table falling off the edge to become the legs. At first glance, the chairs seem to defy gravity by standing upright with only two front legs but on closer inspection, the shadow is part of the chair.
Price: Rs 6,80,000 (£8,165)
GRIZZLY BEAR TABLE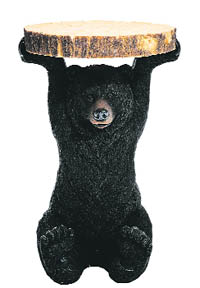 It's a combination of a sculpture of a bear holding a tabletop. The resin-cast sculpture of a bear acts as the perfect base for the wooden table. The creative Bear Table by American designer Edwin Torpe is guaranteed to add a sense of drama to your living room.



Price: Rs 44,000 ($800)


ANIMAL COLLECTION
Spanish furniture designer Maximo Riera has stunned the design world with his Animal Chair collection. It has a diverse range of intricately moulded pieces ranging from mammals to reptiles, and even insects. The designer believes the collection helps connect with wildlife.

Price: Ranging from Rs 30,80,000 to Rs 57,20,000 per piece ($56,000 to $1,04,000)


LAVA EAST CONFERENCE TABLE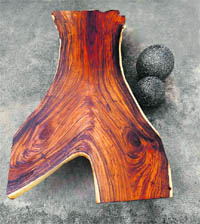 This unusually table in Suar wood from Lava East, Singapore is a part of Delhi-based furniture designer Gautam Dhawan's collection. One of the durable hardwoods, Suar is extremely suitable for furniture. The huge trunk size makes it a wonderful design for a conference table.



Price: Rs 700,000 (Made to Order only)


PORTSIDE CAFE BALLIMARAN BED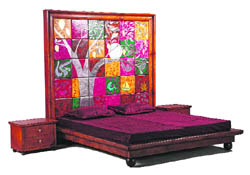 This bed with a headboard measuring 7 ft x 7 ft by Portside Café is a tribute to the artisans of Balli Maran area of Delhi who beat silver and gold to make warqs, which are used on Indian sweets. Psychedelic colours come together to form a tree with gold and silver warq-like leaves.
Price: Rs 3,94,000
UBER CHIC COLLECTION FROM VISIONNAIRE
I
talian luxury brand Visionnaire has introduced a new collection of uber chic furniture in India showcased at its flagship store in Delhi. The furniture blends classic Baroque sculptural curves and refined finishes together with minimalism to create a new interpretation of luxury.
Price on request
WOODCRAFT IN GEOMETRIC DESIGNS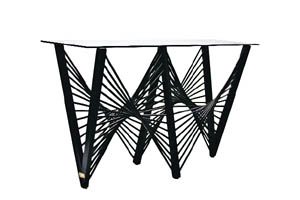 If you like things modern, then take a look at imported furniture by designer Vito Selma from the Philippines. Brought to India by Idus, the range includes lounge chairs, coffee tables, side tables, cocktail tables and consoles, which are an amalgam of geometry and woodcraft.

Price on request


CREATIVE CHAIRS FROM IDUS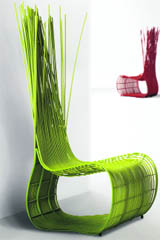 Imaginative shapes are the hallmark of Idus the luxury furniture brand situated in Delhi. An example of this is the Bloom Easy chair handmade from microfibre stitched over a resin top with a steel base and the Yoda side chair made of stained rattan vines woven on a frame of mild steel.




Price: Bloom Easy chair Rs 1,20,000 & Yoda side chair-Rs 46,000
CHAIR DESIGNED FOR GEEKS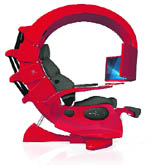 If you spend eight to 10 hours a day on the computer, you know how uncomfortable it can get. Enter the Emperor 1510 workstation, a piece of futuristic office furniture. This stunning chair is close to floating around weightless in outer space as you're going to get here on Earth.
Price: Rs 22 lakh $40,000
COFFEE TABLE BY BOCONCEPT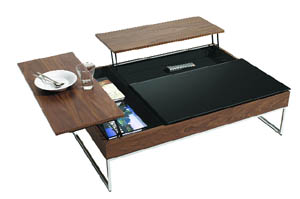 A leading global brand of contemporary furniture, Boconcept is known for its imaginative pieces like the Occa Coffee Table, which has separate compartments that allow you to stash remotes and magazines, besides the raised top that lets you work on a laptop or eat without hunching over.
Price: Rs 49,750



Basic styles of furniture
Though furniture-making dates back to the Stone Age and the Neolithic Period, it has evolved over the ages and is today divided into several distinct styles which are clearly defined and have been going in and out of fashion intermittently. The five basic designs are: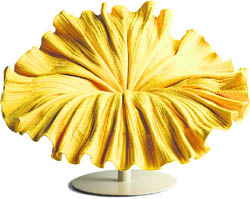 Empire style
The 19th century Empire style of furniture marked a sudden shift from the earlier Baroque style and survived centuries and generations. It originated in France and had motifs and symbols of the archaeological treasures of the Egyptian and Roman empires — two countries that Napoleon conquered.
Classical
This solid hard-wood furniture is usually hand-crafted in cherry, maple or oak wood. It is usually heavily upholstered and lends a certain warmth to the interiors. Very popular in the first half of the 20th century, it does not find favour with modern designers as the trends have changed to 'lighter' pieces.
Antique
This is a style that has never lost its lure and appeals to people who have a predilection for retro pieces. Though fakes abound in plenty, much of the genuine antiques in India have been salvaged from rundown havelis and palaces of Rajasthan, Gujarat, Punjab, Madhya Pradesh and other states.
Art Deco
This style was prevalent in the 1920s through the 1960s and was heavily inspired by three styles. It got its perfect proportions from the Greco-Roman architecture, its two-dimensional appearance from Egyptian art and its shimmering and lustrous finish from Asian artifacts. It was, thus, highly ornamental and preferred by the rich gentry.
Contemporary
The trends prevalent today are a complete departure from the earlier manner of furniture. Pieces are Spartan and there is simplicity, sometimes bordering on the quirky side. This clutter-free and non-chaotic style is what separates a modern classy home from a messy one. Where less is more and not a bore!