When verse got better & fresher
Reviewed by Rakhshanda Jalil
The Harper Collins Book of English Poetry
Edited by Sudeep Sen. Harper Collins. Pages 541. Rs 599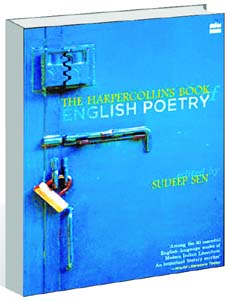 FOR far too long poetry has been the neglected child of Indian Writing in English (IWE). While the short story and novel have had a spectacular flowering in the early years of this three-decade old phenomenon called IWE, the poetry being written by Indians in English — while in itself neither new nor radical —has received lesser acclaim. In fact, almost all the major (Indian) poetic voices have traditionally lent themselves to serve the Muse through other art forms as well: Vikram Seth, Amit Chaudhri, Keki Daruwalla, Anita Nair, Anjum Hasan, Chitra Banerjee Divakaruni, almost all have dabbled in other literary genres and gained greater fame.
Why is this so? Why have the writers of short stories and novels gained greater acclaim, won more prizes, created a name for themselves in national and international fora? Why have fiction writers grabbed a greater share of the limelight - be it in the 'book pages' of literary supplements and newspapers or in the discussion slots of lit-fests? Why do mainstream publishers fight shy of publishing poetry?
Is it because, in an already shrinking market of book buyers, fewer people read poetry? Troubling though these questions are, there has also been a dedicated group of publishers and editors who have been nurturing the cause of Indian poetry in English. Sudeep Sen has been at the vanguard of this movement to ensure these poetic voices get heard.
An internationally published poet and recipient of several awards, Sen is regarded as a major voice in the present crop of Indian writers. Having worked as an editor for many years, he brings to the task of editing an anthology of modern poetry a certain `E9clat and a certain innate ability to capture the poetic pulse of a literary culture.
The Harper Collins Book of English Poetry, edited by Sen, showcases the vibrant poetic culture of not just India but also includes those who those ware scattered far and wide in the diaspora and regardless of their geographic moorings, nevertheless display a quintessentially Indian sensibility. Its contemporaneity is reflected in the fact that unlike most such anthologies of Indian poetry it doesn't begin with Rabindranath Tagore and end with Nissim Ezekiel; in fact, it includes only those born post-1950 and so reflects the modern, the new and the lesser-heard. And it is these lesser-heard voices that reveal the real face of modern India. Taken together, they reveal the movement over the past 60 years, the emergence of new concerns and new styles, the shedding of older, more stylised patterns.
Since the bulk of these poems were written specially for this volume, there is a freshness here and none of the ennui and jaded brilliance that have become the bane of hastily-cobbled anthologies.
Whether it is A. J. Thomas describing the countenance of his dying mother in Fading, or Marilyn Noronha questioning the need to establish caste and creed in Urban Equity, or Reshmna Aquil painting a gentle vignette in The Backyard, or Usha Kishore announcing her faith in a smile and a prayer to ward off evil in Amulets, or Vijay Nambisan recalling his childhood when he would lie awake at night listening to his parents talk in bed in Grown-Up. Page after page of this thoughtfully edited anthology reveals life as it is lived and experienced by countless Indians. It deserves a place in every home, for what the Palgrave's Golden Treasury meant for a previous generation, this book could well come to mean for the present one.
Birthplace (with Buried Stones)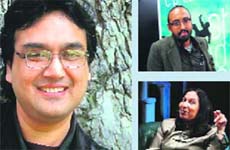 Getting poetry its due: (Clockwise): Sudeep Sen, CP Surendran and Meena Alexander
In the absence of reliable ghosts I made aria
Coughing into emptiness, and it came
A west wind from the plains with its arbitrary arsenal:
Torn sails from the Ganga river,
Bits of spurned silk,
Strips of jute to be fashioned into lines,
What words stake - sentence and
make believe,
A lyric summoning.
— Meena Alexander
Malabari: Inspiration
Space shot with yellow
April and May burn Malabar
Laburnum's last coast.
Enter June, on long stilts of rain
Putting out the fire in floral eyes
By its watery breath. Brightness blinded.
Little ixora and jasmine
Nod their heads to the beating rain:
Tremble for the peace between two blows
Remembering laburnum
The firmness of that flame.
— C. P. Surendran