Prescription drug misuse may complicate illnesses
Dr Rajeev Gupta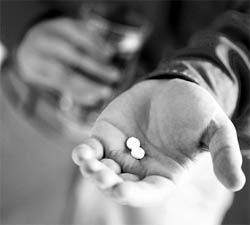 Prescription drug misuse is a worldwide phenomenon and has also become a cause for serious public health concern in our country. Death of pop-singer Michael Jackson has been alleged to be caused by overdose of prescription pain-killers.
Prescription drug abuse happens when someone takes medicines that were prescribed for someone else or takes his own prescription medicines in excess to relieve pain, to stay awake, or to fall asleep. Prescription drugs are often misused for non-medical reasons and can alter the brain functioning leading to dependence. It has been classified as an epidemic by the US-based Center for Disease Control and Prevention. The last decade has seen a substantial rise in the recreational use of pharma drugs across South Asia as well. India is the fourth largest producer of pharmaceuticals globally. The first-ever national drug survey of 2002 did not cover the use of prescription drugs. Economic growth in the past decade has given a boost to the use of stimulants and designer drugs.
The Northeast, Delhi, Punjab, Haryana, Odisha and metros have emerged as major consumers and hubs of these drugs.
Common causes of misuse of prescription drugs:

They are cheap.

They are easy to carry.

They are easily available from drug stores.

They are not illegal drugs.

They are easy to get through others' prescriptions as well.

They are quickly obtained even without doctors consultation.

They are conveniently available to the medically ignorant public.

They are considered safer than illegal drugs.

Less shame and guilt attached.

Fewer side-effects than the illegal drugs.

Their use does not carry stigma.

There is an increased acceptability among the medical community about the use of opiates for pain management and de-addiction.

How are prescription drugs abused?

Most prescription drugs come in pills, capsules or liquid form; a few are in the form of injections as well. Sometimes, people who abuse prescription drugs break or crush the pill or capsule, then swallow the drug, sniff it, or heat it — turn it to liquid — and then inject it. It is well known that many IV drug abusers prepare their own injections in highly unhygienic conditions. Sharing of needles and syringes is quiet common among these users, exposing them to serious infections like Hepatitis B, Hepatitis C & HIV. Recent upsurge of hepatitis C in Punjab has been partially contributed by IV drug abuse.

Among the commonly abused classes of prescription drugs are opioids (for pain), central nervous system (CNS) depressants (for anxiety and sleep disorders), and stimulants (for ADHD and narcolepsy).

Why you should not abuse prescription drugs?

All medicines have given side-effects. Doctors weigh the need of prescribing a given medicine and the side-effects of the drug. There is a golden rule in medical practice: use medicines only and when indicated. Never use them casually, for fun and without medical advice. If a particular dose can help a patient, at a higher dose the same medicine can severely harm the user. Two or more drugs used in wrong combinations can lead to serious consequences. Once you take more than one drug, they can have drug interactions. The common man has no knowledge of these medicines and no one is well equipped to start his own treatment. If one starts doing that, then he can't escape the negative consequences. In our country, a large number of unqualified people prescribe such medicines without adequate knowledge, training and experience and are causing immense harm to society.

According to the National Center on Addiction and Substance Abuse at Columbia University, the teens who abuse prescription medicines are twice more likely to use alcohol, marijuana and illegal street drugs such as heroin, ecstasy and cocaine than the teens who don't abuse prescription medicines.

When abused, prescription drugs may be taken in inappropriate doses or by routes of administration that change the way the drugs act in the body, risking overdose.

Stimulants increase attention but also raise blood pressure and the heart rate. They can lead to complications in patients having cardiac problems. These side-effects can be made worse when prescription drugs are not taken as prescribed or are abused in combination with other substances — including alcohol, and even over-the-counter drugs, such as cold medicines. For instance, some people mix alcohol and sleeping pills both of which can slow breathing.

Medications that affect the brain can change the way it functions — especially when they are taken repeatedly or in large doses. They can alter the reward system of the brain, making it harder to feel good without the drug and can lead to intense cravings, which make it hard to stop using. Addiction is a real possibility with these drugs. When abruptly stopped, they can lead to serious withdrawal symptoms.

Remember: All medicines have to be consumed with sufficient caution and precautions, and always under proper medical supervision.

The writer is a senior psychiatrist and de-addiction specialist based in Ludhiana. rajeevgupta11@yahoo.co.in