M A I N N E W S
moga bypoll
SAD, Cong make their pitch, voting tomorrow
Tribune News Service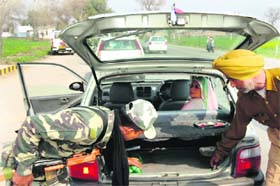 Security has been stepped up for the polling.
Chandigarh, February 21
Campaigning for the Moga byelection, necessitated by the crossing over of a Congress legislator to the SAD in Punjab, came to an end this evening with both main contestants holding road shows in their last-ditch effort to woo voters. The voting will be held on February 23.
Congress legislator from Moga - Joginderpal Jain - who recently quit the party has been fielded as an SAD nominee from the same seat. The move is aimed at demoralising the Congress further after defeating it in the 2011 Assembly elections.
In a big turnaround for the Punjab Congress, its senior leaders put up a joint front against the Akalis in Moga, with Pradesh Congress president Capt Amarinder Singh leading from the front.
While the byelection is a fight between SAD candidate Jain and Congress nominee Vijay Sathi, the real war is between Capt Amarinder and SAD President Sukhbir Badal.
The election result is crucial for Amarinder as the party has to shortly decide on who will lead the Pradesh Congress in the state. For Sukhbir, the election is a test of his political tactics, which are very different from those of his father and Chief Minister Parkash Singh Badal.
The SAD started the campaign riding on Jainís personal vote bank, which it hopes, coupled with partyís own hold in the rural areas, will see them through. But Jainís candidature took a hit in the urban areas initially due to lack of cooperation by senior Akali leaders, including Tota Singh and former DGP PS Gill. Jain was also unable to match Vijay Sathiís jibes.
During the course of the campaign, however, Tota and Gill fell in line. Sukhbir has also displayed his conflict management skills in the rural areas where the party has got a good response. In the final days, the SAD concentrated on Moga town with the aim of breaking the Congress citadel.
For the Congress, its support among urbanites in the town is the key to winning the election. Party leaders feel they will get a portion of the votes in the rural areas and if the urbanites stand by them, Sathi will win.
Last two days are crucial especially with allegations surfacing that many outsiders may stay back in the constituency after this eveningís deadline. Senior Congress leader Tejinder Bittu, who is campaigning in the town, said vigilante teams had been constituted and that people were being asked through posters to report outsiders immediately.
While Sukhbir is confident that development of the constituency will remain the only issue before the electorate on February 23, Capt Amarinder feels the electorate will punish the Akalis for manipulation of ďsand and gravelĒ rates as well as bungling on the law and order front.
Whatís on the line
It is a two-way contest between SAD candidate Joginderpal Jain and Cong nominee Vijay Sathi in Moga
Jain had recently quit as Cong legislator and joined SAD
Poll crucial for PCC chief Capt Amarinder Singh as the party will soon decide on its Pradesh Cong leader in the state
For Sukhbir, itís a test of his political tactics, which are very different from those of his father Parkash Singh Badal