Real expectations
Banking on Budget
Geetu Vaid
Sailing through choppy waters for the past 12 months, the realty sector has its hopes pinned on this year's Budget to get back on the growth track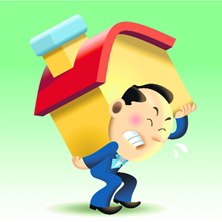 Thinkstockphotos/Getty images

Even though buying a new home in the tricity has been on the priority list of Sarthak Shukla for the past few months, he has been postponing the decision. This 30-something telecom sector employee is among lakhs of homebuyers and investors all over the country who are eagerly awaiting the Union Budget in the hope that the Finance Minister will have some favourable provisions for them and the real estate sector. The industry bigwigs, too, are expecting a better deal this year.
Though a majority of developers have been putting up a brave face and claim to have a good response to their projects, the fact remains that the realty sector has had a rough ride over the past 12 months in most of the areas in the country. Piling inventories, lack of funds, rising cost of construction, delayed projects, reluctant investors and missing buyers are the ground realities that no one can ignore or pooh pooh any longer. Even "promising" areas like the tricity and its periphery have seen price corrections with experts forecasting further fall in prices if the booster shot of suitable measures is not given to this sector in the Budget this year. "The macro-economic concerns are having a cascading effect on the Indian real estate. With GDP not likely to cross the 5.7 to 5.9 per cent mark and inflation levels remaining high, immediate and effective steps are needed to address the situation", says Anuj Puri, Chairman and Country Head, Jones Lang LaSalle India. "It is high time that the government took a pragmatic and practical look at the real estate sector today and take steps that help the industry in particular and the economy in general," concurs CREDAI national president Lalit Kumar Jain.
The forthcoming Budget session will also see the tabling of two crucial Bills regarding regulation in the real estate sector and land acquisition provisions. Both these Bills will have a substantial effect on the sector on the whole as far as prices and transparency of realty deals are concerned. But apart from this, the main stakeholders have a lot of expectations from the Finance Minister to put the sector back on the growth track.
The country's housing shortage is at a staggering 18.1 million and an incremental need is around another 10 million houses. In its Budget wish list CREDAI has called for an inclusive housing policy and special zone to boost small and affordable houses. Jain suggested to the Finance Minister to allow tax exemption for small houses of under-60 sq m of carpet area and creation of special housing zones with tax exemptions on the lines of SEZ for constructing 45 sq m houses for low-income groups and 30 sq m houses for the economically weaker sections.
The "fundamental right to own a home, raising the income tax exemption limit on interest paid on home loans to Rs 4 lakh and 2 per cent subsidy on home loan" were the three main points on the Budget wish list of homebuyers as per the findings of a survey conducted by property website makaan.com recently. Almost 27 per cent of homebuyers in this survey favoured an increase in the exemption limit on repayment of interest on home loan from Rs 1.5 lakh to Rs 4 lakh per annum, while 85 per cent saw urgent need for a "dispute redressal mechanism" to safeguard their interests in this year's Budget.
Some of the key expectations of the sector from this year's Budget include:
Change in status
The demand for industry status for the realty sector has been a long-pending demand of the sector. "By granting it industry status, the government would enable the sector to access debt lending at better interest rates and reduced collateral values", says Anuj Puri.
Experts have also sought infrastructure status for affordable/low-cost housing. This will provide for funds at lower interest rates as infrastructure falls within the priority sector lending of banks. Infrastructure status would mean that developers would be covered under Section 80-IA of the Income-Tax Act allowing them to avail 100 per cent deduction for profits and gains derived from such business for 10 consecutive assessment years. Sachin Sandhir, MD, RICS South Asia, suggests that "affordable housing" should be brought under the infrastructure definition and affordable housing be treated as 'public purpose'. "This would augment the flow of much-needed credit to the affordable housing segment through various sources such as IIFCL, Infrastructure NBFCs, insurance companies (mandated to finance infrastructure), ECBs etc".
The National Real Estate Development Council (NAREDCO) has sought changing the definition of infrastructure facility so that integrated townships and group housing societies may be benefited. NAREDCO suggests that in the definition of 'infrastructure facility' the following clause may also be added: "An integrated township and group housing development on area more than 10 acres involving provision of residential, educational, medical, community, commercial or institutional buildings and creation of required facilities including roads, water supply, water treatment, sanitation and sewerage systems and solid waste treatment and management systems".
Promoting rental housing
The shortage of housing in the country has brought the focus on rental housing and demand for giving a boost to this segment is also gaining momentum. NAREDCO has suggested that the income from renting of properties should be taxed at a flat rate of 10 per cent from the current 30 per cent. High cost of houses and high property taxes lead to a low rate of return (ROR) from rental housing making renting out an un-remunerative proposition.
To improve the effective ROR from renting, it is suggested that the deduction from rental income under Section 24(a) be increased from 30 to 50 per cent. This will promote rental housing. Commenting on the steps required in this regard Sanjay Dutt, Executive Managing Director, South Asia, Cushman & Wakefield says, "Rental housing in the affordable housing segment should be encouraged by setting up public 'Housing Associations' (HA) that construct, own, operate and manage the rental housing units. The necessary funding could be either provided through budgetary allocations or with the Credit Guarantee Trust Fund, setup by the Government last year, guaranteeing the loans taken by these HAs".
"Increasing the limit of deduction on account of interest payment on housing loans from Rs 1.5 lakh to the fullest extent in case of owner-occupied houses; modifying the tenancy laws to protect the interest of the property owners so that owners are encouraged to freely rent their premises", adds Sandhir. Suggesting the formation of a proper Real Estate Investment Trust (REIT), CREDAI also called for special rental housing projects under the affordable segment, treating the expenditure as capital investment for long-term capital gains, exemption from Income Tax, Service Tax, VAT and Stamp Duty for rental housing. "Even the rental income from these projects must be exempted from Income Tax as the indirect benefits are far too many", says Lalit Jain.
Revision of home loan limit for priority sector lending
The increasing prices of homes have been the main handicap for an increasing number of homebuyers. In view of the rising prices the home loan limit of Rs 25 lakh should be revised to Rs 35 lakh under PSL, in order to benefit an increased number of home buyers. "Bank loans to government agencies involved in the construction of affordable housing units should also be relaxed from the existing Rs 5 lakh to Rs 25 lakh per dwelling unit", says Sandhir.
Controlling the escalation in input costs
The input prices for construction have skyrocketed in recent years, rising by more than 50 per cent in the past two years alone. In addition, builders are faced with the increased costs of external and internal development charges, licenses and charges for change of land use from various departments.
"These factors have been directly responsible for rising real estate prices. The Budget should make provisions for subsidised construction materials for low-to-mid-income housing, and rationalised license fees and other government levies", says Anuj Puri.
The common man as well as the realty big wigs expect a lot, it remains to be seen what the FM has in his bag for the sector and whether he will come up to the expectations of the real estate sector this year.
Tax benefits on housing loans
The topmost demand for homebuyers has been a revision in the rebate on home loan interest payment. The provision of rebate of interest on housing loan to a maximum of Rs 1.5 lakh from the taxable amount on yearly basis was last amended in 1999. Since then housing prices and the amount of housing loan availed by the middle class segment have grown manifold. The current home loan interest repayment exemption is not even in line with the HRA benefits buyer normally gets. "The entire interest payment for the first house in which person intends to stay should be exempted from tax or at least there could be a limit based on metro and non metro city", says Pankaj Bansal, Director, M3M group. "The interest rebate needs to be revised upward on an urgent basis. This will motivate end users to buy properties and shall reduce speculative investment", he adds. The demand for revising the rebate for payment of principal amount has also been gaining momentum. "The deduction for principal repayment of housing loans under Section 80C should either be increased from the existing limit of Rs1 lakh or the principal repayments be excluded from Section 80C and be treated separately. The principal repayments in such a case may be treated as a separate tax exemption component like interest payments on housing loans (under Section 24) which are deducted from the taxable house income and have an upper limit of Rs 1.5 lakh", adds Sandhir.