King of bling
Crystals match the popularity of diamonds sparkle by sparkle. Little wonder then that jewellery and collectibles by companies like Swarovski, Lalique, Perciosa and Baccarat are the choice of many celebrities
Sonali Seth
Crystals are everywhere. Up there on the chandelier, on collectibles, jewellery, charms, fashion accessories, sunglasses, watches, figurines, home décor, smartphone covers, and even notebooks. These make for one of the most popular gifting options and lend sparkle to occasions like a wedding or a Valentine's Day.
Crystals may not be as valuable as a diamond but these match their popularity sparkle by sparkle. Like diamonds, the crystaltes contain 32 per cent lead and are perfectly cut and reflect a multi-hued rainbow of light as a result of refraction.
Jewellery made from crystals is worn by a growing number of celebrities. Each year companies like Swarovski, Baccarat, Lalique and Preciosa commission leading designers of the world to make crystal creations. The most in demand are creations on apparel that high rollers flaunt at red carpet events — handbags, footwear, belts, scarves and all kinds of couture shimmering with crystals.
Inspirational creations
Swarovski, for example, displays these creations each year at an event called Runway Rocks and they are inspirational and provocative which, according to the company, "challenge the conventions of jewellery, sculpture and body adornment exploring form, volume, movement and light, finding new expressions for crystal creativity."
Rivalling Swarovski in creativity is Czech company Preciosa, which specialises in fashion jewellery stones in a broad variety of shapes, colours and sizes. It is best known for its zirconia stones that are sometimes difficult to differentiate from diamonds. The company also produces crystal chandeliers as well as contemporary decorative lighting fixtures.
Apart from Swarovski and Precosia, there is Baccarat. The iconic French company established two and a half centuries ago. Initially known only for its chandeliers which were the pride of the ceilings of a number of palaces in a bygone India, today Baccarat,with two new collections per year, illuminates tableware, decorative objects, figurines, jewellery and carafes.
Ornate showrooms
The magic of the company's legacy is at work at its Crystal Room restaurants in Paris, Moscow and Tokyo where high-end, exotic cuisine is served in Baccarat crystals. It has ornate showrooms in New York, Hong Kong, Shanghai and Beijing.
Swarovski, too, has tied up with leading fashion brands of the world like Emporio Armani, Roberto Cavalli, Dior Homm, Gianfranco Ferre, Marani, Bironi and Hugo Boss to create a collection of crystal-studded men's attire. Needless to say, the limited edition collection was a runaway hit and sold off even as it was being displayed.
The company has several boutiques spread all across India that retail a long list of Swarovski creations. Last Diwali, it launched Ambiray Tea Lights, which made for great gift items. The stainless steel candle stands were studded with Swarovski crystals and came in three sizes priced at ~2,700, ~3,850 and ~5,100 respectively.
Another company which is beginning to have a strong presence in India is Lalique which opened its first exclusive boutique 'Art in Crystal' at the DLF Emporio in Delhi. The Spanish company has tantalised the world with its exquisite crystal depictions of themes that include flora, fauna and the beauty of the female form.
Eye-catching range
Most of the crystals are hand-finished and intricately sculptured with figurative detailing. Apart from figurines and gifting items, the range includes crystal glass sculptures and miniatures, decoratives for homes and other designs in crystal.
Even Swarovski's figurine collection celebrates the wonders of nature, exceptional design and the luminous power of crystal with elegant, modern and stylish statement pieces, including those of symbols, flowers, animals, birds, butterflies and fictional characters from children's literature.
Swarovski's Disney collection is the stuff of dreams. There are intricately carved figurines of characters like the Sleeping Beauty, Snow White and the Seven Dwarfs, Mickey, Minnie, Pluto and Stitch. These also feature in key rings, pendants and earrings.
Most of these companies have been in existence for well over a century with Baccarat having been around for over 250 years. They have their own own-operated boutiques and thousands of partnered stores around the world, including India. The brands have on offer a host of bling and the obsession of the glitterati has not faded even as they count kings, queens, princess, heads of states, aristocrats and some of the most glamorous people as their clientele.
CRYSTAL EARPHONES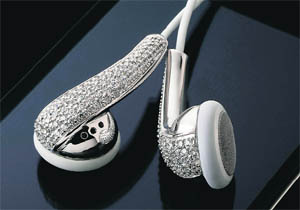 Imagine listening to music with Apple earphones studded with 200 dazzling Swarovski crystals. The Amosu Apple earpieces are just that! Compatible with all Apple products like iPod, iPhone and iPad, these glittering earphones can overshadow, even a pair of diamond earrings.






Price: Rs 44,550






GOLD PLATED SLEIGH & REINDEER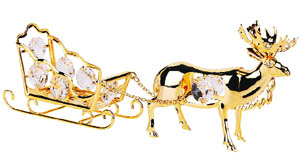 This beautiful Swarovski elements 24-K gold-plated sleigh and reindeer radiates an intense sparkle. From the crystal temptations range, this stunning ornament can make a nice addition to a collection or be a great decorative piece, or an ideal as it comes in a presentation box
Price: Rs 2,200






DISNEY MICKEY, MINNIE AND PLUTO SET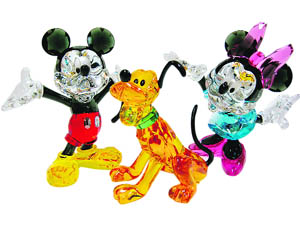 This stunning and colourful Mickey, Minnie & Pluto set is from Swarovski's Classic Disney Collection. The figurines display a creative imagination and the collection brings forth the positive vibes of the Disney characters embellished in jet, topaz, aquamarine and rose crystals.




Price: Rs 38,500





LALIQUE AMBER KAZHAK HORSE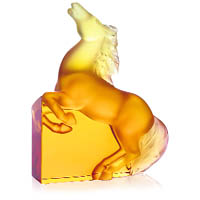 This magnificent horse makes a great bookend or an object d'art. The exquisitely detailed figure beautifully captures the restrained power of this magnificent horse in all its galloping glory. It lends a certain charm wherever it is displayed.






Price: Rs 28,325




BACCARAT ST. ANDREWS GOLF PLAYER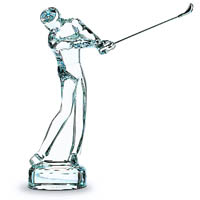 Designed for Baccarat by Bernard Augst, this carefully carved clear crystal figurine golfer is seen preparing to make a shot with great deliberation and skill. This exceptionally life-like silhouette shows Baccarat's expertise and meticulous detailing.






Price: Rs 21,175





WATERLILY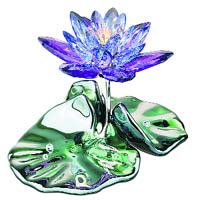 This exquisite waterlily blossoms in lavender and blue violet Swarovski crystal. The centre shines in topaz crystal with a silver-tone metal stem. Crafted in erinite crystal, the leaves are embellished with delicate water droplets in clear crystal for a fascinating, true-to-nature finishing touch.





Price: Rs 22,000




VIOLET BUTTERFLY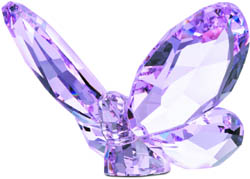 Bring in lightness to your living room with this violet Swarovski butterfly. In fully faceted crystals, it is in an asymmetrical cut and is among the first fully coloured pieces in silver crystals. It makes for a beautiful way to add a touch of colour and joy to your home.




Price: Rs 6,050




BACCARAT LITTLE BUDDHA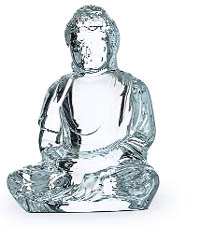 Pairing the unlikely materials of clear crystal with a black lacquered platform, Baccarat's Buddha is a stately rendering of this symbolic figure, based on a very traditional hand-carved wooden version. The translucence of the crystal is a perfect decorative item for zen interiors.




Price: Rs 7,150






BLUE TURQUOISE KINGFISHERS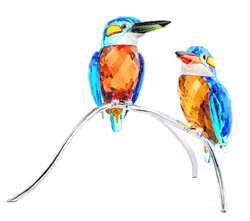 The two boldly colourful pair of Kingfisher birds made from blue turquoise, aquamarine and clear Swarovski crystals are elegantly perched on a silver-tone metal stand. These have been meticulously created with 20 separate parts and can be the centre of attraction of a living room.



Price: Rs 52,250








ANIMAL COLLECTION LOVEABLE WARTHOG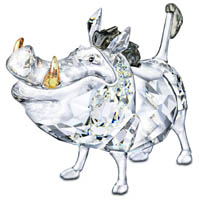 Pumbaa, the warthog, is a friendly Disney character from the Lion King, who has a golden heart. His body and tail sparkle in clear Swarovski crystals while his hair and tip of his tail gleams in crystal satin. His tusk is created in crystal golden shadow and his eyes in jet crystal.



Price: Rs 12,375





MORODA PANTHER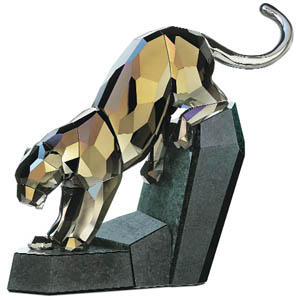 Add flair to any interior with this stunning sculpture. Reflecting the panther's natural colour tone, it gleams in Moroda crystal, radiating from a metallic blue to warm bronze and brown-black tones. It has a black spot granite base, which forms a protective layer on the bottom.








Price: Rs 52,800







LALIQUE RAJAH JAGUAR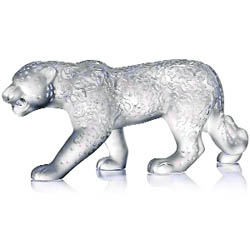 The stately jaguar gives the impression of tip-toeing to its prey. Lalique's Rajah Jaguar is a sensual blend of frosted glass, complemented by delicate fluid lines. Handcrafted in France, the clear crystals showcase the intricate design employed by Lalique.






Price: Rs 1.32 lakh







CRYSTAL MYRIAD — JI XIANG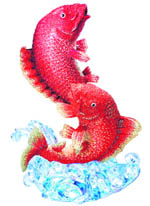 Embellished with 48,670 hand-set crystals, this limited edition artistic masterpiece demonstrates Swarovski's craftsmanship. It skillfully captures the jump of two carps — a symbol of prosperity and good luck in China. The polished base shines in shades of blue like foaming waves.





Price: Rs 10,17,500






PURPLE PRINCESS PEN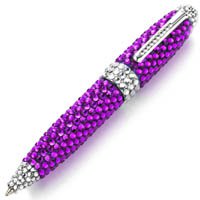 The stylish, chic and graceful twist action pen is decorated with crystallised Swarovski elements is hand-crafted to make a stunning writing instrument that is as beautiful to use as it is to own. It is among the most popular gifting options from Swarovski crystals.




Price: Rs 4,950





The woman behind Swarovski's success
She's a powerhouse who has worked tirelessly ever since she became the first woman public face of the company in 1995 — exactly a century after her great-great-grandfather set up Swarovski. Today, the 42-year-old Nadja Swarovski has transformed the company into an international empire that produces everything from figurines to collectibles, jewellery, watches, sunglasses, binoculars, and even grinding tools and road reflectors. The mother of three children, Nadja is married to Rupert Adams, a hedge fund manager, and has her main office in London. In fact, when she joined the company there had been a steady erosion as crystals in the 1990s were considered passé. She decided to bring glory back to the company that had seen its glitzy products adorn the dresses of Queen Victoria, Marilyn Monroe and Audrey Hepburn. And she succeeded by once again putting the house of Swarovski at the forefront of fashion by collaborating with some of the most innovative designers in the world changing the image from a producer of figurines to one of the biggest jewellery brands of the world which has a legendary fan following. Little wonder, then that she is called the Crystal Ambassador of the World.