A man forever on the margins
Reviewed by Aruti Nayar
Poet of the Revolution:The Memoirs and Poems of Lal Singh Dil
Translated by Nirupama DuttPenguin/Viking.
Pages 167. Rs 399
looking at the slight, self-effacing man, no one could guess that he was bursting with revolutionary fervour or was willing to stake all for a cause. If anything that defined him was the shrinking self-consciousness and a deep sadness lurking in his eyes that told its own multiple tales of oppression.
One remembers a warm May evening in Punjab Kala Bhavan, a few months before his death in 2007, when Lal Singh Dil had read out his poetry and Parnab, a Bengali photographer, poet and activist enacted vignettes from writer-activist Mahashweta Devi's works. Dil may not have displayed any revolutionary fervour, fire and brimstone but his poetry did. After all, he had articulated the double burden of caste and class when he wrote: "For us, trees do not bear fruits, for us, flowers do not bloom, for us, there is no spring, for us, there is no revolution."
Dil was born on April 11, 1943, at Ghungraali Sikhaan, in Samrala. His was a life of immense struggle and his poetry made him a legend well within his lifetime. His tragic life epitomised the fact that the plight of a Dalit never changed.
Whether as a Muslim or a Naxalite — he remained an outcast (or more aptly, an outcaste) always. Buffeted around by life and people who discriminated against him. Be it as a child who could never be centre stage, or a teacher whose glass (in which he drank water) was 'purified' by throwing it into the fire and then into water with tongs. The resulting crackling sound had haunted him forever. He embraced Islam, first becoming Muhammad Bushra, then Wali Muhammad to find peace and justice.
His works include three collections of poetry, Satluj di Hava (The Satluj Breeze), Bahut Saare Suraj (A Million Suns) and Naaglok (City of Snakes); an autobiography called Dastaan; and a narrative long poem called Billa Aj Phir Aaya (Billa Visited Again Today). Be it as a labourer, farm hand or a wandering mad man wreaked by delusions, Dil lived only for the sake of his emotions and convictions. Here's a man who touched the abyss, rose like a phoenix time and again, who did not know where his next meal was to come from and yet carried on writing verse, the only way he could liberate himself. Others of his ilk capitulated but he never hankered after rewards or recognition. Once the Naxalite movement petered out, he had nowhere to go but "The comrades of his revolutionary days were now editors, executives, professors, businessmen or expatriates. The spring thunder was over and everyone had returned to the comfort zone of their class structures."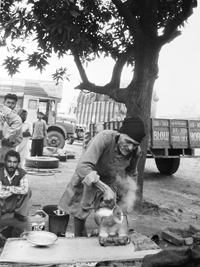 Lal Singh Dil serving tea at his tea shop, where writers converged, in Samrala. Photo: Diwan Manna
The demons in his mind drove the trajectory of his life and whether he lived in the fantasy world or walked miles on end aimlessly, Dil gave many, including the translator of this book, hope and the grit to carry on with life. He embodied the resilience and tenacity of the human spirit. The translation by Nirupama Dutt is reader friendly and bereft of jargon. The Foreward by Prem Parkash (in which he sounds patronising towards 'Lallu'at times) and an Appendix by Amarjit Chandan, the London-based poet/activist. The Introduction reveals the layers of Dil's personality and many shared moments with the writer. It is the memoirs and the poems that haunt you long after you finish reading them. Nirupama does bring to life Dil's poems and writes with a felt intensity about the poet who was also a confidante. There is a simplicity of style and narration, much like Dil himself. When Dil died on August 14, 2007, at the Dayanand Medical College and Hospital, Ludhiana, close to Independence Day, his friends could not find any garland because they had been sold out. Flowers were taken from people's houses to make garlands and it was an apt tribute to a man whose tea shop had become a hub of literary activity. As Dil said, one day people would come and sing qawwalis under the banyan tree outside his hovel. Perhaps, "It will happen one day, for in 'Manto-town' (Samrala is also the birthplace of Manto) Dil was the true faqir and Manto and Dil were forever buried in many a heart."