Leadership, conflict zone and emotional chaos
Reviewed by Balwinder Kaur
Bal Thackeray & The Rise Of The Shiv Sena
By Vaibhav Purandare
Lotus Roli. Pages 263. Rs 350.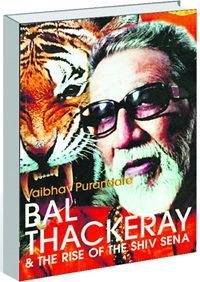 On November 17, last year, Bal Thackeray the firebrand chief of the Shiv Sena passed away; bringing Mumbai to a standstill. This book chronicles the metamorphosis of a talented cartoonist into a prominent politician whose considerable clout was acknowledged by admirers and detractors alike. By depicting the plight of the marginalised Marathis in his cartoon-weekly Marmik, he struck a chord with the working class. Their discontent led to the foundation of the Shiv Sena under Bal Thackeray who advocated thokshahi since lokshahi had failed them. Soon this charismatic and controversial leader turned this band of followers into a force to be reckoned with. The author records in detail the ascent of this commanding leader who won and lost many battles over the years till Shiv Sena's Manohar Joshi became the Chief Minister of Maharashtra. He gained further ground as a national player on the Hindutva platform. The book provides a comprehensive account citing extracts from various sources. Also included are little-known facts about his personal life; friendships, rivalries, problems and family feuds; providing a glimpse of the private person behind the public persona.
Kabulnama
By Amitabha Ray
Niyogi Books. Pages 165. Rs 250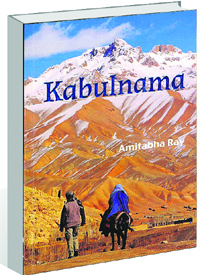 Woken up on his day off by a red city alert, Amitabha Ray is prepared for immediate evacuation. Even the subsequent downgrade to yellow means relocation. Extreme caution is dictated at the lower white city and only at a green city can he relax. In Kabul, survival is conditional upon adherence to stringent security protocols. This is just one of the numerous high-stress situations encountered by the author during his stay in Afghanistan on a UN mission in 2007-08. Translated from Bengali by Milan Brahmachary, Kabulnama is the personal account of the author's experiences. @@The author communicates the beauty of Afghanistan's landscape, its rich cultural heritage and the lifestyle of its people. He takes the reader on a journey through the capital city, the outskirts and other tourist attractions. Soon emerges the impression of a warm, hospitable population striving to grow and prosper amidst curfews, explosions, violence, murder and other adversities. These people who enjoy dubbed saas-bahu dramas and Bollywood films. The youngsters who strive for a better future taking English courses and computer classes. Kabulnama paints a compelling picture of the harsh realities in the daily lives of the inhabitants of war- torn Afghanistan.
The Sari Shop Widow
By Shobhan Bantwal
Fingerprint Pages 364.Rs 250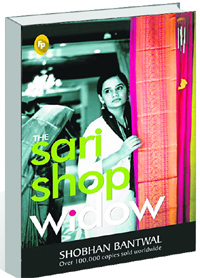 Once again life has dealt Anjali Kapadia a cruel blow crushing her hopes and dreams. The 37-year-old widow spent a decade turning her family's sari shop in New Jersey into a noteworthy luxury boutique. Now they are on the brink of bankruptcy and her parents have approached her wealthy domineering uncle without her knowledge. Everything the demanding Jeevan kaka touches turns to gold but his arrival brings another not so pleasant surprise: his associate and fellow businessman Rishi Shah. Frustration and friction increases everyday as everyone has to tailor their lifestyles to accommodate her uncle's archaic ideas of proper behaviour; notably hers. @@Her uncle's plan to invest more money to expand the store entails a prohibitive 51 per cent partnership. To further complicate matters the suave Rishi and Anjali have an undeniable attraction. Meanwhile her uncle's insistence on her remarriage opens old wounds. Rishi's declaration of honourable intentions does little to assuage her fears as she strongly suspects he's hiding something. And just as she lets her guard down and starts considering a future with Rishi a shocking revelation and another unexpected arrival sends everything into a tailspin.