Food talk
Special one-dish meal
Pushpesh Pant
for most people biryani reigns supreme among various rice delicacies. To be honest we too drool when the stuff from Hyderabad is on offer, but feel that the dum ka yakhani pulav- a Lucknow specialty is no less seductive and satisfying. While biryani is a complex dish— resembling a well-orchestrated symphony — pulav wins you over with its simplicity that too can transport one to realm of sublime. We bring to you this time our favourite recipe for a one-dish meal that can well be the jewel in the crown in a celebratory meal.
Method
Heat one-fourth of the ghee in a pan and fry the onions till golden brown. Keep aside.
Heat half of the remaining ghee in a pan, add brown cardamom, cinnamon, cloves, ginger and garlic paste along with the meat along with salt. Cook covered till the meat is browned. Stir regularly. Add four cups of water bring to boil reduce flame and simmer for about an hour. Cool. Strain the stock with a muslin cloth. Reserve the lamb pieces.
Heat the remainder ghee in a thick bottomed-pan, add the fried mutton with two brown cardamoms, one stick cinnamon, salt and stir fry for five minutes cover and cook turning the pieces regularly. Remove and keep aside. Take 4 cups of stock add curds mixed with red chilly powder and black pepper. Parboil rice in stock till 3/4th done.
Arrange alternate layers of rice and meat in a deg, sprinkle kewra essence or kewra water, seal with dough and finish on a preheated griddle on low heat for about 15 minutes. Open just before serving and stir once.
Yakhni Pulav Sufiyana
Ingredients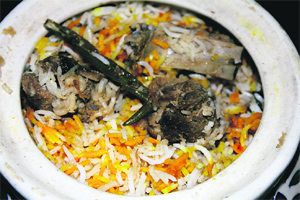 Mutton(neck, shoulder, chest with fat): 1 kg
Long-grained rice: 1 kg
Ghee: 250 ml
Onions finely sliced: 300 g
Green cardamom: Four
Brown cardamom: Four
Two-inch pieces of cinnamon: Two
Cloves: 10-12
Ginger (cut in thin stripes): 3-inch piece
Ginger paste: 5 tsp
Curds: 200ml
Red chilly powder: 1 tsp
Kewra essence A few drops (or1 tsp kewra jal)
black pepper powder: To taste
Salt: To taste