How to pass the test of nerves
Come Board examinations and students gear up to battle the bugbear of anxiety and doubts that hover in their mind. Experts give tips on how to beat exam stress and come up trumps without losing your cool
Dr Samir Parikh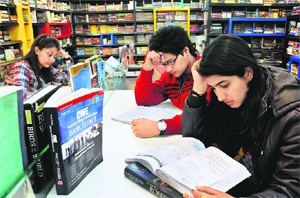 exam time is synonymous with sleepless nights, frayed nerves and sky-high stress levels. Thoughts ranging from college cut-offs, reactions of parents, nightmares of blanking out during exams etc. can plague any student. Stress in itself is not a bad thing. An optimum level of stress motivates you to perform better. However, too much stress for too long can wreak havoc with your life and your performance in examinations.
Protect your vision
Exams are just round the corner and students are completely engrossed in books because they donít want to leave any stone unturned to attain good results. They are putting in long hours to meet their teachersí and parentsí expectations. Bu spending long hours with the nose buried in books may damage their eyes.
---
ARTS
When art is a concept of life
Bangladeshi artist and art critic Rajeshwary Priyaranjini has survived many odds
Nonika Singh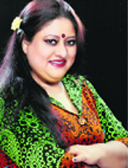 HER beautiful eyes do all the talking. While words do not often portray what she feels, her eyes tell the tale of the woman for whom, struggle has been an inspiration. Only Bangladeshi artist and art critic Rajeshwary Priyaranjini has struggled at many levels, as an artist, as a woman, as a writer and now as cancer survivor too. From this struggle has been born the resolve to fight against all odds as pain has given her the courage to go on. Born to a woman who had faced the wrath of Pakistanís Army during 1971 war, courage has come to her as an inheritance too. In a way, the artistic genes, too, she has imbibed from her mother, Ferdousi Priyabhashini, who happens to be a formidable sculptor of Bangladesh.
Vibrant colours of craft
The Surajkund mela weaves the diversity of the country in a common thread
Shama Rana
WHILE winter breeze is in a mood to bid adieu with the promise to bring more chill next year; stage is set to welcome spring with the lively colours of 27th Surajkund International Crafts Mela. This quaint town of Surajkund, near Delhi, soaked itself in flavours of ethnicity and traditional crafts of India and abroad during the first fortnight of February when hordes of craftsmen gathered here for an annual fair.

BROAD BRUSH
---
Fitness
good health
Hearty choice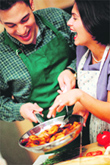 With its many benefits, low absorption properties, stability and delicate flavour, rice bran oil has acquired a health food status
Ishi Khosla
Native to southern India, rice bran oil seemed to have got lost its identity in the plethora of refined cooking oils. Scientific research has discovered its goodness and rice bran oil has now acquired a respectable position among cooking oils. Now it is commonly used in countries like Japan, Korea, Taiwan and Thailand. What makes rice bran oil so special, is its desirable fatty acid profile and antioxidant properties.
Relationship anxiety could weaken immune system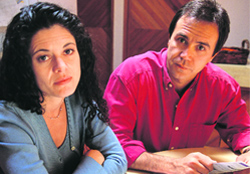 Anxiety and concerns about your close relationships can make you fall ill by reducing your immunity, a new study claims. Such concerns appear to function as a chronic stressor that can compromise immunity, researchers said. They asked married couples to complete questionnaires about their relationships and collected saliva and blood samples to test participantsí levels of a key stress-related hormone and numbers of certain immune cells.
Married partners, who were more anxiously attached, produced higher levels of cortisol, a steroid hormone that is released in response to stress
---
Society
Of imprisonment & exile
An interface with Tahar Ben Jelloun, who spent many years in prison, reveals his uncompromising sentiments about freedom
Rumina Sethi


MY first thought was to decline since I had never read anything written by Tahar Ben Jelloun. Then immediately, I reflected on the invitation of Alliance Francaise to have a round table discussion with this Moroccan-French author, and said yes. The idea was to be forced into reading some of the works of an author who, it is rumoured, was sure to be shortlisted for the Nobel. Never mind if he did not speak any English and I no French.


| | |
| --- | --- |
| | Moroccan-French author Tahar Ben Jelloun in a round table discussion at the Alliance Francaise, Chandigarh |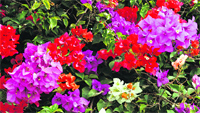 A navigator's discovery
Deepak Rikhye
IF an author had to describe a prickly shrub in India, the choice of a shrub would be the bougainvillea. This plant is strictly in the category of a climber. But it is often pruned and shaped as a shrub. Stiff thorns rise from axils of many leaves. We see so much of the bougainvillea in campus of schools, universities, walls of airports and private gardens.
---
TRAVEL
Frisco you didnít know
San Francisco is more than a destination - this one-of-a-kind city has some incredible landscapes and sightseeing opportunities
Niku Sidhu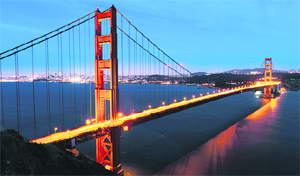 Rated amongst top-rung cities to live in the world, San Francisco, the jewel by the bay, reveals itself as a multi-faceted city. Turn a corner to find history rubbing shoulders with great architecture, the hippie movement of Haight Street, living by the Victorian-era style 'painted ladies' homes, the marvel of early 20th century engineering the Golden Gate bridge, swaying to the cheering in the Giants stadium.
The iconic Golden Gate Bridge was opened in 1937

Globetrotting
---
ENTERTAINMENT
Crime gets a reality check
A new genre of crime-based shows on television is garnering high TRPs despite not being aired on prime time
Surekha Kadapa-Bose
What surprised one was the conviction with which Priya (14), a speech-and-hearing challenged girl told us in sign language: Never accept a lift or talk to strangers. The ninth standard girl prefers to walk the three km home if the BEST bus is late than take a private transport. Strangers first slide up fingers on the arm, and then, molest if they found you alone, according to her. Her mother explained that Priya had picked up this having watched an episode of reality-based crime serial on TV.



Sharad Kelkar hosts Shaitaan-A Criminal Mind (L) and Anchor Anoop soni in Crime Patrol
ďMake dance a way of lifeĒ
Contemporary dance teacher Terence Lewis is the first Indian to receive the prestigious Dance WEB Scholarship. He represented India in Vienna and has popularised choreography
Shoma A. Chatterji


Terence Lewis, one of the youngest contemporary dancer-choreographers-artistic directors in the land, flew across Pune, Indore, Baroda, Kolkata, Jaipur, New Delhi and Bengaluru recently to conduct master-classes in dance. He has been the most popular mentor and judge at his famous television reality show Dance India Dance. His choreography for films like Lagaan and Aisha are memorable.
---