Arts
When art is a concept of life
Bangladeshi artist and art critic Rajeshwary Priyaranjini has survived many odds
Nonika Singh
HER beautiful eyes do all the talking. While words do not often portray what she feels, her eyes tell the tale of the woman for whom, struggle has been an inspiration.
Only Bangladeshi artist and art critic Rajeshwary Priyaranjini has struggled at many levels, as an artist, as a woman, as a writer and now as cancer survivor too. From this struggle has been born the resolve to fight against all odds as pain has given her the courage to go on. Born to a woman who had faced the wrath of Pakistan's Army during 1971 war, courage has come to her as an inheritance too. In a way, the artistic genes, too, she has imbibed from her mother, Ferdousi Priyabhashini, who happens to be a formidable sculptor of Bangladesh.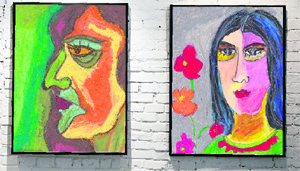 Figures have remained central in the works of Rajeshwary Priyaranjini (below). In fact, the figurative style in her works was frowned upon in the Islamic society
Right now in Bangladesh, Priyaranjini shares that there are many women artists with strong individualistic styles. To begin with, Priyaranjini's figurative style was frowned upon in the Islamic society and it's only recently that artists have started expressing themselves through figures. Though her artistic journey began with a host of themes, figures have remained central in her works. Says she, "When I stand in front of the canvas, I become true to myself and my inner being is reflected." Any resemblance with the wide-eyed pensive face in her works to her, however, is only incidental.
However, while faces belong to the feminine world she has observed, these carry a stoic dignity that is both self-effacing yet dominant, the same quality that can be discerned in her. So on the surface, she might seem malleable, while painting she brooks no interference not even of her artist husband Feroje Rihan. Nor for that matter of the critic in her. While her two vocations are akin to two eyes, she has not allowed the two to interfere with each other or cloud her judgment of other artists. The journalist in her happily records the robust art movement in Bangladesh that has thrown up many interesting trends. Yes, there are buyers and patrons too. While on Samdani Art Foundation that brought many Bangladeshi artists to India Art Fair, she is circumspect, "they have loads of money but aren't the only patrons" she hails Bengal Art Gallery for playing a stellar role in promoting art and artists. She adds , "Right now, art scene in Bangladesh is at a beautiful cusp …watch out and in next 20 years, it will truly bloom." About India, she is more gung ho and exclaims, "India has always been incredible and Indian artists were always masters." On some of them like Jogen Chowdhury, she has written extensively. Closer home to us, she is even toying with writing a book on eminent Punjabi artist Prem Singh.
As she came calling to City Beautiful, she admits that with Kolkata, she finds greater affinity. Back in time, she did a diploma in Rabindra Sangeet from the Mecca of art today, she visits the city of joy for her treatment. Artists, she is positive, can bring the subcontinent together but she doesn't fail to register the voice of dismay of Bangladeshi artists who feel they are not given enough attention when they come visiting India. Her tryst with India has been more than fruitful as she has exhibited in Chandigarh and Delhi. For her, art is not just a canvas but a concept of life. Working to become the voice of humanity and to "free the soul of women," she lends voice to the countless voiceless women, Be it in her Virangana series or An Epic of Emancipation dedicated to Delhi's gang rape victim, it is eyes that remain most eloquent.
Vibrant colours of craft
The Surajkund mela weaves the diversity of the country in a common thread
Shama Rana
WHILE winter breeze is in a mood to bid adieu with the promise to bring more chill next year; stage is set to welcome spring with the lively colours of 27th Surajkund International Crafts Mela. This quaint town of Surajkund, near Delhi, soaked itself in flavours of ethnicity and traditional crafts of India and abroad during the first fortnight of February when hordes of craftsmen gathered here for an annual fair.

Madhubani paintings from Bihar portay human interest issues (L) and Ranjit Kumar Paswan shows a Godhna painting
The Surajkund Mela weaves the diversity of the country in a common thread. One such essence of this plurality on full display at this Crafts Mela was the pavilion selling the goods made by inmates of the Tihar Jail. The model of India Gate created by the inmates of Tihar jail turned many heads at the ongoing fair. Besides this marvel, other items like durries (jute carpets), hay and wooden décor items, Indian spices, soaps had also been showcased here. According to Shivanand, Assistant Superintendent, Tihar Jail, "The morale of the inmates is certainly boosted when artefacts crafted by them are purchased by people. This goes on to motivate them further to take up some meaningful activity for livelihood upon completion of their terms in jail."
The jail has its own processing unit where these inmates work. The inquisitiveness among the masses as to what these inmates must have crafted and the products being so reasonably priced are some of the reasons why this pavilion is such a crowd puller at the fair.
Vankar Kantilal Samat, National Award Winner in 1996 and 2006, recognised for weaving Kutch shawls, shares, "A regular Kutch shawl usually takes 1-2 days to get manufactured and the price range begins at Rs 550 but the 'Awardee Shawl' (named after the Award given for this particular work of weaving) takes around two and a half months and is priced at Rs 28,000. Samat is a regular face in international fairs like these, "I get a chance to promote this special handloom of Gujarat and the stuff fetches good price here", he signs off.
The pot makers' duo, Pushpa and her husband Nem Chand Prajapati, both State Awardees, hailing from Haryana, excitedly takes us around their terracotta made wares. "We also take hobby classes for school and college students. Making pots is in the family. We are just marketing ourselves well", says Pushpa as she hands out their visiting card.
Conceived in 1987, the mela attracts lakhs of visitors. While the arts and crafts from various parts of the country are showcased here, the tradition goes that every year, one state is chosen to be the 'Theme State'. This year Karnataka is the chosen one and the place reads to be a cultural book of the state. Everything from the replicas of typical Karnataka architecture, jungle lodges, durga temple, Aihole, Golden Chariot-South India's only luxury train customised with AC, spa, gym to Mysore handlooms, dasara dolls also known as golus, rosewood carvings, fragrant dhoop and agarbattis (incense sticks) tells a story about the past and present of the progressive Karnataka.
The name 'Surajkund' has its roots in an ancient amphitheatre sun-pool dating back to the 10th century, the remains of which can still be seen here. It's altogether a different vibe out here waiting to soak the visitors in the amalgamation of rusticity and modernity all in one go. Tap your feet to the gyrating moves of the folk dancers from four corners of the world. You will find none walking by empty-handed but only over-burdened by the stuff they get here at reasonable prices.
The Madhubani paintings from the heartland of Bihar have taken on a new approach with the changing times as was evident from the paintings of human interest issues like terrorist attacks on Mumbai, Tsunami, alongside traditional motifs of Radha-Krishna, Shiva-Parvati. It's all in the blood for this Paswan family of artists from Bihar. While the brothers Ranjit Kumar Paswan and Dilip Kumar Paswan showed us samples of Godhna paintings of Madhubani art, priced between Rs 800 and Rs 8,000; it was their bloodline which amused us more. Dilip Kumar Paswan, who got a State Award for his contribution towards Madhubani paintings in 2009, is the son of Mahanma Devi, 1987 State Awardee and grandson of Chaanu Devi, National Awardee, 2008.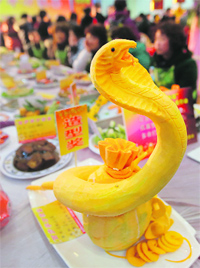 snake bite: A dish created in the shape of a snake is presented on a table during an annual local celebration for the Chinese New Year in Wuhan, Hubei province. In a celebration that has been held for some 13 years, community members cooked more than 8,000 dishes as new year gifts for their elderly and needy neighbours. Photo: Reuters