travel
Frisco you didnít know
San Francisco is more than a destination - this one-of-a-kind city has some incredible landscapes and sightseeing opportunities
Niku Sidhu
Rated amongst top-rung cities to live in the world, San Francisco, the jewel by the bay, reveals itself as a multi-faceted city. Turn a corner to find history rubbing shoulders with great architecture, the hippie movement of Haight Street, living by the Victorian-era style 'painted ladies' homes, the marvel of early 20th century engineering the Golden Gate bridge, swaying to the cheering in the Giants stadium.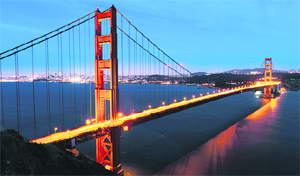 Opened in 1937, at a cost of $35 million, the toll has increased manifold from the initial 50 cents but the charm stays undiminished of this single span, two-tower bridge with 80,000 miles of wire cables strung across. For 75 years the bridge has risen five feet every winter and dropped 10 feet below normal in summer. Around 10,000 gallons of international orange paint is applied to it annually. One can walk across the bridge. The walk is of 1.7 mile. The aquarium, through 300 feet of clear tunnels, displays marine life. Billions of barnacles homed to its steel foundations and majestic sharks that guard the waters. For the not so faint hearted, there is a touch pool.
A cruise from pier 33 takes you to Alcatraz Island discovered in late 18th century and named thus for the pelicans that nested there. Immortalised in Clint Eastwood's film Escape from Alcatraz, it was a military fortress and prison till the government converted it into a civilian penitentiary. Commonly called the 'Rock', surrounded by treacherous freezing waters and sheer cliffs, only one prisoner has been known to escape. It's most notorious inmate Al Capone's imprisonment following his bootlegging activities in the prohibition era puts it on every tourist's list. It was closed in 1963, as it proving to be too expensive for the exchequer since everything had to be shipped to the island, including drinking water.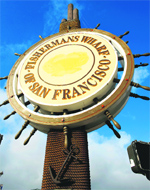 A must is a visit to Pier 39 and the Fisherman's Wharf. Gentrification ousted the old fishing village years ago but hundreds of sea lions slither out from the water to sun bathe at the docks. When asleep they provide a great photo opportunity; when awake, they entertain with their loud belches as they unreservedly scratch themselves. While there, gobble down the famous Dungeness crab and clam chowder dished out by street vendors from stainless steel carts. Watch out for the world famous bushman, David Johnson, who has been making a living scaring the bejesus daylights out of pedestrians since 1980. He growls from behind eucalyptus leaves and makes his harmless moves as people approach. In a good year, he earns $60,000, no mean feat. For a time he hired a body guard to protect himself from the less amused. To add a touch of sensitivity to his craft, the body guard warned him when the elderly approached so he could avoid scaring them.
There is no getting on till you get on to the San Francisco cable car. Serving as public transportation for a century, these operate as a tourist attraction today. Instead of boarding at the first bus-stop do so at the corner of California and VanNess streets. The best way to ride the cars is on the footboard in front, hanging from a pole.
Another attraction, the crooked street is eight hairpin bends on Lombard Street, designed in 1922 as the shortest and most efficient way to get up a steep hill. It is de rigueur to drive down this one-way street, lined with flowers, getting the best photos at the bottom of your ride.
A prominent etch in the skyline, the 210 feet high Coit Tower atop Telegraph Hill since 1933 stands testimony to the generosity of Lillie Hitchcock Coit, "to add beauty to the city she always loved". Legend has it that the fire-hose nozzle shaped tower is her tribute to the fire fighters who rescued her from an inferno as a child. Avoid the elevator for a more picturesque walk up the Filbert and Greenwich Street stairs where you can spot wild parrots and sculptures. For the art inclined, housed in the base of the tower are controversial collaborative murals of 25 Leftist artists depicting life in depression haunted California of the thirties.
The neo classical California Palace of the Legion of Honor boasts a collection spanning four thousand years of art, including works by Monet, Picasso and a cast of Rodin's Thinker.
To charge your batteries after a long day, take a free tour of the Anchor Company's copper brew house culminating in a six-pint beer tasting of San Francisco's local beer 'Anchor Steam'. Cheers!



Left: The Lombard Street is a crooked street with eight hairpin bends. It was designed in 1922 as the shortest and most efficient way to get up a steep hill; and (right) Having served as public transportation for a century, San Francisco cable cars operate as a tourist attraction today
FACT FILE
How to reach: Single stopover flights from Delhi/Mumbai via Amsterdam/Frankfurt to San Francisco.
Best time to visit: Fall and spring
Places of interest: China Town and the French Quarter; Ghirardelli Square for chocolate lovers
Day trips: 17 mile scenic drive and Pebble Beach Golf Course; Hearst San Simeon State Monument and World Heritage Site Yosemite National Park
Advisory: Trademark fog rolls in unexpectedly, carry a sweater. Purchasing a San Francisco fleece is an open invitation to the homeless to beg for a dollar.
Globetrotting
Serpentine stories



(Clockwise) 1-A rare two-year old "coral sun glow" pet snake of a member of the Philippine Snake Society crawls near a rabbit, kept as snake food, during the Lunar New Year celebration at a park in a posh village in Mandaluyong, Metro Manila. The Philippine Snake Society consists of Filipino snake owners who gather to share information about rearing snakes as pets. Photo: Reuters /Erik De Castro, 2-Snakes hang from a wooden cabinet marked with the Chinese characters "poisonous snake", at a snake soup shop during the Spring Festival in Hong Kong. The Lunar New Year, also known as the Spring Festival, started in the second week of February. It marked the start of the Year of the Snake, according to the Chinese zodiac. Photo: Reuters /Bobby Yip, 3- Snake soup shop owner Chow Ka-ling handles a cobra during the Spring Festival in Hong Kong. Chow keeps snakes to make snake soup, a traditional cuisine which locals believe to be good for the health. Photo: Reuters /Bobby Yip , 4- A cobra embryo is displayed at a snake farm during the Spring Festival celebrations in Tainan, southern Taiwan. Eating cobra eggs with embryo is believed to be good for health, according to snake farm owner Huang Kuo-nan; and (right) An employee prepares fried cobra liver. The dish is priced around $ 7. Photos: Reuters /Pichi Chuang