Entertainment
Crime gets a reality check
A new genre of crime-based shows on television is garnering high TRPs despite not being aired on prime time
Surekha Kadapa-Bose
What surprised one was the conviction with which Priya (14), a speech-and-hearing challenged girl told us in sign language: Never accept a lift or talk to strangers. The ninth standard girl prefers to walk the three km home if the BEST bus is late than take a private transport. Strangers first slide up fingers on the arm, and then, molest if they found you alone, according to her. Her mother explained that Priya had picked up this having watched an episode of reality-based crime serial on TV.

"Isn't this really praiseworthy?" asks film, tv, stage actor and anchor Sushant Singh talking about the positive impact these serials are having on viewers. Sushant Singh hosts the serial Savdhaan India-India Fights Back on Life Ok channel and says if out of hundreds of stories shown on TV even if one individual gets the message, the purpose of these shows is served.
Thanks to the popularity of these shows, a new genre of crime-reality shows has spawned on the telly. Interestingly, these are garnering lot of TRPs despite not being aired on prime time. And the choices are many, Crime Patrol on Sony TV, Shaitaan — A Criminal Mind on Colors, Savdhaan India on Life OK channel, Fear Files on Zee TV and the recently concluded Gumrah: End of Innocence on Channel V and few others.
Additionally, we have fiction-based crime serials, highly popular Arjun on Star Plus, the 13-year-running CID and Adaalat on Sony, Bomkyesh Bakshi on Doordarshan etc. Fiction may get inspired by the real time crimes but they give a disclaimer at the beginning that 'any resemblance to any one is a coincidental.' Whereas reality-based serials proclaim the date, place where the incident took place and the real names of the people involved in it.
"No doubt, there is a dramatic liberty taken to make the programme more appealing," explains Anoop Soni, anchor of Crime Patrol, which is in the fourth season and has won several awards for its authentic representation.
"After all the crime, investigation and judgment may have taken several months or sometimes years to complete. We compress the same within an hour. So it may appear stirring, disturbing but then, if James Cameron had not taken this kind of liberty to make the film Titanic, people wouldn't have recollected the real horror of the sinking Titanic ship!"
The staple diet of these crime-reality shows covers all. Be it dowry deaths, acid attack, road rage, theft, jealousy, extra marital affair, trafficking, drugs, alcoholism, family feuds, property inheritance, eve teasing etc. What you've read in your latest newspaper is there. Taken from life, the incidents are inspired from newspaper reports, reconstructed and presented in a way that people get the message. While the newspaper reports are hard facts, it's the construction of them and presenting in a story format is getting the channel the audience. Watching an entire sordid story unfold and consequences there in is holding the audience's eyeballs.
Sharad Kelkar, who hosts Shaitaan- A Criminal Mind, says, "Many of my friends call me up to tell that what we show had or could have happened to them too! In our show, we not only deal with the crime but also tell why this happened and how to recognise a criminal with particular traits s/he may show from time to time." As an example, Kelkar elucidated the urban bane — stress, especially road rage. "In a fit if a stressed out car driver gets out to tick off an auto, another car or a bike driver. Haatha pai bhi ho jaati hai. At that instance, if one of them, by chance, grabs a stick or any other thing in his hands and fatally hits the other person, it turns the incident into a crime. Uncontrolled anger leads to the same."
And at the home front, according to Sushant, several of his friends have now started taking extra care and are doing a thorough investigation before getting their daughters married or hiring a domestic help.
"Previously families used to meet and enquire with neighbours, friends about the groom. Today marriages are settled via internet and without finding all details about the boy-girl and their families. This many a time has led to fatal consequences."
However, miniscule the effect may be but if such programmes are helping people identify a criminal, then why not? Most episodes of these shows end with the anchor explaining the reason behind the crime, the consequences thereon and the do's and don'ts one should follow so that one doesn't become a perpetrator or a victim. Who says the idiot box was dumb?
"Make dance a way of life"
Contemporary dance teacher Terence Lewis is the first Indian to receive the prestigious Dance WEB Scholarship. He represented India in Vienna and has popularised choreography
Shoma A. Chatterji
Terence Lewis, one of the youngest contemporary dancer-choreographers-artistic directors in the land, flew across Pune, Indore, Baroda, Kolkata, Jaipur, New Delhi and Bengaluru recently to conduct master-classes in dance. He has been the most popular mentor and judge at his famous television reality show Dance India Dance. His choreography for films like Lagaan and Aisha are memorable. He is the first Indian to receive the prestigious Dance WEB Scholarship, representing India in Vienna, Austria. He represented Asia at the International Choreographers' Meet at the TANZ platform, Stuttgart, Germany. He has been teaching Bollywood and Indian contemporary dance at Impulstanz Festival at Vienna, Austria, since 2007. In Kolkata to conduct a master class on invitation by Pailan Film and Television Institute, Terence opens up.

You love to teach, choreograph and create dance. What makes you so passionate about it?
It has been a natural passion for me from the time I was a boy. I try to perpetuate my ABCD philosophy — Any Body Can Dance. I believe that dance brings little drops of happiness to make an ocean of love, harmony, peace to make life more meaningful and stress-free. I want to spread the message that anyone can make dance a way of life.
You are on a cross-country tour to spread the message of dance. Let us hear more about it.
This tour is on behalf of the Unesco's Counseil De La Danse where I am a member representing India. This is a non-profit initiative. My initial objective was to bring respect to dance. After I founded the Terence Lewis Dance Academy, in association with leading institutes in different Indian cities, I want to set up a large community of people who do not just appreciate dance but understand the need to take dance as a way of life, as a way to well-being for the mind, body and soul.
What motivated you to take up Dance India Dance five years ago?
Dance was not a profession people from respectable and educated families looked up to for themselves or for their children. I have suffered this myself. It took me 20 long years of hard work, struggle, and determination to reach where I have. I think with the three seasons of Dance India Dance, where everyone across the country auditioned to take part with the support of their families, I have been able to bring some respectability to dance. I love to create performances that are cutting edge, awe-inspiring, artistic and entertaining.
We would like to hear more about the Terence Lewis Dance Academy.
The primary aim of the TLA founded in 1998 is to provide a platform for systematic dance education of the finest quality with a wide outreach to national and international audiences, spreading the joy of dance and to spread our philosophy. I believe dance not only acts as a stop-gap or a hobby but provides an education. Dance education is universal. It cuts across age, time, place, culture, sex and geography. We begin with children as young as four years to classes for corporate companies. We conduct special workshops at colleges and cultural festivals and also offer personal training classes. Then, there are specialised classes for students who wish to take dance, choreography, teaching and so on to a higher and more professional platform.
Has there been any change in the gender imbalance that sustained in taking on dance training as girls face lesser objections than boys when they wish to take up dance as a profession?
With reality shows and male dancing stars like Mithun Chakraborty, Salman Khan, Hrithik Roshan and so on, the gender bias against men has faded to a large extent. Women dance well and they have natural grace. But men are taking dance seriously today. Many men are taking to dance as a profession. I find them inclined more towards bringing contemporary dance styles into mainstream performances than following Indian or western classical styles. They tend to perform in breaking styles like popping, locking, breaking, b-boying, house and hip-hop. Women opt for Indian classical styles, too, which is very good. Training, practicing, honing your performance to a fine art is the key to becoming a professionally competent dancer.
Return of the hooded vigilante
It's the story of a hooded vigilante who pledges to fight crime and corruption. Arrow on Sunday 9 p.m. on Star World revolves around billionaire playboy Oliver Queen who gets shipwrecked and is marooned on an island for five years. His family and friends presume that he is dead. But he has survived by his wits and masters amazing gymnastic and archery skills. When he is finally rescued, he returns home to Starling City, which, he finds, is beset with lawlessness and sleaze. He makes it his mission to fight the evils that are plaguing the city with his somewhat medieval weapon of choice — the bow and arrow. Will Oliver be able to save a city bend on self-destruction? This gripping series is based on the fictional character Green Arrow, a costumed crime-fighter, who appears in DC Comics.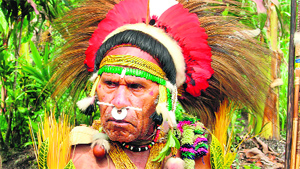 Taboo deals with the world of witches and spirits
Dangerous cultures
Every culture has its rituals and codes of living. Taboo on Sundays at 7 p.m. on the National Geographic Channel peeps into cultures which practice rituals that are too dangerous, too cursed, too renegade or too scary for our everyday sensibilities…. A world where normal rules no longer apply, where witches, spirits, and shamans dwell. Taboo, tapu, or tabu.... no matter how you spell it, the word conjures up images of cultures that transcend this mundane life for the "other world". Taboo is anything banned by social custom, any practice deemed unacceptable to one group or another. The series dwells on behaviour and rituals that once defined a culture but have now been forbidden, or gone underground. This is the world of Taboo…secret, off the grid, and yet, part of the everyday experience of many communities. — NF