Floriculture-related options
Grow and bloom
With flower festivals going on all around one is bound to think how the art of growing and marketing flowers has come a long way from being a hobby to becoming a lucrative career field. Commonly known as floriculture, the study of growing and marketing flowers and foliage plants also includes the cultivation of flowering and ornamental plants for sale or for use as raw materials in cosmetics and perfume industries and the pharmaceutical sector. In India floriculture industry comprises flower trade, production of nursery plants and potted plants, seed and bulb production, micro propagation and extraction of essential oils.
Career Hotline
Work experience for MBA
Q. I am 22 years old and am working as a junior account executive with a Chandigarh-based advertising agency. This is my first job. I want to pursue an MBA. Should I work for a few years and then apply to B-schools. Will my work experience be considered at all? — Rian Thareja
news board
Thapar varsity signs MoU with French institute
Thapar University, Patiala, has signed an MoU with Groupe ISA, Institute of Life Sciences, Lille, France, for the Exchange of Academic, research information and joint educational programmes. The MoU will focus on topics related to Food and Environmental Biotechnology. The MoU was signed by Prof K.K. Raina, Director Thapar University and Ms. Florence Malaise, Director International Relations recently.


CareerCature
SANDEEP JOSHI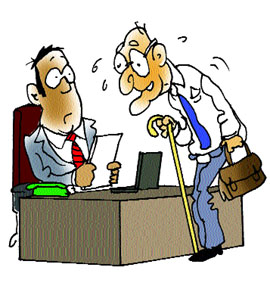 I am not over-aged for the job. The stress in my previous job has added 20 years to my real age.
field in focus: oceanography
A sea of opportunities
The field of ocean engineering provides an important link with other disciplines such as marine biology, chemical and physical oceanography, marine geology and geophysics. Just as the interests of oceanographers have driven the demand for the design skills and technical expertise of ocean engineers, innovations in instrumentation and equipment design made by ocean engineers have revolutionised the field of oceanography over the past three decades.
on board(s)
Don't take language lightly
In board exams generally students take the language paper easy and start the preparation very late. Students do feel relatively comfortable and less stressed in the language exam as they are constant users of the language. It is good to keep this confidence while studying. However, the fact is that language development is a long-term preparation and the comfort and competency can't be developed overnight. When it comes to attempting the final paper and getting good marks, not getting nervous is what matters the most as out of anxiety, nervousness and stress students commit silly mistakes and make wrong choices. Here are a few tips which will stand you in good stead in the board exams:
smart strategy: tackling rudeness at workplace
Steer clear of the rude brigade
Gossiping, bullying and backstabbing are not only limited to high schools, these're also common in workplaces. According to a recent article published in the Harvard Business Review, half of workers have revealed that they're treated rudely at their job at least once a week, up from just a quarter in 1998, Fox News reported.
Cos rain "shares" on productive employees
Seeking to reward their staff amid an uptrend in the stock market, top blue-chip companies like HDFC Bank, ITC, L&T, Kotak Mahindra Bank and Wipro have awarded crore of shares to their employees and many more such equity offerings appear to be in the pipeline.
Utilise the power of words
Words have tremendous power and potential and everyone uses a large number of words in daily life and in one's career. These words act like a double-edged weapon which when used properly make a person successful, but if used carelessly these can cause havoc ruining one's life and career.
book shelf
Roadmap for future
India is rising in consciousness. We are becoming more aware of our rights and duties. Lately the national stage witnessed mass protests fighting for the safety of women. All this is actually signifies the age of change. But, this period of history to which we all play witness also marks a huge disconnect between the owners and the stakeholders. The organisations around us have reached the heights of success. The disconnect is equally alarming as the people who have contributed to making those success stories possible are being put in the back-seat. Thus, we see many young people who have sufficient means, opting for entrepreneurship.
Happiness @ work
Gems of ancient wisdom
Prayer works wonders
Make God your friend. At the end of the day, don't forget to talk to Him and thank Him. As you are my friend, I am simplifying the most profound knowledge in the universe for you because it is in your interest, said Krishna (Gita 18.64).