M A I N N E W S
North smiles, after long


Chandigarh gets connectivity to Bangalore, Goa, Amritsar


Coach factory to come up at Sonepat

New line to Talwandi Sabo in Punjab

Multi-mode travel package for J&K
Vibha Sharma/TNS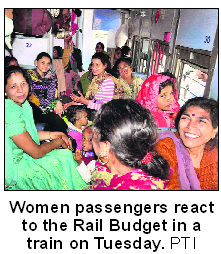 New Delhi, February 26
Railway Minister Pawan Bansal, an MP from Chandigarh, today gave his home town, as also other northern states, something or the other to cheer about.
The "Rai Bareli" Budget, as the Opposition chose to christen Bansal's maiden effort, in fact carries a distinct North Indian touch, but to be fair to him, unlike his predecessors, he seems to be fairly equitable in treating various regions.
Perhaps, it is after a long gap that northern states have been looked after with announcement of new projects and trains. The poll-bound Haryana finds favour with a coach-manufacturing unit at Sonepat, while Chandigarh has been bestowed with a bonanza of new trains, increase in frequency and connectivity to Amritsar (the Amritsar Intercity Express (daily) via Mohali), Goa (extension of the Madgaon-Hazrat Nizamuddin train to Chandigarh) and Bangalore (extension of the Yeshvantpur-Hazrat Nizamuddin Sampark Kranti Express to Chandigarh, two days).
Bansal also promised a traffic survey for a new line between Patiala and Jakhal.
The minister has also tried to include the much-neglected Himachal Pradesh in his plan. The Bilaspur-Manali-Leh, identified by the Planning Commission as a strategically important link, found mention in his speech. Apart from announcing a new line between Dharamsala and Palampur, he promised to actively pursue the link.
But as far as new projects go, he has been the most generous towards Chandigarh that sends him to the Lok Sabha, obviously to keep his prospects intact ahead of the next General Election, and also Haryana. So while he announced a modern signalling equipment facility through the PPP route and a skill-development centre for the City Beautiful, Sonepat district in Haryana got a coach-manufacturing unit in collaboration with the state government. Haryana got three new rail lines out of the total 22 announced today. Rohtak MP Deepender Singh Hooda has thanked the Railway Minister for the factory and new lines.
For Jammu and Kashmir, he has mooted two important projects, which will take care of interests of Vaishno Devi pilgrims besides other tourists. For the benefit of Sikhs, the minister proposed to take up the construction of a new line from Rama Mandi to Maur Mandi via Talwandi Sabo. Among the five Sikh Takhts, only the Takht Damdama Sahib that was not connected by a rail link, he said.
For J&K, there is a multi-modal travel package with cooperation of the state government that would enable passengers to travel from Jammu through Udhampur, Qazigund to Srinagar and Baramulla on a common rail-bus ticket. Officials say the move intends to facilitate and provide hassle-free travel for tourists visiting the region.
Apart from commissioning of the railway line to Katra, which, Bansal said, would happen very soon, he also mooted a proposal for issuing "yatra parchis" to pilgrims travelling by rail at the time of booking of the ticket itself. This, he said, would be done with the help of the Mata Vaishno Devi Shrine Board.
He promised to take up the Udampur-Srinagar-Baramulla national project and the projects of strategic importance on priority. Apart from pursuing the Bilaspur-Manali-Leh link and Jammu-Poonch via Akhnoor, he also announced a new line between Ferozepur and Patti for providing a direct rail link between border areas in Punjab-Ferozepur, Amritsar and Attari.
NEW EXPRESS TRAINS
Amritsar-Lalkuan Express (weekly), via Chandigarh
Bathinda-Jammu Tawi Express (weekly), via Patiala, Rajpura
Chandigarh-Amritsar Intercity Express (daily), via Mohali
Delhi-Firozepur Intercity Express (daily) via Bathinda
Delhi-Hoshiarpur Express (weekly)
Kalka-Sai Nagar Shirdi Express (bi-weekly), via Hazrat Nizamuddin, Bhopal, Itrasi
Katra-Kalka Express (bi-weekly), via Morinda
New Delhi-Katra AC Express (6 days a week)
Kota-Jammu Tawi Express (weekly), via Mathura, Palwal
Indore-Chandigarh Express (weekly), via Dewas, Ujjain, Guna
Una/Nangajdam-Hazoor Sahib Nanded Express (weekly), via Anandpur Sahib, Morinda, Chandigarh, Ambala
Bandra Terminus-Hisar Express (weekly), via Ahmedabad, Palanpur, Marwar, Jodhpur, Degana
Bandra Terminus-Haridwar Express (weekly), via Valsad
NEW PASSENGER TRAINS
Bathinda-Dhuri (daily)
Sriganganagar-Hanumangarh-Sadulpur (daily) after gauge-conversion
MEMU service
Delhi-Rohtak (replacement of conventional service by MEMU)
DEMU service
Delhi-Kurukshetra, via Kaithal
Tarn Taran-Goindwal Sahib
EXTENSION OF NEW TRAINS
Chandigarh-Lukhnow Express to Patna (2 days)
Delhi-Bathinda Express to Fazilka
Jammu Tawi-Baruni Express to Bhagalpur
Madgaon-Hazrat Nizamuddin to Chandigarh
Yeshvantpur-Hazrat Nizamuddin Express (2 days) to Chandigarh