M A I N N E W S
No new tax in poll-bound Haryana
Finance Minister focuses on welfare schemes, banks on VAT, excise for revenue
Ruchika M Khanna/TNS
Chandigarh, March 1
With an eye on elections next year, Haryana Finance Minister HS Chattha today presented a tax-free budget of Rs 66, 178.49 crore. Even as the state faces a huge revenue and fiscal deficit, it has announced a slew of welfare schemes aimed at inclusive growth of the marginalised sections of the society.

MAJOR INITIATIVES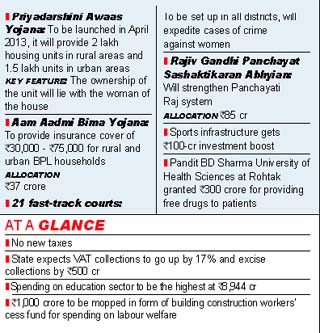 Presenting the budget proposals for the coming financial year, the minister said the state's revenue collections will go up substantially and he is banking on higher VAT, excise and stamp duty collections for the increase in its earnings. Haryana hopes to rake in Rs 43,780.33 crore as revenue receipts and has earmarked Rs 46,223.56 crore towards revenue expenditure. This will mean that the state will have a revenue deficit of Rs 2,443.23 crore, and will thus not be able to achieve its target of becoming a revenue surplus state or attain a revenue balance.
Haryana's fiscal deficit for the next year is estimated at Rs 8,975.97 crore. But even as the state has made little effort to mop up its resources, and is banking on a 17.26% increase in VAT and Rs 500 crore in excise collections, the annual plan projection for the state is up by Rs 3,500 crore and stands at Rs 18,000 crore.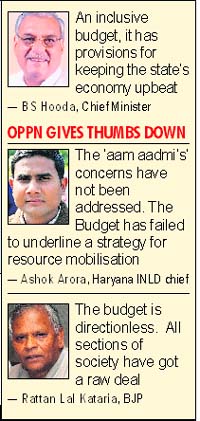 The state will also get Rs 2352.65 crore from the Government of India for centrally sponsored schemes, boosting the composite plan outlay to Rs 20,352.65 crore. Perhaps, taking a cue from the Union Budget presented yesterday, the Finance Minister has gone all out to pump in money in infrastructure, education and social sectors.
Special initiatives for empowering women and panchayats, skill development in youth, improving education and health infrastructure and rural development have been announced today. The state proposes to take the public-private partnership route for infrastructure development in a major way and expects to implement projects worth Rs 50,000 crore through PPP model during the 12th five year plan.
Calling the budget people-friendly and growth-oriented, Chief Minister Bhupinder Singh Hooda said it was inclusive and had provisions for keeping the state's economy upbeat. He said that the state was following all fiscal parameters set by the Finance Commission.
The Finance Minister has announced four new major schemes, with the hope that these would help pump in more money into the economy and lead the state on a growth trajectory, besides empowering the marginalised sections.
A housing scheme for the urban and rural poor women, having a financial outlay of Rs 1,320 crore, will be launched. Under the scheme, the state will construct and finance 2 lakh dwelling units in rural areas and 1.50 lakh units in urban areas. The setting up of the Haryana Infrastructure Development Board, an insurance scheme for urban and rural poor and utilisation of building construction workers' cess fund for labour welfare are the other three major initiatives.
The other new announcements include the setting up of a Haryana State Commission for Scheduled Castes; setting up of 21 new fast track courts in each district for expediting cases related to crime against women, Rajiv Gandhi Panchayat Sashaktikaran Abhiyan for empowering panchayats; and a cashless medical insurance cover for all government employees.
In the budget proposals for the year 2013-14, the education sector has got the highest allocation of Rs 8,944.87 crore. New government polytechnics will come up at Shergarh, Neemka, Indri, Mandkola and Madalpur, a National Institute of Design will be set up at Kurukshetra and an extension campus of IIT-Delhi will come up at Kundli.
Power sector will get Rs 5,232.97 crore, which will also include the power subsidy of Rs 4,260.25 crore. A sum of Rs 4,471.21 crore has been earmarked for the Road and Transport sector; while Rs 3216.28 crore have been reserved for welfare of scheduled castes and backward classes. Agriculture sector will get Rs 1,854.29 crore, irrigation Rs 2,240.96 crore and public health engineering will receive Rs 2,307.49 crore.