TRAVEL
On the road less travelled

Women travellers are a fast-burgeoning demography. They are scaling new heights and even creating some unheard of peaks

Puneetinder Kaur Sidhu
travel is fun. Travel tales, even better. And trailblazers are the proverbial icing on the cake. And if these pathbreakers constitute women, they sure make it newsworthy.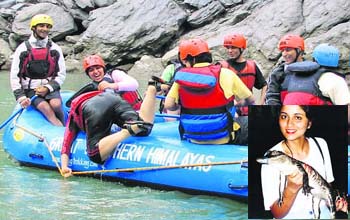 Supreet Dhiman (second from left); and (inset) holding an alligator at Clearwater Beach, Florida, USA
From the hills of Himachal
Minakshi Chaudhry has worn many a mantle in life: as a journalist, cancer survivor and prolific author. But what defines her best is her endless love for travel, especially in Himachal Pradesh, her home state. Born in Solan, she was schooled in Nigeria before landing a job with a newspaper. The travel bug bit her early on, for when her family returned from Nigeria, her father booked hopping flights, choosing a different destination to visit each time. Her husband, an officer with the Indian Administrative Service, also shares her love for exploration. Together, they have trekked through virtually every inch of Himachal Pradesh and visited over 42 countries.
This travel enthusiast has translated her love for mountains, lakes and forests into many well-received books: Exploring Pangi Himalaya - A World Beyond Civilisation, A Guide to Trekking in Himachal, and Destination Himachal, a travel book on lesser known destinations in the state. She went on to collate writings from the Shimla hills in a book titled Whispering Deodars, before chronicling first the love stories and then the ghost stories from the region. Another book, Sunshine, accords the reader a window to her experiences with cancer. Minakshi has recently returned from an all-women holiday to Singapore and Malaysia that she cobbled together with her school friends.
Adventure junkie
A few years ago, Chandigarh girl Supreet Dhiman, nature enthusiast and head, StoneArt at Besten & Co, realised the adventure quotient of the laid-back denizens of City Beautiful needed some shaking up. Hence, the Chandigarh Adventure, Treks and Sports (CATS), the city's first adventure club, was born. Today, it boasts of all manner of members: students, doctors, bureaucrats, business managers, IT professionals etc. Trekking, hiking, biking, parasailing, paragliding, rally crossing, rafting, rock-climbing, rappelling, fishing and much more; CATS has made it all easy and accessible by identifying areas around Chandigarh.
Supreet's interest in adventure sports was ignited when she was studying at the University of Warwick, itself beset by thick forestland, hills and water bodies. She counts being marooned on a deserted island in the Bahamas as one of her memorable escapades. For three days, she had to fend for food and shelter while in the company of exotic birds and animals. Supreet has raised funds for cancer research in England by scaling the highest peaks in England and Wales; and by swimming a stretch of 2.5miles in 40 minutes every day for a month. She continues to give back through eduCATe and medicate, initiatives that collect money for education and medical care for the less privileged.
Inhabiting the Lonely Planet
Dehradun-based, Supriya Sehgal, ostensibly lives in Bangalore now but traipses around the country on work. She travels map-less and un-Googled, and loves getting lost. An occurrence, she confesses, that has befallen her with unfailing regularity over the past eight years, since she exchanged her office cubicle for the road. As one half of the team that leads Photography Onthemove, a travel photography initiative, she finds that the addictive chaos of Varanasi has her enthralled. Supriya enjoys researching festivals of India from a filter of unique access and behind the scenes action; and counts the Kambala buffalo races of coastal Karnataka, the Champakulam Snake Boat Race and Theyyam of Kerala as most intriguing. This copious diet of hers — replete with anecdotes and chai with inquisitive locals, co-passengers, auto drivers and cabbies — qualifies her to author for the Australian publishing great, Lonely Planet. She is presently wandering around Kerala, penning down her second book for them.
Tarantula eater
Lawyer-turned-journalist-turned-travel writer, Anjaly Thomas, author of Almost Intrepid, prefers the humidity of jungles to air-conditioned office suites. Her travel mantra is roughly based on "is hard, must do". This has led her to eating tarantulas, facing machete-wielding rebels, being held up by gun-toting soldiers in Tanzania, scaling Mount Kilimanjaro and trekking in wildlife-infested tropical jungles. Anjaly is from Kerala, but her day job with a radio station finds her currently living in Dubai. She is the first Indian woman to have walked the peril-laden Kokoda Trail, a 96-km-long track through the tropical forests of Papua New Guinea. She does not believe in splurging on food when travelling and doesn't mind helping herself to someone else's plate, because she believes it breeds interactivity. A champion of solo travel, she goes it alone most times because it means freedom — to explore, to experience, to blend in, and to revel in anonymity. In step with her declaration — as long as she can put her right leg in front of her left, she will keep exploring. She is going off to the Amazon next. Why? Because she once held a giant python around her neck and now she would like to try an anaconda!
In peak condition
Kanan Dhru is the founder of Research Foundation for Governance in India, an Ahmedabad-based thinktank working towards legal and political reforms. Armed with a law degree from the London School of Economics, she has worked with the National Knowledge Commission. A Fulbright-Nehru Fellow, she is a Global Shaper at the World Economic Forum's Ahmedabad Hub and was one of the 37 "Indians of Tomorrow" featured by India Today in 2012. Yet, she finds the time and energy to live out her passion for the road less travelled, and mountaineering.
She forged her bond with the mountain while on a holiday at Mt Abu. Soon after she enrolled herself for the Brighu Lake Trek, which was organised by the Bangalore Mountaineering Club in 2009. Today, egged on by her trek instructor at Mt Abu, she has scaled endless peaks in India and abroad: Kumar Parvatha in Karnataka, Mt Hira in Japan, The Peak in Hong Kong. She also found time to bungee-jump from the Macau Tower and visit the Yosemite National Park in the US. Kanan added to her impressive record by undertaking an eight-day trek to Mt Killimanjaro last year. She is now preparing to launch herself at Mt Elbrus in Russia, the highest peak in Europe. The challenge is no deterrent as she believes her passion is not just a reflection of her personality but has also equipped her with the survival instincts and toughness of character that her profession necessarily demands.
Supreet Dhiman

The safest place to spend a night in Sonmarg is a police post when faced with protesters in a volatile mood.

Minakshi Chaudhry (Austria)

Discovering the true meaning of "weekend rush" in Munich without bookings. Even soup kitchens turn away well-travelled tourists.

Supriya Sehgal

It was nirvana while witnessing non-commercial Ramleela performances up close at Varanasi.

Kanan Dhru (bungee-jumping from the Macau Tower)

The Delhi male does not deserve the notoriety accorded to him; after being genuinely helped by three random men at New Delhi Railway station.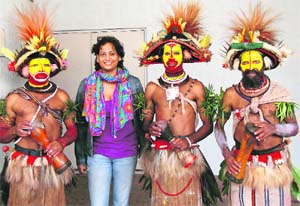 Anjaly Thomas (with Papuan dancers) It is best not to bite into the squishy stomach of a fried tarantula.
Globetrotting
Solo sailing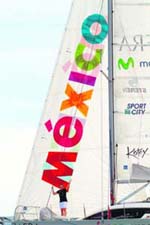 Galia Moss is the first Latin American woman to cross the Atlantic Ocean solo
Small in stature, big on heart, would be a fitting way to describe Galia Moss, the Mexican sailor currently on a solo east to west circumnavigation of Latin America — Mexico to Mexico — to be exact.
Galia, 38, is on a sponsored project to provide education for Mexican children and help rebuild schools. Sponsors Fundacion ARS, HSBC, and Lazos under the umbrella of Association Solo Levanta La Mano are financing a year of education for a child. For each five nautical miles sailed by Galia, one child is sponsored, and for 1,813 miles sailed a school is rebuilt. The aim of the voyage is to sponsor a year of education each for 14, 500 children and build eight schools.
Her voyage will clock up 14,500 nautical miles with 14 visits to ports and marinas during 170 days of solo sailing. She expects to finish in May 2013. Along the way she is promoting Mexico and her 11 sponsors in Brazil, Uruguay, Argentina, Chile, Peru, and the Galapagos. At each port of call she organises press conferences at the embassies and gives talks.
Galia has something of a reputation for reliability and results. This is now her third solo project, the previous two linked to achieving the building of 644 homes for low-income Mexican families and nutritional packages for 708 children to last two-and-a-half years.
Mexican sailor Galia Moss is on a six-month solo voyage. She started on November 6, 2012 in Cancun, Quintana Roo state, Mexico. Moss is going to travel a distance of 29,000 km covering the costs of seven countries, going through South Atlantic, and then sail around southern Argentina and enter the Pacific to the north, and then conclude in the resort of Acapulco. Photos: AFP
Her sailing career began at 24-year-old when she put a promising future as a classical musician on hold to take part in a tall ship training program. She was also inspired by the American sailor Tania Aebi's around the world voyage and account of her experience in the book Maiden Voyage.
Seven years later Galia became the first Latin American woman to cross the Atlantic Ocean solo and when she completes the circumnavigation of Latin America in May she'll be the first Mexican woman to do so singlehanded. Racing in the Mediterranean on Mini Transat boats and J24s on the lakes helped hone her skills and confidence for solo sailing.
During lonely rough passages Galia reminds herself that every mile sailed is for a good cause. "Before I left, the foundation Lazos gave me a bag of 600 letters to read from children all over Mexico. That helps so much to keep you going. It's amazing that so many kids have not even seen an ocean."