M A I N N E W S
Cabinet gives nod to Bill ensuring time-bound services to citizens
It proposes penalising bureaucrats for causing any delay in services
Girja Shankar Kaura
Tribune News Service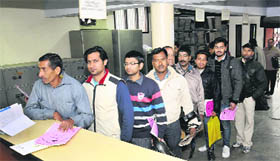 New Delhi, March 7
The government today gave its nod to a Bill aimed at providing time-bound delivery of services such as passports, pensions and birth and death certificates, among others, to citizens. The Bill envisages a penalty of Rs 250 a day subject to a maximum of Rs 50,000 on a government official failing to provide his or her duties.
The Right of Citizens for Time-Bound Delivery of Goods and Services and Redressal of their Grievances Bill, 2011, was approved by the Union Cabinet at a meeting chaired by Prime Minister Manmohan Singh. Effectively, bureaucrats may be fined for delay in services though the Cabinet remains split over which ministry will foot the penalty bill.
However, the draft Bill would go back to the ministries of Law, Home Affairs and Personnel and Training as it requires fresh paraphrasing. This means that it need not go to the Cabinet again and can be directly tabled in Parliament.
This Bill has been brought to the Cabinet 15 months after it was introduced in the Lok Sabha in 2011. It lays down an obligation upon every public authority to publish a citizen's charter, stating therein the time within which specified goods shall be supplied and services be rendered and provides for a grievance redressal mechanism for non-compliance of its provisions.
Sources said the issue of inclusion of NRIs in the ambit of the Bill to access time-bound delivery of services will be dealt with separately by the Ministry of Personnel, Public Grievances and Pensions and the Law Ministry.
The proposed legislation, spearheaded by Department of Administrative Reforms and Public Grievances, also mandates a public authority to establish a call centre, customer care centre, help desk and people's support system to ensure time-bound delivery of services. Officials said the Bill, once passed by Parliament, will be binding on the states.
They said once approved, the services delivery Bill would prove much more effective in tackling corruption than the proposed anti-graft Lokpal Bill that was drafted after anti-graft protests of Anna Hazare in 2011 and sent to a standing committee for its consideration and suggestion. The officials said most of the recommendations of the panel have been approved, barring two.
According to its provisions, a person aggrieved by the decision of the commission may prefer an appeal before the Lokpal at the Centre (in case of a decision by the Centre's public grievances redressal commission) and the Lokayuktas in the states.
All services provided by the Centre and state governments will be extended to citizens in a time-bound manner under the Bill.
What it means
The Bill lays down an obligation upon every public authority to publish a citizen's charter stating the time within which specified goods shall be supplied and services be rendered and provides for a grievance redressal mechanism
It envisages a penalty of up to Rs 50,000 against a government official failing to provide his or her duties
Once passed by Parliament, the Bill will be binding on states