M A I N N E W S
Jats intensify quota stir, 6 begin fast-unto-death
Sushil Manav
Tribune News Service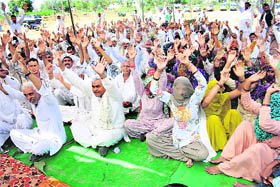 Members of the Jat community at a rally in Hisar's Mayyar village on Thursday. Photo: Manoj Dhaka
Hisar, March 7
Members of the Jat community on Thursday started a week-long hunger strike in Hisar district's Mayyar village demanding reservation within the 27 per cent already fixed for the OBCs in government jobs.
Refusing to accept the 10 per cent reservation given to Jats and four other castes by the Haryana Government under a Special Backward Classes category, six Akhil Bhartiya Jat Aarakshan Sangharsh Samiti (ABJASS) members started the strike in the same village where Sandeep Karwasra was killed in police firing on March 6 last year.
Samiti activists convened in Mayyar village on Thursday for a seven-day dharna, but after a few minutes of deliberations it was decided that six activists -- five men and a woman -- would launch a fast-unto-death. Those on fast are Chanda Singh (76) and Phool Singh (75) from Kanoh, Phool Singh (67) from Sarsana, Kitab Singh (66) from Hebatpur, Prem Singh (62) from Kirori village and Lakshmi Devi Sangwan (36) from Dadri in Bhiwani. The development put district authorities on a sticky wicket as five of the protesters are elderly persons and a medical complication could aggravate the situation.
Samiti spokesperson Ram Bhagat Malik said the decision to start a fast- unto-death was taken today itself after the six volunteered to give a "sacrifice" for the community. He said the reservation announced by the state government was not acceptable as the courts would not allow over 50 per cent quota in jobs.
He said people from 25 villages visited the dharna site today to pay tribute to three Jat activists who have died during their three-year agitation. Malik also said a state-level rally would be organised on March 12 where the Samiti would announce its course of action.
The Yashpal Malik faction of the Samiti had given a call for a rally to mark the death anniversary of Sandeep Karwasra yesterday. At the rally, Samiti state president Dharampal Chhot, state secretary Mohinder Punia and other leaders decided to start a seven-day dharna from today. However, when activists assembled today, it was decided to launch a fast-unto-death.
The demands
Members of the Jat community want reservation within the 27% quota for OBCs in govt jobs
They say the 10% reservation to Jats and four other castes by the Haryana Government is not acceptable, as courts would not allow over 50% quota in jobs
With five of the six fasting activists above the age of 60, district authorities are on tenterhooks as a medical complication could aggravate the delicate situation