One soul, many a role
A woman's role is diverse and in each one, her contribution is quintessential…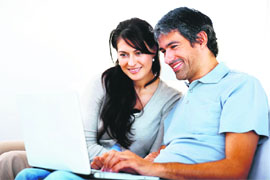 You don't need a reminder on the calendar or an ear-marked day to thank her; tell her how much of her has redefined you, how much of her patience has helped you, how much of her confidence has inspired you, how much her smile has comforted you and how much her tears have melted you! You indeed do not need a day for it. So, all you can do this Women's Day is think about the things that she has done to make you happy. Do you remember any?
A hand that matters
This Women's Day, we salute the spirit of some who have looked beyond themselves as well as their families and contributed to making the world a better place to live in…
A woman's role is crucial in her house. There are a few instances though, when she moves beyond the portals of her own house, walks the extra mile and reaches out to make a difference, however small, in the lives of others.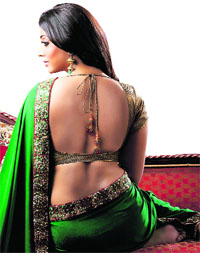 new releases
Sequel magic
Saheb Biwi Aur Gangster Returns
Producer: Viacom18 Motion Pictures, Brandsmith Motion Pictures
Director: Tigmanshu Dhulia
After the success of Saheb Biwi Aur Gangster, director Tigmanshu Dhulia continues with the story of love and betrayal. The Tigmanshu Dhulia film, which ended with gangster Randeep Hooda getting killed, gives way to Irrfan Khan in the sequel who plays a gangster and is cast opposite Soha Ali Khan in this Rs 7 crore movie. This sequel continues to witness a war for power and money. The film also casts the couple Jimmy Shergill and Mahie Gill, who continue to play husband and wife. The makers have shot the sequel in Devgad Bariah Haveli (Gujarat), where the previous version was shot.
Go-getter
Green crusader
'We'll pass on a legacy your way', said our ancestors while adding, 'it is, however, solemnly on you to protect and preserve its sheen'. While most of us shrug away our responsibilities, there are a few who take upon themselves the onus of conserving nature and all its reserves. Here's a force to reckon with, a student of Class 9 in Vivek High School-Harshita Saxena. She was awarded with the Young Learner's Award by The Global Educational Leadership Foundation (TGELF), under which she was given a scholarship to study in Malaysia. Read on to gather the candid confessions of this young achiever.
Bubbling with melody
If you still haven't searched for Badri Badariya-Amit Trivedi feat Mame Khan and Mili Nair Coke Studio@MTV, Season 2, you are definitely depriving your ears of a soulful symphony that this Rajasthani folk number creates. The song does absolute justice to the concept of Coke Studio, which is a confluence of diverse number of music genres, from traditional eastern to contemporary western and from regional to the folk. Wait till you discover how the city takes to it.
Revisiting 20s
"As many as 72 per cent of women in Tricity above 40 feel the need to undergo a cosmetic procedure to get their 20s look back," reveals a study conducted by Bodysculpt and led by Dr Vikramjeet Singh Dhingra.

Ladies first
SRK wants actress' name to appear first on film credits
Making a pitch for women power, Bollywood superstar Shah Rukh Khan wants filmmakers to scroll name of actresses first in the credit roll on big screens and feels that they are yet to get their due. "I would like to request to all that the name of heroines should appear first while giving credits. We would start this with Chennai Express. Deepika's name comes first. She is quite excited about it," SRK said in an interview.
Priyanka's energy secrets
Food & travel keep PC on the top of the world...
Priyanka Chopra is known to be energetic and enthusiastic. She is always bubbly and one wonders where her energy comes from. She shares her energy secrets and more…
Coffee shops
I go to coffee shops but I am not a caffeine junkie. I like ordering cheesecakes, croissants, plum cakes and I love a simple cappuccino too. People get shocked by the amount I eat. When I am on vacation, I just lounge and do not exercise at all. So that way I have unhealthy habits. I am grateful that I have a fast metabolism and do a lot of work which keeps me slim.
Madhuri to do an item song
The Dhak Dhak actress Madhuri Dixit has recently announced her online dancing academy. She will do an item song for Ranbir Kapoor's Yeh Jawaani Hai Deewani soon too. Ayan Mukherjee has approached Madhuri and she readily agreed. Before her comeback movie Gulab Gang hits the theatre, she will be seen in this special number. She has also signed Vishal Bharadwaj's Dedh Ishqiya which is a sequel to Vidya Balan starrer Ishqiya.
Honour women everyday!
Bollywood superstar Shah Rukh Khan feels that women should be rewarded at every point for their achievements, and no one should die to get an honour.
Like a bullet!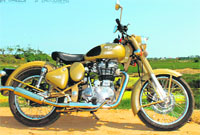 The charm of the Royal Enfield or the Bullet, as it is popularly known, continues to mesmerise bike-lovers…
Automobiles have come and gone but the endearing charm of the Royal Enfield bike remains. The heavy sound of the 'Bullet' is still music to the ears of those who love this mean machine. Its popularity continues to last despite the market being flooded with new-age, designer motorcycles.
chatter box
All is well that ends well
Actor Arjun Bijlani is upset that his show Kaali - Ek Punar Avatar is going off air soon. He talks about its success, his future plans and more…
The year ahead
If your birthday is March 8...
If you are pursuing your goals with determination, it will require a great deal of energy and effort. You are generally laid back in your approach but if you are aspiring high, you need to gear up to get the desired results. Be careful of a rival and the plots laid to entrap you. Pursue your dreams and don't leave any opportunities that come your way through any scholarship. Get started instead of waiting for the right time.
Astro Turf
ARIES: The day will remain busy in taking care of pending work. Once you are through, you will be able to relax. Health will be good. Money matters will not pose a huge concern.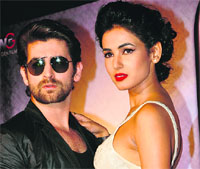 Together or not?
Neil Nitin Mukesh and Sonal Chauhan did not talk for six months post the shooting of their film 3G which is a horror film shot in Fiji. It shows some horrific things that happen to a couple after they buy a 3G phone. The duo was linked romantically during the making of the film but there was no truth to that and now they are promoting their film together as friends and co-stars. Boring!

Friends only: Neil Nitin Mukesh and Sonal Chauhan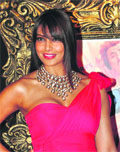 Ode to mothers
Actress Bipasha Basu, who essays a role of a troubled mother in Suparn Varma's Aatma paid a tribute to all moms. 'Aatma taught me even more about the mother daughter bond! Hats off to all the moms of the world!' she tweeted. Basu says her niece Nia inspired her for the role. "The real inspiration of my life who helped me perform like a true mother in Aatma! My lil niece, Nia!" she added.
Playing mum: Bipasha Basu

Cat Love
Shazahn Padamsee has a thing for cats. She loves cats and kittens because they live like royalty, love themselves and are so pretty and regal-looking with their glossy eyes and soft fur. She likes that they are aloof and independent and content in their own space. So anyone who wants to woo her can gift her a pretty kitten.