Let there be light... & how
With their innovative forms and designs, bespoke light fixtures help illuminate a room while adding to its decorative appeal
Shobita Shivshankar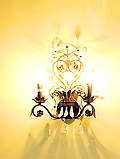 In stylish homes, it is lighting that sets the ambience of a room. The primary purpose of light is to illuminate your home. However, a slew of modern light gizmos have re-defined that meaning. Bespoke fixtures not only help to spread light but are fine decoration pieces and, at times, even the piece de resistance

of a room.
Many actually resemble works of art and create a sense of drama with their inventive forms and lend charm to a living room, bedroom, or even a bathroom or kitchen. From inset LED ceiling lights, standalone floor lamps, track lighting, task lighting and contemporary custom-made lights, there is a virtual array of bespoke light fixtures in the market.
Creative lights
Ask leading interior designers and they will tell you that proper lighting has the same impact as any other decorative in a room. Layers of light can enhance the space, highlight certain elements, or illuminate specific areas. Creative light fixtures have the power of lending charm of their own to a room by making it sparkle. On the other hand, faulty or stark lighting can have the opposite effect and will completely ruin the look of a room.
"Fancy fixtures are one of the most important components of a house. They can add beauty to the interiors, highlight details and enhance the visual appeal," says Vibha Suri, who specialises in designing farmhouses around Delhi.
Light, she says, is as important a component of interior decoration as a painting or a decoration piece. There are many corners, pictures, objects in a room that get lost in a general flood of light. Thus, it becomes important to use bespoke lights to accentuate them.
Costly bespoke illumination
The cost of fancy illumination too can be fancy! Though chandeliers start with a few thousands and go up to lakhs, even the price of bespoke ceiling and wall lights can start at around Rs 10,000, a piece with no upper limits.
In many well-decorated houses, every room has custom-made light fixtures. For example, a living room could have a low level incandescent lighting as it exudes warmth. A touch of romance can also be added with uplights concealed in the ceiling or glowing behind cabinets, or even ceramic ambient lights to create an intimate and a welcoming aura for the guests.
Bedroom lighting is more complex. Since this is a place that has multiple uses: a room where you sleep, watch television, read a newspaper or a book and, generally, relax, you need different layers of illumination like overhead lights, lamps and focussed light for reading. Lighting must match furniture décor and according to interior specialists, the emphasis should be on brass and bronze fixtures.
Elegant chandelier
The kitchen would require brighter lighting as it involves cooking lighting and a big pendant light would be ideal. However, for kitchens that are an extension of the living or drawing room, even an elegant chandelier would brighten things up.
Contrary to popular perception, designers give a very careful thought to lighting in the bathroom. According to interior designer Anchal Joshi, a bathroom needs to be well lit, as this is where we groom ourselves. However, that does not mean you should go for stark lights. It should have one overhead central light that illuminates and adds depth to the entire area and this can be interspersed with more focussed lighting, which could be around the mirror and also the shower area.
Modern lights can be divided into three broad categories — ceiling, hanging and wall lights. The kind of lighting fixture you select will make a vital difference in the presentation and décor of the room. The right kind of lights will bring to life your interior spaces.
Clutter-free lighting
Ceiling lights, for example, use incandescent or fluorescent bulbs that make a room glow. In smaller rooms, a single fixture will provide sufficient light. But if the room is large, then, it would require supportive lights as well. So you would have to use your imagination whether to use decorative or clutter-free lighting.
Hanging lights, which in modern parlance are also called pendant lights, have, of late, caught the fancy of designers as they can be used to effectively highlight an area and give it an updated look. They add amazing ambience to a room when used with a dimmer.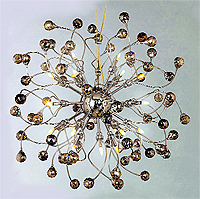 JOHN LEWIS NEBULA 24 CEILING LIGHTS
The John Lewis Nebula ceiling lights with irregularly curving arms, burst out from a central chrome sphere to form a cloud of sparkling lights. While 24 arms have bulbs on each end, other arms support stylish Egyptian lead crystal globes which glow in the light.

Price: Rs 41,650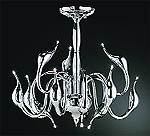 WOFI SEVILLA SEMI-FLUSH LIGHT

The spectacular Wofi Sevilla semi-flush ceiling lights come in three sizes fitted with 12, 18 or 24 halogen lights that are each mounted upon a metal arm in highly polished chrome finish. This is a very stylish fitting that would certainly add drama and class to any living room.



Price: Between Rs 1,14,750 and Rs 1,29,250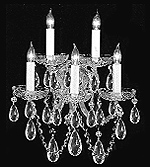 MARIA THERESA SWAROVSKI CHANDELIER
For years, Maria Theresa style of crystal chandeliers has been a sign of class. This collection by Crystorama offers a variety of finishes and crystal combinations. The collection also has on offer dazzling chandeliers in golden teak crystal.

Price: Rs 8,14,000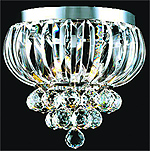 DALE TIFFANY FLUSH MOUNT CEILING LIGHT
One of the world's foremost designers of crystal art glass lighting, American company Dale Tiffany was the first factory worldwide to standardise stained glass production. The result is stylish and functional products like flush mount ceiling light.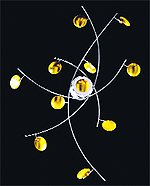 Price: Rs 24,750
CEILING LAMPS BY SIKREA
Italian light company Sikrea is known for its creative designs, styling and clean lines. This 11-lamp powerful ceiling light will illuminate the room while its subtle design and creativity will take your breath away.

Price: Rs 36,000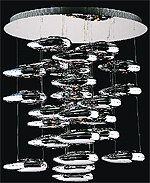 28-LIGHT CHANDELIER
This modern contemporary style 28-light chandelier from the aquarium collection of American company PLC Lighting comes in polished chrome with 10-watt halogen bulbs and a stately height of 34-inches.


Price: Rs 2,66,750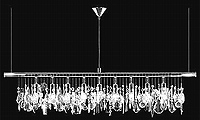 JAMES MODER CEILING PENDANT

One of the premiere manufacturers of Crystal Chandeliers in America, James Moder Company, is known for its stylish light fixtures. This stunning hand-cut chandelier in Swarovski crystals is from the heritage collection and is sure to compliment any living room.


Price: Rs 60,500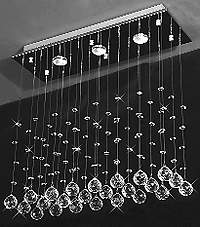 LED CRYSTAL BAR PENDANT LIGHTS
Spectacular crystal bar LED pendant light comes dressed in full lead hand cut Bohemian crystals, mirror finished high polished stainless steel frame. It has a strong illumination with LED Globes. The striking and head-turning design of these lights will add drama to a room.


Price: Rs 71,500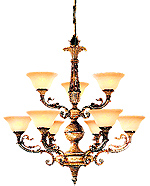 MINKA LAVERY 9-LIGHT CHANDELIER
The Minka Lavery 9-light golden bronze chandelier is a kaleidoscope for the senses. Inspired by classic European design, it spells class. Made of sturdy glass shades and wood and metal frame, it makes a trendy ceiling light, which will add oomph to a drawing room.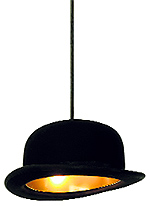 Price: Rs 90,750


JEEVES BOWLER HAT CEILING LIGHT

This Jeeves Bowler hat light pendant is based on the classic iconic British hats. The quirky black ceiling light has been designed by glass blower Jake Phipps for the British light company Innermost. The pendant light is sure to become the natural talking point at any get together.

Price: Rs 15,300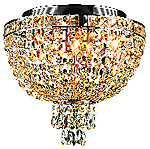 EDITH CRYSTAL PENDANT CEILING LIGHT
A contemporary and elegant light finished in chrome and decorated with luxe crystal beads, the Edith crystal pendant ceiling light can stand out both in traditional and contemporary settings. With a height of 35 cm, it sparkles with the light of six halogen bulbs.
Price: Rs 27,200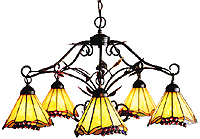 FIVE-LIGHT TIFFANY CHANDELIER
The five-light Tiffany chandelier in antique iron from Landmark Lighting has five elegant shades. These cascade from the antique iron finished frame, which is curved and bent with hooked arms. The style of the Tiffany glass shades would add beauty to any room in the house.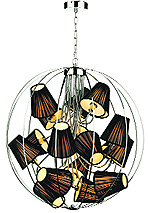 Price: Rs 61,600
DAR HIMALAYA CEILING PENDANT
This stunning modern ceiling pendant comes from the Dar Himalaya range. It features a circular polished chrome cage, which houses 18 adjustable arms leading to each candle light. So go ahead and create your own bespoke display of lampshades within the cage.

Price: Rs 46,750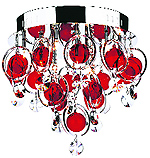 CLOUD-9 FLUSH CEILING LIGHT
This Cloud 9-flush ceiling light from Glasswells of England comes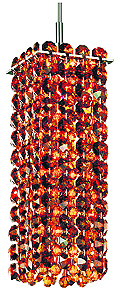 with stylish polished chrome finish with stunning red glass baubles and crystal decoration. The light adds amazing drama to the room with its bright colours and its unusual design.
Price: Rs 18,275
SCHONBEK MINI PENDANT
The Matrix designs of American light company Schonbek take the form of cubes and rectangles. This iridescent crystal mini-pendant in rectangular shape will dominate any space. A shimmering parallelogram of dense crystal, it has the visual impact of a contemporary sculpture.
Price: Rs 37,400
SOURCES OF LIGHT
There are basically six kinds of lights:
Chandeliers: These are one of the oldest forms of ornate lighting and, for centuries, have adorned palaces and royal houses. These look particularly attractive in large rooms and are generally an object of status.
Pendant lights: These are light fixtures that are suspended from the ceiling and also act as task lights in work areas like a kitchen or an office table. But these also make decorative attractions in the drawing room.
Recessed lighting: These lights do not hang from ceilings but are embedded in it. These provide low profile and dramatic lighting effect and are also used to highlight an attractive object or a piece of art.
Wall sconces: More popularly called wall lights, these come in every colour and style imaginable and are primarily used to illuminate hallways and staircases and are also attractive sources of light in rooms.
Flush mounts: These ceiling lights are different from pendant lights as the space between the ceiling and light is kept to the minimum. Apart from bedrooms and living rooms, these can be used practically anywhere.
Lamps: Table or floor lamps are an elegant and time-tested source of illumination. These light a small area and add a decorative touch to a room. Many interior experts prefer lamps to conventional lights.