Terrific toons
Imagination is perhaps the only refuge from reality and can sometimes even challenge the realms of reality! If you are a product of the 80s and the 90s, you will know exactly what happens when imagination meets animation and remember the yells of your mother from the kitchen even as your eyes were transfixed on your favourite cartoon character on television — Arabian Nights, Duck Tales or Little Mermaid!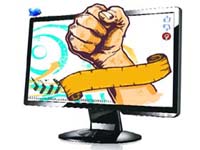 Huge impact, virtual-ly
It is about making a difference, whether you decide to march with the crowd protesting against an injustice or lighting a candle in the memory of someone who suffered an atrocity or one fine day you decided to collect data and put it together online; subsequently gathering support to create an online mass movement. In fact, it is from these online social awareness campaigns that victims like Jessica Lal and Aman Kachroo could get justice after their death.


Life in the Maruti lane
MTV VJ Rhea Chakraborty is young, bubbly and pretty. She plays Jazzleen, Chandigarh-di-hot-Shakira in the upcoming Mere Dad Ki Maruti which is her debut Hindi film. The vivacious girl talks about her journey into showbiz, cinematic influences, life in Mumbai, working with Ram Kapoor, being a foodie and more...



All that jazz: Rhea Chakraborty
Who will play Hrithik's Sati?
It has been reported that Hrithik Roshan has been roped in to play Lord Shiva in a film written by Karan Malhotra and his wife, titled Shuddhi. According to sources both Deepika Padukone and Kareena Kapoor are battling out to play the role of Sati in the movie.


Pun'jab' Sandeep Joshi



Grey area:

Is there any food supplement for mental health?
Waiting for Mr India 2
Sridevi, who made a great comeback with Gauri Shinde's English Vinglish, said that she would definitely be part of sequel to 1987 blockbuster Mr India which starred Anil Kapoor and Sridevi in the lead.
Are you ready for Pratigya 2?
Popular show Mann Ki Awaaz Pratigya will be back soon with a new season. Actress Pooja Gor confirms the same.