Tress de-stress

Jennifer Aniston has done it, so has Britney Spears. So have Jennifer Love Hewitt, Hilary Swank and Jessica Simpson, to name a few others. No, we are not talking what you probably are expecting! These celebrities have rather taken out some anger. And not on anyone else but on their own luscious, lovely tresses! You must be wondering about the reason? Upshot of a break-up! So, is 'post breakup haircut' a myth or is it for real? We try to figure out. When this feisty girl of twenty-four chose to quit her off-and-on relationship with her gym trainer-turned-boyfriend, she headed to a saloon to get rid of her locks first.
first-day-first show
A fun ride
Mere Dad Ki Maruti
Say yes to yogurt!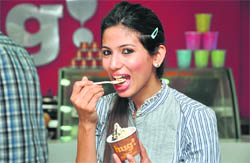 The time for slurps, relishing licks, swirling tongues around the icy dishes is back! The days to enjoy the feast of summer — the ice-creams are 'thank-god-fully' back again. There is nothing like downing the scrumptious scoops of various flavours in the searing sun. But the excited, raised brows quickly morph into frowns the moment you pay attention to these ice-creams gathering 'around your waist'! To strike a balance between the frozen-deliciousness and calorie-consciousness, flavoured, frozen yogurts are quickly becoming the 'hot' picks for summer.
star track
Staying true to telly
Beat it loud
Goa calling
Sallu says…
No JLo at IPL 6
Copycat in trouble
Tezaab again
Dream comes true
chatter box
Bumpy ride
Seeking critical acclaim
The Bong connection
The drama queen to act?