For the love of India's tigers
FSR had co-authored With Tigers In the Wild and he figured in the National Geographic documentary Land of the Tiger and Geoffrey Ward's bestseller, Tiger-Wallahs. Ranthambhore became a byword among tiger destinations and FSR figured among tiger celebrities
Reviewed by Lieutenant-General (Retd) Baljit Singh
Tiger Warrior: Fateh Singh Rathore of Ranthambhore
By Soonoo Taraporewala
Penguin-Viking. Pages 222. Rs 499
ON February 11, 2011, the Worldwide Wildlife Fund International (WWF) conferred on Fateh Singh Rathore (FSR) their prestigious, Conservation Award "For a lifetime of outstanding contribution to wildlife conservation, and for being a true champion for wild Tigers of India." This, last of nine such awards, arrived barely 12 days before, FSR was plucked by cancer on March 1, 2011. Though FSR had had no formal education in any discipline of the natural sciences, yet in just two decades of imbibed field experience inside a game sanctuary, his opinions on the management of wildlife in general and the tiger in particular came to be respected by the conservation fraternity world-wide and almost worshipped by the lay nature enthusiasts. At the core of this acclaim was FSR's unerring comprehension, of the ways of the tiger in the wild.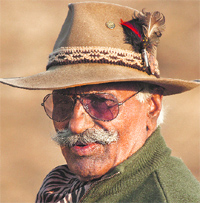 Fateh Singh Rathore. Photo by Dharmendra Khandal
WWF had come into being on the initiative of Sir Peter Scot in the 1950s and soon emerged as the mouth-piece of both the academic community and of the practitioners of the wildlife conservation paradigm in the field. When in 1960 it dawned that India was the last bastion of free-ranging tigers, they moved with unprecedented commitment, raising funds and motivating Prime Minister Indira Gandhi to accept the leadership role for the launch of Project Tiger (PT) in India. To begin with, nine wilderness areas, each representing different bio-geographical ecology, were chosen for launching PT. Ranthambhore, where FSR happened to be the Range Officer, was one among the nine. The book under review is as much a biography of FSR as also a selective glimpse of the personalities and organisations which guided the PT to arrive at its current level of success.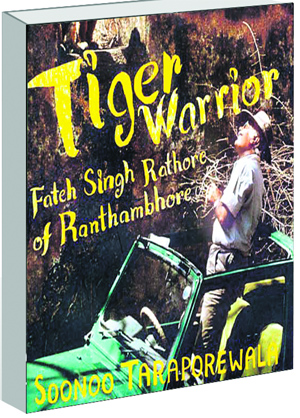 Although all the nine PT reserves had near similar numbers of tigers, yet in popular belief Ranthambhore alone counted as the prima donna tiger haven. Its geographical proximity to Delhi made it a convenient destination for visiting dignitaries and overseas tourists. Its dry deciduous vegetat ion afforded deeper and wider vision and better scope for sighting tigers. FSR, whose uncanny intuition of where and when on a given day a tiger may be sighted, added to the primacy of Ranthambhore. When Prime Minister Rajiv Gandhi and family holidayed inside in 1985-86 and "In three days, he was almost tired of seeing tigers morning and evening and asked to go somewhere else", that honest confession spread like wild fire. His parting hand-shake would make FSR larger than life, when he good-naturedly anointed him as "Fateh Singh Ranthambhore"!
When President Bill Clinton arrived in 2000, he too insisted on a visit to Ranthambhore but half a day was all that could be set aside. FSR had spent the previous night and the morning after, picking clues from mammal and bird behaviour for tiger presences. So with aplomb, he drove the US President deep inside Bakhola valley and sure enough, a male "sat right in the middle of the road" and FSR whispered that it was Bumbooram; Clinton made it famous by insisting to be photographed with Boomirang (!) in the same photo-frame! FSR had co-authored With Tigers In the Wild and he figured in the National Geographic documentary Land of the Tiger and in Geoffrey Ward's bestseller, Tiger-Wallahs. Just as Ranthambhore became a byword among tiger destinations, FSR figured prominently among tiger celebrities. This fame almost robbed Ranthambhore of nearly all its tigers by poaching mafias, concurrently FSR was fatally assaulted and finally jealousy within the Forest Service reached a pitch, eventually banning FSR's entry per se, to the Park he created single-handed! FSR "would hum with pleasure, Oh, mera jungle ka raja" on sighting a tiger. The photograph on the dust-jacket, is evocative of that spirit but it is a tragedy to despoil it with graffiti.