Yummy food in a jiffy
All those who think entertaining at home is a pain must break the time-worn mindset of cooking elaborate meals. You can feast on no-fuss dishes cooked super fast and bowl over your guests
Pushpesh Pant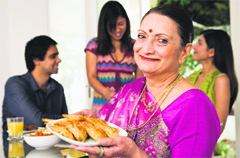 Don't get us wrong, we aren't advocating that you splurge on hamburgers, hot dogs and pizza slices and dish out the same 'junk' to your guests. We merely wish to draw your attention to the liberating possibilities that are available today if you are willing to get rid of the received baggage of "conventional wisdom" about hospitality and entertaining at home. There is absolutely no need to spend hours in back-breaking chores in the kitchen preparing a feast that will impress family and friends. If you happen to be a glutton for punishment you are welcome to do so on special occasions but we strongly recommend that you escape enforced martyrdom and enjoy the party.
Fast can be fun
Do it yourself (DIY) can easily be combined with Feasting with fast food (FFF). By fast, we mean meals that can be prepared in little time and without compromising on nutrition or taste. Nor does the word imply that extra expense has to be incurred. Planning is the key to success and a little preparation beforehand never hurts. Let your imagination take wings and don't be inhibited about innovation. There are no hard-and-fast rules but keeping in mind a few basics can be useful.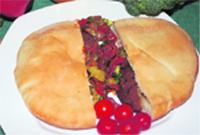 Stuff the pita after slicing it in halves with a sharp knife with whatever is at hand spice it up a bit, call it vilayati bharwan kulcha and you have a refreshingly different starter that doubles up as a staple
Try to provide a variety of colours, textures and flavours. Try to juxtapose different culinary traditions/ genres. Starters and desserts borrowed from foreign cuisines are universally popular — soups and fruits salads for instance. Work a bit on garnishes and display of delicacies and see what starts as an ugly duckling turn into a beautiful swan. Breads are a major hassle. First there is the dough has to be kneaded, then comes rolling and cooking on the tawa, one roti at a time. Phulka tastes best hot from the griddle to the plate and the person working in the kitchen to make this possible misses all the fun. Getting them from some neighbourhood takeaway is no solution of the problem. Rumali, tandoori and naan become leathery and cannot easily be brought back to life. Mini pao, Lebanese bread and our own favourite pita bread are all great options. Stuff the pita after slicing it in halves with a sharp knife with whatever is at hand spice it up a bit, call it vilayati bharwan kulcha and you have a refreshingly different starter. If you prefer pao, maybe avoiding the bhaji will open exciting vistas- how about a plate of left over laal maans? A little of the hot stuff goes a long way.
Guests find it thrilling to see pasta being prepared before their eyes. You can let them choose toppings and sauces of their choice and have fun
Pasta too is gaining popularity with the younger crowd. Gone are the days when macaroni was the sole variety available to Indians. Nowadays the food store shelves are overflowing with penne, fusilli, choncini and much more. Nor are you constrained to drown el dente spaghetti with boring bottled tomato ketchup. Thrilling pasta prepared before their eyes, crowned with home-made fresh tomato sauce redolent of herbs, adorned with shavings of Parmesan cheese, drizzled with freshly ground pepper to taste sprinkled from a wooden mill adds a flourish to "pasta service" that is guaranteed to make the guests forget puri-parantha. This can even evolve as an active game with guests choosing their toppings and sauces. If you aren't a prohibitionist then open a bottle of wine, swadeshi is fine, and send everyone in Mediterranean raptures.
Steamed rice is less troublesome and can be transformed into an aromatic flavourful staple in a jiffy. Give the Chinese fried rice a go by and try out delightful tomato rice with sambhar masala and mustard, curry leaves tempering and pair it with plain dahi.
Fish and chicken take much less time to cook than mutton/kid, especially if it has been marinated beforehand. It can be pan-grilled without much fuss and can be served boneless and pre-portioned/ plated with stunning eye appeal. We strongly recommend the Bread Crumbed Pomfret or Sole with Pesto or mustard sauce.
Unusual combos
Vegetables are not only for the shakahari, the carnivores too tuck them in happily, especially if the combos are unusual. Don't waste time with aloo-pyaaz or gobhi-bhindi-paneer et al. A much better bet is the rainbow coalition of cherry tomatoes, sun-dried tomatoes, mushrooms and sweet bell peppers stir-fried with a pinch of mixed dried herbs to complement the tang of ananas ki kari in Dakhani andaaz.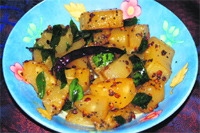 A rainbow coalition of cherry tomatoes, mushrooms and sweet bell pepper, stir-fried with a pinch of mixed herbs, complement the ananas ki kari
Daal presents quite a challenge as there are some for whom no meal is worth its name unless daal accompanies roti or chawal, even if just for name's sake. Daal makhani, call it by any name, and rajma-chhole are passé. We suggest that you treat those who sup with you to a forgotten gem like khilwan dhuli urad or mung or a triveni of yellow lentils — arhar, malka, mung. The pulses can be boiled beforehand and the spell-binding tarkha can be administered at the last minute. It's a great idea to let everyone choose a tarkha of one's choice. After all how much time and trouble are involved in heating ghee in a ladle and dropping the main tarkha ingredient in it — garlic, cumin, clove, hing, red or green chilly, mustard or onions and tomatoes or a mind-blowing mélange?
Curds or raita are indispensible in any meal — daily fare or formal celebratory. Dahi is not the issue — the difficult art to master is to present it in a striking manner. We love to keep unveiling it in different avatar — tiranga raita has cumin-scented hung yogurt with hummus and Baba ganoush (cold baingan bhartha what else?) by its side.
Sweet reward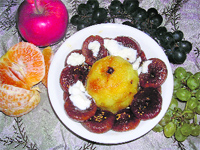 A fruit compote can be served with fresh and dried fruits and clotted cream. This dish reduces the tedium of cooking
Finally, who in this big bad world doesn't fall for a sweet smile, word or a bite that tickles the proverbial sweet tooth? Organising a home-made dessert is considered to be the most tedious task. Buying a handi full of rasmalai, gajar halwa by the kilo or plain ice-cream doesn't speak well of your creativity. Kuchch meetha ho jaaye doesn't mean that you have to pass along the single bar of that dark chocolate you have been hoarding selfishly and hope that no one breaks off more than a square. Once again, mix and match is the infallible mantra. How about flambé gulab jamun, with good Old Monk rum or laced with a few drops of Kahlua liqueur? (It doesn't matter where the gulab jamun has come from as the mini flames leap up and a touch of theatre is introduced to the dining table. Mishti doi and srikhand have great affinity with rasogulla, sondesh, motichoor and a myriad other sweets from the halwai. Nothing compares with fruit compote created with stewed fresh and dried fruits, served with a dollop of clotted cream.
The total time taken for any of the recommended recipes here doesn't exceed 30 minutes. Many can be prepared simultaneously, with a carefully completed shopping for this purpose. We can assure you that with this kind of "fast food feast" you won't have to worry about a lively gastronomy- centric conversation either.
Stewed fruits
Ingredients
Apples Two to four
Figs 50 gm
Grapes 150 gm
Orange One (peeled segments only)
Clotted cream 2tbsp
Method
Peel and core the apple carefully. Stew in half a cup of water for 10 minutes on medium heat. Soak the figs in warm water with a tsp of rose water for overnight.
Place the apples on a bowl when cool. Arrange the figs around it. Top with clotted cream. Drizzle with powdered sugar or sugar free sweetener as per taste you may add a pinch of cinnamon powder, if you have it. Garnish with grapes and orange segments. Put the clotted cream on top just before serving.
Pan-grilled pomfret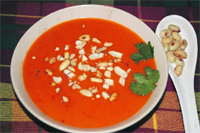 Ingredients
1 to 2 pomfrets (250gm each)
Salt to taste
Oil 1tsb
For chutney filling
Coriander & mint 1 small sprig each
Green chillies (Deseeded) 4-6
Green ginger One-inch piece (chopped)
Lemon juice 1tbsp
Bread crumbs ¼ cup
Method
Wash and clean the fish. Score with a sharp knife on both sides, ensuring not to cut through. Sprinkle salt and lemon juice on the fish and marinate for one hour. Grind all the ingredients listed for the chutney in a blender. Apply chutney liberally on both sides, filling in the gashes. Spread bread crumbs on a plate and coat the fish carefully all over on both sides. Put a thin film of oil on a thick- bottomed or non-stick frying pan and grill the fish for two minutes each on both sides pressing very gently once or twice with a wooden spatula. Serve with onions rings and lemon wedges.
Suggested Dishes
Tamatar shorba with seengdana
Bharwan vilayati kulcha
Bread crumbed pomfret pan-grilled
Penne with home-made tomato sauce
Subzi dilruba — stir-fried mixed exotic veggies with herbs
Ananans kari
Seb-e-Samarkand (stewed apples with figs and clotted cream)