The new gen tablet
Just like the computer in an earlier era, the world is now being smitten by the tablet, which is fast becoming the next big digital gizmo
Shobita Shivshankar
At a premium hospital in New Delhi, a radiologist routinely examines the CT scan image of a patient on his Apple iPad. In Chandigarh, a young student is busy playing Shadowgun Deadzone on his father's Google Nexus. In Himachal Pradesh, an upmarket orchard owner has gained Rs 5,000 a truck by auctioning his apples online on his Samsung Galaxy tablet. In Mumbai's Dalal Street, a stock broker is carefully watching the market ticker on his Motorola Xoom. In Madurai, executives of a leading fisheries company use a Sony Xperia tablet to get information on the right time when their trawler can set sail for fishing.
Tablets are everywhere. And these have a widespread utility — from playing games to online market analysis — tablets seem to be fast becoming the next big digital gizmo. Whether in schools or newspaper offices, in private banks, research organisations, hospitals and higher education institutes, these are not just the most useful tools of the trade but are fast becoming an essential one as well.
Burgeoning demand
The burgeoning demand for the tablet can be gauged from the fact that an estimated three million units of various brands were sold in 2012. The figure is expected to double in 2013. The third quarter (July to September) of 2012 is an indicator of the speed at which the demand is burgeoning. Nearly 1.1 million tablets were sold in India in this period as against 98,135 in the same quarter in the previous year — an amazing increase of more than one million tablets in the same period.
This explains why leading global brands like Apple, Samsung, Sony, Motorola, Google, HP and others are readying themselves for the boom-time expected in the Indian tablet market. Giving them stiff competition are homegrown companies like Reliance Communication, Beetel, HCL Infosystems, Macromax, Karbonn, Lava, Zync Global, Champion Computers and more who are rapidly tapping into the demand and launching their own tablets in various price ranges.
"A tablet is becoming a part of people's lives in cities. Whether it is a student or an executive, a doctor or a chartered accountant, it has utility for everyone," says Vinod Kumar Jain, a dealer in leading digital products in Nehru Place, New Delhi.
Plethora of choices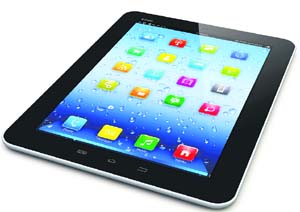 Given the choices, it is not easy for first-timers to take quick decisions at choosing a tablet. The initial dilemma is whether to buy a global or an Indian brand. Though common sense says established players like Apple, Samsung, Sony, Motorola and others are a better bet but the reality is that Indian brands too are not far behind and these can be a lot cheaper as well.
Indian companies have launched or are launching a series of new dual-core and quad-core tablets in 7 inch, 8 inch, 9.7 inch and 10.1 inch screens less than Rs 15,000 range. Zync Global, for example, brought out five new tablets in February this year. Says Ashish Garg, director of the company, "We are very bullish about the tablet market. The price range of these tablets with the latest features is going to sweep people off their feet."
Champion Computers, too, launched Wtab 705 Talk Tablet in February. This is a dual phone and tab Android 4.0 with a 7-inch touch-screen that sports a 480 x 800 pixels resolution. With this launch, the company claims to have the complete range to meet the needs of consumers. Says Kapil Wadhwa, managing director, "Our strategy is not only to offer competitively priced products but also keep bringing upgraded products that help users technologically as well. This new tablet is one such example. At Rs 6,300, you will not get a better product."
Wi-fi connectivity
A majority of the Indian tablets come with wi-fi connectivity and are 3G-enabled. Almost 80 per cent of them have a 7-inch screen and are android powered. However, many of these tablets do not have voice calling functions, though most leading companies are now working towards that goal. In 2012, more than 50 per cent of the Indian market was cornered by three companies — Samsung, Micromax and Datawind. The highest share was held by Samsung at 23.9 per cent followed by Micromax at 15.3 per cent and at number three was Datawind, the maker of Aakash 2 with a market share of 12.3 per cent.
There are three segments of the tablet market in India. The highest demand is for tablets between Rs 5,000 and Rs 10,000. The second category is between Rs 10,000 and Rs 20,000, while the third comprises high-end users, with tablets in the Rs 20,000 and Rs 35,000 range. And with more than 50 companies vying for your favour, the decision is not going to be an easy one!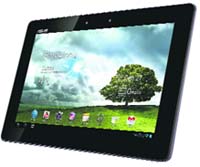 ASUS TRANSFORMER PAD INFINITY
The Asus Transformer Pad Infinity TF-700T is an android tablet that sets a new benchmark for entertainment on the move. It has a full HD 1920 x 1200 super IPS display with dazzling colours and a 10.1-inch screen. It can be attached to a Qwerty keyboard to turn it into a laptop.
Price: Rs 27,000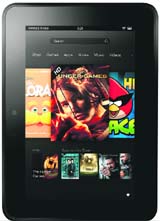 AMAZON KINDLE FIRE HD 8.9
An outstanding tablet that has a large 1920x1200 display that makes watching videos and photographs a real pleasure.. Even TV shows and movies can be seen in up to 1080-pixel high definition. The experience is enhanced by Dolby Digital Plus that gives amazing audio quality.
Price: Rs 25,000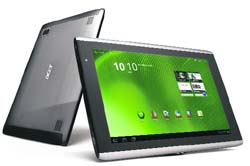 ACER ICONIA A501
A 10.1-inch Android tablet with a dual-core mobile processor, android honeycomb operating system and is 4G-compliant. It has pre-installed apps that make it a powerful media tablet. A rear 5MP camera and 2MP up front makes it great for video conferencing.
Price: Rs 33,000
HUAWEI MEDIAPAD 7
The relatively inexpensive 7-inch Chinese tablet has 3G connectivity and wi-fi support and 1080p HD video clarity. The lightweight and small-sized tablet equipped with a powerful 1.2 GHz Cortex-A8 processor fits comfortably in the pocket and is highly versatile.
Price: Rs 13,500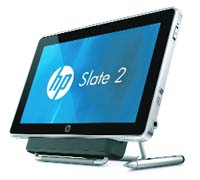 HP SLATE 2
A slick and utility-driven tablet, the HP Slate 2 is designed more for business needs than for entertainment. Optimised for Windows 7, it can be customised for apps that must operate in a Windows environment. It has a 1.50GHz intel atom processor and an 8.9-inch diagonal screen.
Price: Rs 36,000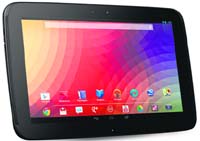 GOOGLE NEXUS 10
With a 10-inch screen and a resolution of 2,560 x 1,600 — the highest in the business — the Google Nexus 10 produces some dazzling graphics and text. Created in partnership with Samsung, it has a dual-core 1.7GHz processor and 2GB RAM, making it among the top tablets in the market.
Price: Rs 31,000
APPLE iPAD-4
One of the best tablets available, Apple iPad 4 is a market leader with 5 MP HD camera, an A6X processor that gives it a faster speed and retina display that makes everything sharper. With 264 ppl pixel density, it has countless dedicated apps making it almost the ultimate tablet to have.
Price:Rs 32,000
Know your computing devices
Unless you are a geek, the digital world can be a confusing one. First came the computer, which ruled much of the 1990s. This was followed by the laptop. But even as people were getting comfortable with the portable computer, in came the Notebook, Notepad, Macbook, iPad and now the tablet and the phablet. Though we are all too familiar with the computer and laptop, here's explaining what the other devices are:
Notebook
Till a few years back, it was what kids carried to school. Today, a notebook denotes a small size laptop, which weighs between 2.5 kg and 3 kg and has a flat panel screen producing sharp images. It is ultra slim, has minimal graphics and a very small keypad.
Netbook
A stripped-down version of laptop and Notebook, the Netbook has reduced computing power and does not have an optical device. Basically, it is an inexpensive laptop or Notebook with internet.
Notepad
This is a digital tablet that lets you draw images and write text electronically with the help of a stylus or digital pen. These images and text can, then, be transferred to a PC by attaching the Notepad to it.
Thinkpad
This is basically a Notebook by IBM. It has the same functions as a small laptop/Notebook/Tablet but is called a Thinkpad. It is now being made by Lenovo after it acquired the brand from IBM.
iPad
A portable computing device by Apple. The iPad is the original Tablet and has taken the world by a storm as it blends a laptop with a mobile phone. It has a multi-touch screen and a virtual keyboard.
Phablet
The opposite of a Tablet, this is a smart phone that also works as a computer with a screen ranging between five and eight inches. Experts feel that the Tablet and Phablet will merge into one in future.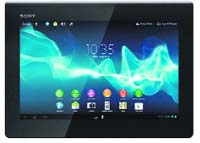 SONY XPERIA TABLET 'S'
This is a solid well-built tablet powered by the NVIDIA Tegra 3.0 processor. Offering memory option of 16GB expanding up to 64GB the Sony Xperia 'S' has a quad-core processor and one of its most outstanding features is that it can act as a universal remote control for any device.
Price: Rs 24,000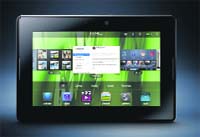 BLACK BERRY PLAYBOOK
Like its mobile, the Black Berry Playbook is meant for professionals on the go. The 7-inch no-nonsense tablet runs on dual-core 1GHz processor. Designed for multi-tasking, it can work several apps simultaneously. It has a great camera and multimedia functions as also GPS navigation
Price: Rs 21,500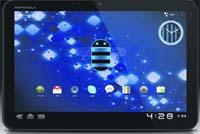 MOTOROLA XOOM
Another one of those high performance sturdy tablets, the Motorola Xoom features the android 3.1 operating system with a touchscreen display. It has video chat capabilities and HD recording. Its 10.1-inch display, 32 GB of internal storage and dual cameras ensure great video quality.
Price: Rs 23,000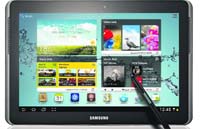 SAMSUNG GALAXY NOTE 10.1
Competing for the number one slot with the iPad-4, the versatile Samsung Galaxy Note 10.1 has a built-in S-Pen stylus that aids fast note-taking and its 5-megapixel LED camera takes great pictures. It has a volume rocker, an IR blaster and a headphone jack for some foot-tapping music output.
Price: Rs 34,500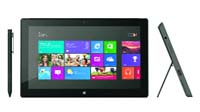 SURFACE BY MICROSOFT
Among the most user-friendly tablets, the Microsoft Surface is equipped with a Windows RT operating system. It comes with a Quad Core Tegra 3 processor and 2GB of RAM, which give it excellent speed. Its 10.6 inch screen provides wide display of videos and images.
Price: Rs 38,500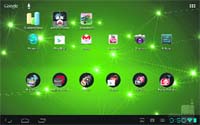 TOSHIBA EXCITE 7.7
This is a compact, high-performance android-based tablet that has an HD 1280×800 screen, which makes for fast web browsing. With its small size, it is easy to carry. A quad-core processors, 16GB storage, dual cameras and GPS make it ideal for games, movies, photographs and navigating.
Price: Rs 25,000