PUNJAB

HARYANA

JAMMU & KASHMIR

HIMACHAL

REGIONAL BRIEFS

NATION

OPINIONS

LETTERS

BUSINESS

SPORTS

WORLD


M A I N N E W S

fourth test


Australia hit back as offie Lyon scalps 5
Hosts finish Day 2 at 266/8
Take 4-run lead
Rohit Mahajan
Tribune News Service

Third day: INDIA v AUSTRALIA (9.30 am)
Live on star cricket

New Delhi, March 23
At stumps on the second day of the fourth Test, Australia had let India gain a first-innings lead of only four runs. India were 266/8 in reply to Australia's 262. The scales are evenly balanced, perhaps favouring Australia because India must bat last on this tricky wicket.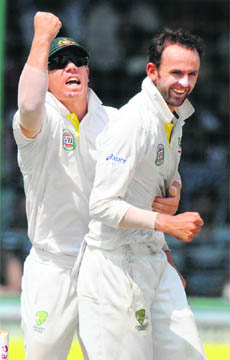 David Warner, Nathan Lyon celebrate; (below) the Australian team is all charged up after the dismissal of Sachin Tendulkar (32). Tribune photo: mukesh aggarwal
It's tempting to ascribe Australia's stirring fightback to a change in captaincy. It makes for an excellent narrative. A man who had been judged too harshly (Shane Watson) flies across a continent and an ocean to be with his wife for the birth of their son; the regular captain (Michael Clarke), a control freak by all accounts, is injured and unable to play and is on a flight back home; the new father is made the new captain. He leads the team with skill and aggression.
The team — which includes two other men who had been banned for minor misdemeanours that had been piling up, the Homeworkgate affair — responds. Australia become nasty and aggressive and hostile — no more the smiling nice boys who win hearts but lose matches.
It's tempting to believe that these factors lay at the hearts of the Australian resurgence today — it's probable that there's a fair degree of truth in this attraction extrapolation.
There are more substantive factors, too. The pitch, offering variable bounce, lend potency to the Australian pace and spin bowlers. Nathan Lyon — a mild-mannered man but a malcontent, bafflingly dropped after the first Test to sort out some mysterious "issues" —bowled his off-spin with greater control and guile than before in the 22 overs he's bowled in one spell. The monster spell had him picking up four for 94; he cut a swath in the Indian line-up with the wickets of Cheteshwar Pujara (52), Virat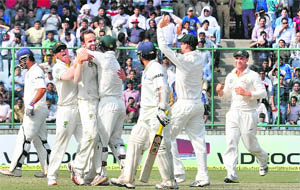 Kohli (1), Ajinkya Rahane (7) and Sachin Tendulkar (32). Two of them were LBW, one bowled — Lyon was clearly on target today. And it must be recorded that he had to dismiss Tendulkar twice — the first time the Indian stalwart had scored one when he was pinned right in front of the wicket by a ball that pitched on middle and leg and struck him in front of middle.
Tendulkar had played only one ball from Lyon before attempting that sweep off the first ball of the 32nd over. The master wanted to attack Lyon, but he opted to do it from his crease, opting not to use his feet to reach the ball and drive. Playing back, on a track with variable bounce and turn, the sweep would be a safer option than a straight-batted stroke. It wasn't then, for Tendulkar missed, but umpire Richard Kettleborough ruled it not out. "He's had a couple of very good Test matches, unfortunately that was the first one he's got wrong in the two matches," Shane Warne said.
That moment, that incorrect decision was significant for a couple of reasons — if Tendulkar had been ruled out, deservedly, Lyon would have got the first three wickets to fall, quite a triumph for him; two, Australia seemed to be riled, roused and fired up into a higher level of fight then on.
The first 18 overs had been bowled by the pacers — Johnson, Pattinson and Peter Siddle. They bowled some deliveries that promised a contest, before subsiding into bad line and length. Johnson in particular was generous in offering punishable deliveries. Pujara and Vijay cashed in. Runs began to flow — 50 in 56 balls, 100 in 145. Pujara played delectable drives, Vijay was less assured, with four fours in the V behind him.
Then Lyon struck, and struck and struck. India lost five wickets for 72, four of them to the off-spinner. Pujara played for a turn against a ball tossed up; it had more over-spin than a rip across. It turned lesser than Pujara expected; beating the outside edge of his seemingly perfectly crafted forward-defensive, it hit the off stump. Two overs later, he went around the stumps to Kohli and trapped him LBW. Kohli had tried to turn the ball but missed and hit in front of the wicket. Kohli was given a fond farewell by the Australian huddle — not. He responded with kindly, gentle words — not. Siddle got Vijay after tea with a bouncer that startled Vijay, who ducked but couldn't take his bat out of the way, and the ball looped up to wicketkeeper Matthew Wade.
Vijay's record against Australia is quite impressive, totalling 669 in ten innings at an average of 66.90, including three hundreds and a fifty.He has completed his 1000 runs in Tests - 1028 in 16 Tests at an average of 39.53, including three centuries and three fifties.
Rahane, the debutant, tried to play a ball that he could have left alone, gloving it to leg slip. Captain Mahendra Singh Dhoni came in with India behind by 97 runs; his average until than was 96. The first ball he faced, from Lyon, was slapped past extra cover for four. It seemed the captain was about launch his customary come-from-behind, match-winning innings. But then he lost Tendulkar after a partnership of only 15. The captain and Ravindra Jadeja added 30 runs in five overs before Dhoni was out. Dhoni had hit only one more four, in reaching 24, before pulling Pattinson to Watson at midwicket. India 210 for six, 56 behind, staring at the very real prospect of conceding the first innings lead.
Jadeja chose this occasion to play his best Test innings, 43 off 49 with six fours; he and Ravichandran Ashwin added 44 for the seventh wicket. Both fell towards the end of a fascinating day of cricket. Tomorrow promises much — much more for Australia than India.
Match highlights


Nathan Lyon's 5 for 94 is his third five-wicket haul in Tests and his first against India. His previous two five-fors came against Sri Lanka (on debut) and West Indies.


Lyon's bowling performance is the joint-sixth best by a visiting spinner in Delhi and the third-best by an Australian spinner at the venue after Ashley Mallett and Richie Benaud.


The 108-run stand between M Vijay and Cheteshwar Pujara is the fifth century partnership of the series for India, It is also the second century stand between the two batsmen after the 370 they added in Hyderabad.


Sachin Tendulkar was dismissed leg before for the 61st time in Tests. Graham Gooch is a distant second on the list of batsmen with most lbw dismissals (50).


Pragyan Ojha became the 18th Indian bowler to pass the 100-wicket mark in Tests. Among the five left-arm spinners who have 100-plus wickets, Ojha has the best strike rate but the third-best average.


R Ashwin's 5 for 57 is his ninth five-wicket haul in just 16 Tests. It is also his second-best bowling performance against Australia after the 7 for 103 in Chennai earlier in the series.


Vijay has totalled 419 at an average of 69.83 in the present series, including two hundreds and a fifty and became the fifth Indian opener to aggregate 400-plus in a Test series against Australia. He has joined Sunil Gavaskar (twice - 450 (ave.50.00) in 1977-78 & 425 (ave.53.12) in six Tests in 1979-80), Virender Sehwag (464 (ave.58.00) in 2003-04), Gautam Gambhir (463 (ave.77.16) in 2008-09 and Nari Contractor (431 (ave. 47.88) in 1959-60).