M A I N N E W S
Taliban vow to send Musharraf to 'hell' on his return to Pakistan
'Will be in Pak on Sunday'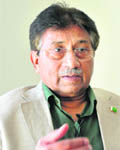 Pervez Musharraf (pic) said he will follow through with his plans to return to his homeland on Sunday


He stated that he will return to take part in the May elections despite the "fear of the unknown"


The ex-President angered the Taliban and other groups by joining the US war on terror following the 9/11 attacks.
Islamabad, March 23
Pakistan's Taliban have threatened to dispatch suicide bombers and snipers to kill former President Pervez Musharraf when he returns home from exile on Sunday after nearly four years to contest the May 11 election.
The 69-year-old escaped three assassination attempts when in office from 1999 to 2008, a target of Islamist extremists because of his alliance in the US-led "war on terror" and attempts to clamp down on militants.
In a Taliban video obtained by Reuters, Adnan Rasheed, who took part in a previous attempt to assassinate Musharraf, warned: "The mujahideen of Islam have prepared a special squad to send Musharraf to hell. There are suicide bombers, snipers, a special assault unit and a close combat team."
Video footage shows hooded militants in combat gear clutching AK-47 assault rifles conduct training exercises along hills. Some practice making a roadside bomb, which later explodes.
"Pervez Musharraf, you see the death squad around me," said a bearded man who appears to be their trainer, in English. "We urge you to surrender yourself to us, otherwise we will hit you from where you will never reckon."
Musharraf seized power in a 1999 coup and resigned in 2008 when his allies lost a vote and a new government threatened him with impeachment. He left the country a year later. The former army general faces the possibility of arrest on charges that he failed to provide adequate security for former Prime Minister Benazir Bhutto before her assassination in 2007, and in relation to other cases.
But his most immediate concern may be the Taliban, who are seeking revenge for his crackdown on militants fighting to topple the US-backed government and impose their austere version of Islam. "When the jackal's death is near he heads to the town," said Rasheed, who was among 400 prisoners who were broken out of a jail by militants in 2012.
Militants were especially enraged when Musharraf's security forces launched a full-scale attack on Islamabad's sprawling Lal Masjid in 2007 after followers of radical clerics running a Taliban-style movement from there refused to surrender. The government said 102 people were killed in fighting when the complex was stormed.
"The Pakistani Taliban is fully prepared to deal with this pharoah. If God is willing, we will give this devil what he deserves and give satisfaction to the victims of the Lal Masjid," said Taliban spokesman Ehsanullah Ehsan in the video. — Reuters