SOCIETY
Meet the Axomiya Sikhs
They have lived in settlements in Barkola and Chaparmukh, in Assam, for over two centuries
Birinder Pal Singh



Martyrs Memorial at Barkola and (below) Axomiya Sikhs sitting outside their home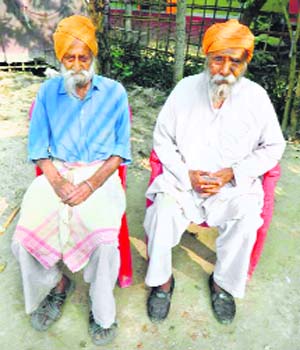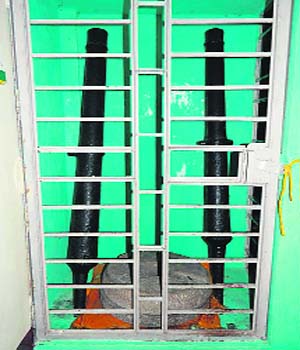 Matajiís chakki and guns at Chaparmukh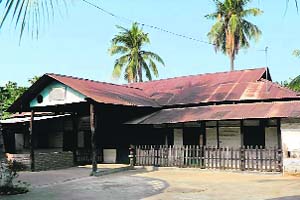 The old gurdwara of Barkola (1825) and (below) the entrance to the Goraline (Laitmukhra) Shillong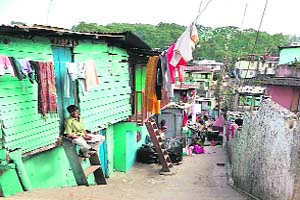 THE Sikhs living in Assam are the progeny of soldiers sent by Maharaja Ranjit Singh to support the Ahom king, Chandrakanta Singha. Chaitanya Singh, the commander of Maharaja Ranjit Singh's soldiers, was a brave soldier who died fighting valiantly at Hadira Chauki. Their defeat and the loss of many soldiers sent the survivors into hiding. His wife, the revered Mata Ji, along with trusted men, finally settled at Chaparmukh. Mata Ji's gurdwara was constructed in 1820. Enclosed in this are her chakki (grinders) and a sword as relics, besides two guns.
Axomiya Sikhs, as they are called, have immersed themselves in the local culture. The ruralites among them do not understand Punjabi. Their main occupation is agriculture. Barkola, Chaparmukh and Lanka, all in the district of Nagaon, are their major settlements.
It goes to their credit that some of them have excelled in literature.
Nand Singh, a police officer, is an established writer with 15 books of short story and poetry to his credit. He bagged the Sahitya Akademi Award in 2012 for contribution to Axomiya literature. He has a CD of his poems sung by a noted singer. Bhupinder Singh, a former principal of a college, is busy translating Sikh banis.
Their assimilation into Assamese culture is a consequence of inter-marriages with local women, both tribal and non-tribal. The couple partakes amrit though observance of the rituals consequent to this is quite lax. These Sikhs are distinct from those who have migrated, despite militancy, over the past three or more decades for business, especially in the transport sector. They are called Punjabi Sikhs in local parlance. Social relations between the two are manifestly cordial but schisms have started surfacing.
They consider Axomiya Sikhs (despite the Khalsa form) inferior to them due to their poverty and ignorance of Punjabi ó as they say: "Eh keho jihe Sikh ne, Punjabi nahin jaande". But the latter have laid their lives in the Assam movement. Of the three youth of Barkola killed, two were Sikhs. A memorial to them is under construction.
These Sikhs are cut off from Punjab both socially and culturally, but are ever willing to visit the Harmandar Sahib. A jatha, sponsored by the SGPC, once travelled to Punjab in 2008.
Barkola is a large village where stands the old Central Gurdwara (1825), now overshadowed by the new one. It has the largest Sikh population in rural Assam. All of them had land to till but now a few households have become landless. Quality gur (jaggery) is made from the sugarcane of this area.
An anthropological study of Barkola earned Dr. Medhi his Ph.D. degree in 1989.
Dhubri is another place of religio-historical interest for Sikhs. Guru Nanak, followed by Guru Tegh Bahadur, visited Dhubri. When Guru Tegh Bahadur was camping there, Ram Singh, commander of Aurangzeb's forces, came to seek his blessings. The Guru made peace between him and the Ahom ruler. Later, he asked each soldier to put five shieldloads (dhal) of sand on the banks of the Brahmaputra, the place where the gurdwara is located. Looking at the river's might, one wonders how the Guru internalised its opposite. "Darya da bahao, Guru da thhehrao", is an apt formulation.
Adjoining the gurdwara stands a large tilted stone. Legend has it that it was hurled at the Guru. The local king had obtained the services of a washerwoman, dhoban. When her black magic failed, she fell on his feet. The Guru blessed her: "Tohe naam par nagar vasayun", hence the name Dhubri. Sikhs from all over the North-East congregate here on Guru's Shaheedi Divas.
There is another category of Sikhs who have been living in Guwahati/Dispur and Shillong for about 100 years and have maintained their Majhaili dialect and intonation. Born and brought up there, they keep Gurdaspur and Amritsar alive and all of them marry their children here. That is why they are strongly rooted and often visit Punjab with their families. It is only a few who have not visited their native place since birth. All of them are slum dwellers with dismal living conditions.
They are often threatened with eviction. The city administration has an eye on the prime land. They protest and fight, but do not want to go far from their work place, which is the government offices where they work as safai karmacharis. At Morakhali, the Guwahati Municipal Corporation, has constructed two multiple-storey blocks at the same place. But those at Dispur and Shillong are not that fortunate.
The Shillong Municipal Corporation too has similar plans but the residents fear that after being been uprooted, they would be thrown out. Altercations take place between them and Khasis on one pretext or another and they confront them with swords. A senior officer confided, "Besides the dismal living conditions, gambling and trafficking that they indulge in also pose a threat to law and order. The police are scared to enter that area." The political ding-dong continues.