Classical appeal


Struggle, for an artist, serves as a furnace that gives shape, depth and volume to the creative genius. In the case of Rajendra Prasanna, who started learning Indian classical music of Banaras Gharana at the age of four under the aegis of his father Pandit Raghunath Prasanna, it also added simplicity to his disposition.
Arshad Ali Khan(L) and Amjad Ali Khan (L) and Pandit Raghunath Prasanna Photos: S Chandan
Lyrical note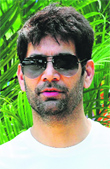 To the T — this is how he prefers everything, be it music, acting, writing or even a conversation. "Everything should be done to perfection," says Punjabi singer-actor Jasbir Jassi, who sports a colourful tee and denims as well as a cool attitude to go with it. Jassi is visiting Chandigarh after a long time as he is busy taking acting classes in Delhi. Amidst all this, he pulls out time to promote the five digital tracks that he has made on Bhagat Singh. "I had made the tracks for Doordarshan; then I thought since I had worked so much on them, I might as well go ahead and promote them," shares the singer who has made five different tracks dedicated to Bhagat Singh, Sukhdev and Rajguru.
Eastern wave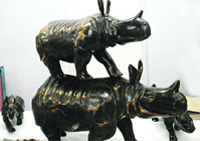 The Trade Expo, organised by the North Eastern Handicrafts and Handlooms Development Corporation Limited (A Government of India Enterprise) is to promote the sale of handicrafts and handloom products of the North Eastern region—Assam, Manipur, Meghalaya, Tripura, Nagaland, Mizoram, Arunachal Pradesh and Sikkim. The rich tapestry of North-Eastern India has interwoven in its fabric, the traditions of many people of different ethnic origin.
The rice belt
Holi is around the corner and we are all set for the splash of colour. But the festival is incomplete without good food. Keeping the spirit on, The Gaur, Chandigarh brings forth a biryani food festival, The Timeless Desire, to tickle your taste-buds with some lip-smacking biryani with aromatic ingredients and exotic spices.
Full of beans
Coffee Bean & Tea Leaf celebrates 50 years of heritage and passion of catering to its patrons worldwide.
Master Chef
Cook once, eat twice!
When we were kids, a chanaa or chickpea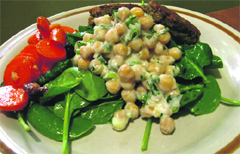 was more a projectile to play with than a food to actually consume! Oddly shaped like miniature cannonballs, they seemed perfectly suited to flick at our siblings across the table. But now we're older and presumably wiser, we know that chanaa are packed with fiber, protein and many vital minerals. Even better, they fill you up — unlike a lot of 'diet' foods that leave you mad raving hungry a half hour later! Chanaa have been one of the culinary staples of India for centuries, so it's no wonder that most of us cook it the spicy, Indian way.
Lock it right
With winter fading away into the summer sun,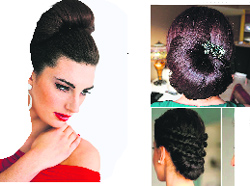 it's time we gear up for the heat that will reign over the country for the next six months. If you are much baffled about wearing a stylish hairstyle this summer, rather than blowing megabucks on haircuts here's a style guide that you can trust.
Don't cut, just fold
If you like experimenting with hairstyles, here's what you can do-make a bun! The messy buns are invariably in vogue, but what if you want to pull a fancy fold on them? Just make judicious use of YouTube and search for different hairstyles.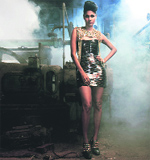 Model demeanour
Of the many people that assist celebrities in staying longer under the limelight, a publicist is mandatory — someone who can push your case, someone who can fix interviews and someone who can ensure a long innings under the sun. Sultry beauty Nethra Raghuraman, the supermodel and actress conveniently chooses not to go with one — this is seriously not her cup of tea! Seen on Zoom Fashion Drill — Model Of The Honour as one of the mentors along with Alison Kanuga and Subi Samuel, Nethra reinvents herself in different roles, without a publicist though!
star track
Restraining order against Riri's fan
Jessica Alba takes a dig at Paltrow
chatter box