Shaping a favourable regulatory environment
R. S. Grewal
THE Indian higher education sector is facing significant challenges. Despite initiating numerous steps to increase enrolment levels and provide budgetary support, much remains to be done. Though the country has met the target of Gross Enrolment Ratio (GER) of 17 per cent in higher education, it would require a Herculean effort to meet the target of GER of 30 per cent by 2020. Our public universities are facing challenges like lack of teaching and research resources, large class sizes, a work culture that lacks accountability, politicisation of educational institutions, outdated curricula and bureaucratic procedures that adversely affect the quality of education.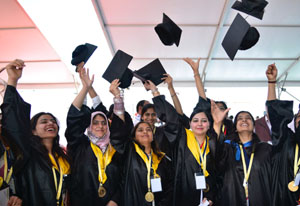 Competition from increased private participation can boost performance among both public and private higher education institutions. But, to ensure quality, there is a need for developing instruments of monitoring and control. Tribune file photo
The inability of the public sector to absorb the growing number of students has seen the emergence of private universities. These are being set up at the rate of almost one private university per week and the trend is likely to continue for the next decade. Private Higher Educational Institutions (HEIs), both universities and colleges, are of variable quality. Like public universities, few private HEIs are research-intensive, knowledge-producing institutions. Moreover, most private HEIs offer a narrow range of market-focused professional programmes.
The existence of more modern and job-relevant curricula, better interaction with industry, international collaborations, greater emphasis on accountability and consequent reduction of the financial burden on the state make increasing participation of the private sector in higher education an attractive option.
Studies in many countries have established that the privatisation of higher education helps raise efficiency and quality of academic delivery, especially when measured on a per-student basis. Increased private involvement can bring new skills and knowledge — pedagogic, technical and managerial — to the higher education system. It also helps to produce better curricular and programme innovations and improved assessment techniques. The competition from increased private participation can help generate improved performance among both public and private HEIs. These benefits can only be realised if the government follows clear and pragmatic policies to enable the private sector to contribute to the national effort. The government needs to engage in continuing dialogue with private education providers and should be willing to understand their constraints and work ethos.
The government must ensure that its citizens get good education, whether it is provided by the public or private HEIs. There is a need for developing instruments of monitoring and control to ensure quality. The regulation of private sector must envisage high quality education delivery and at the same time encourage investment. Unfortunately, too often the regulatory mechanism established by the government discourages private investment without any commensurate gain in the quality of education. The Centre and states are fully entitled to exercise rigorous checks and controls and the private sector accepts this. Market perceptions of the quality of education provided by private HEIs are fundamental and can be easily damaged. Bad publicity about the quality of education provided by private HEIs can harm the reputation of the sector as a whole and adversely affect its credibility.
The Ministry of Human Resource Development (MHRD) has proposed that states should set up autonomous State Higher Education Councils (SHECs) to regulate HEIs. However, there is no mention of the division of responsibilities between the UGC, other regulatory bodies and SHECs. Obviously, the SHECs, as envisaged, would not be in conformity with the provisions of our Constitution. MHRD would do well to have a public debate on this proposal and consult all stakeholders.
In addition, the HEIs are expected to apply for and receive accreditation within a stipulated period. The capacity of the accreditation bodies is limited and it is being suggested that organisations similar to the National Academic Accreditation Council (NAAC) should be set up at the state level. It is going to be a mammoth task to train personnel for state NAACs. As it is, the states that have set up Regulatory Commissions for private HEIs are struggling to find suitable persons to be part of teams deputed to inspect private HEIs.
There is a need for a clearly articulated and enabling policy and regulatory framework for HEIs. Such a framework should create conditions, where private HEIs can operate effectively and efficiently, while at the same time maintaining quality in education standards. Here are some suggestions that deserve a thought:
Objective policy framework for private HEIs: The aim should be to provide a level-playing field and to discourage a culture that is hostile to private education providers. There is a need to promulgate a policy that welcomes private participation and defines its role in national long-term education strategies. Such a move would help in building public and political support for private HEIs.
Streamlined criteria: The aim should be to balance the requirement to protect interests of students and the possible downside impact on private HEIs. Regulatory requirements should be objective, measurable, should minimise discretion and be output focused. These should also relate to prevailing environmental factors.
Incentives for HEIs: Higher education business is capital intensive with a long gestation period to break even. Private HEIs need incentives in the form of subsidies for installation of utilities and good supporting infrastructure like roads, water supply, electricity and similar other services. In addition, instead of levying commercial rates, the government could consider levying normal charges for provision of services like electricity.
Self and peer regulatory mechanism: There is a need to create an environment of trust with self-regulation as its bedrock. A workable peer regulatory mechanism encouraged by the government and jointly enforced by HEIs would go a long way in achieving this aim.
Quality assurance and monitoring: Outcome-driven quality assurance processes that shun voluminous paperwork could provide independent and unbiased assessments of the performance of HEIs. Such a mechanism could furnish better inputs to students and their parents to make informed decisions.
Private HEIs are destined to play an important part in nation-building process and it is up to the government to conceive, formulate and implement an enabling regulatory mechanism that supports these institutions and also protects the interests of students.
The writer is Vice-Chancellor, Chitkara University, Himachal Pradesh