BRICS to pack more economic punch, redefine role in multi-polar world
Summit to focus on stronger trade relations with African countries
Raj Chengappa in Durban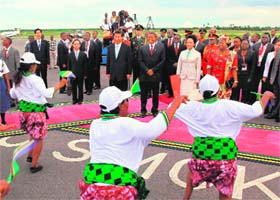 (From left): Chinese President Xi Jinping with his Tanzanian counterpart Jakaya Kikwete, Chinese First Lady Peng Liyuan and the Tanzanian First Lady Salma Kikwete being welcomed at Julius Nyerere International airport in Dar Es Salaam on Monday. Xi Jinping will take part in the two-day BRICS Summit due to begin on Tuesday in Durban. — AFP
March 25
When Prime Minister Manmohan Singh landed at the King Shaka International Airport in Durban on Monday to attend the fifth summit of BRICS leaders, he must have felt relieved to get away from the brickbats that his government faced at home and enjoy the ululations, the traditional South African expression of joy, with which he was greeted on arrival.
Manmohan Singh is undoubtedly the Dada of the summit. Among the five heads of state representing Brazil, Russia, India, China and South Africa (BRICS), he is the only leader to have been present at the inaugural summit in 2009 and attended all subsequent ones. So, unlike back home where Opposition leaders hurl disparaging remarks at Manmohan Singh, amongst BRICS leaders he is treated with reverence, even lionised.
Over the next two days, BRICS leaders will work towards four deliverables: a declaration indicating the road ahead for this grouping of countries, a consortium of BRICS think tanks and two agreements among development banks, one for establishing a multilateral co-financing institution for sustainable development and the other to specifically back infrastructure projects in Africa.
Manmohan Singh will also be holding bilateral discussions separately with other summit leaders, including a much-anticipated one-on-one meeting with the new President of China, Xi Jinping.
With the theme of the Durban summit being BRICS and Africa: Partnership for Development, Integration and Industrialisation, also on the anvil are consultations with over a dozen African heads of state and representatives from eight regional economic communities of Africa.
Apart from the heads of state, finance ministers of the five countries, including India's redoubtable P. Chidambaram, will be meeting to work out the modalities of setting up a 'BRICS Bank' to finance projects in member countries and needy nations.
There would also be a conference of trade and commerce ministers to work out ways to boost trade between BRICS countries, which currently totals $230 billion. In addition, over 80 captains of industry from these countries are to decide on the launching of a BRICS Business Council.
BRICS, a term initially coined by an economist from Goldman Sachs, is a group of leading economies that is gaining significant clout in regional and global affairs. The five BRICS countries together account for 26 per cent of the world's geographic areas, 43 per cent of the world's population, 17 per cent of international trade and 25 per cent of global GDP in terms of purchasing power parity.
Yet, the disparate nature of the grouping has affected its speedy progress. Being neither a geographical grouping like ASEAN, nor a commodity driven organisation like OPEC, or a security pact like NATO, BRICS is still searching for a transformational identity that has to go beyond being just "the new growth pole in a multi-polar world", as an official put it.
When BRICS heads of state meet the five ministers, they would also discuss how the grouping could become both a powerful economic and political forum that could influence a broad range of international issues. While departing from Delhi, Manmohan Singh stated that at the summit the leaders would among others "discuss ways to revive global growth and ensure macro-economic stability… faster movement on reforms of institutions of global political and economic governance and consult on developments affecting global peace and security."