M A I N N E W S
Nyoma clash: 168 Armymen to face action
Tribune News Service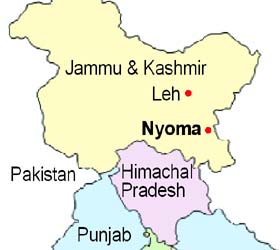 New Delhi, March 25
An Army Court of Inquiry has recommended disciplinary action against 168 personnel, including four officers, 17 junior commissioned officers and 147 jawans, for the clash that took place between officers and jawans in an artillery regiment at Nyoma in southeastern Ladakh in May last year.
A report of the Court of Inquiry presided over by Brig Ajay Talwar, Deputy General Officer Commanding, 3rd Infantry Division, has been accepted by Northern Army Commander Lt Gen KT Parnaik, sources said. This paves the way for action against the guilty.
The Tribune had reported on January 8 that the Court of Inquiry report had been submitted and had found several personnel of 226 Field Regiment (Artillery) guilty of misconduct.
Official sources said disciplinary proceedings under the Army Act may even lead to dismissal from service following a court martial.
Among those facing action are the Commanding Officer of the regiment, Col Prasad Kadam.
The fracas occurred at Mahe, near the Nyoma airfield, in Leh, 50 km from the Line of Actual Control, when a "sahayak" allegedly entered the tent of a Major unannounced after the regiment had just finished its firing practice. The Major's wife who was present inside the tent objected to it. This prompted the officer to beat up the jawan and subsequently deny medical treatment to the injured soldier, fuelling anger among other jawans.
The situation worsened after the news reached the Commanding Officer who reportedly reprimanded the Major for his behaviour. The Major accompanied by five of his colleagues allegedly assaulted the Commanding Officer in the presence of jawans.
A full-blown fracas ensued on the night intervening May 10 and 11, leaving three officers and eight jawans, including the Commanding Officer, injured.
Line of action
The CoI completes its probe and submits report to the 14 Corps headquarters in Leh in December
Examines 220 witnesses, including the officers, JCOs and other ranks, besides five civilians in the process
The Northern Army Commander confirms recommendations by the CoI for disciplinary action
Disciplinary proceedings may lead to dismissal from service following a court martial
The fracas
A 'sahayak' enters a Major's tent, where officer's wife is present, unannounced after firing practice
The officer beats up the jawan; denies medical treatment to the injured soldier
The CO reprimands the Major for his behaviour
The Major, five other officers assault the CO
A full-blown fracas ensues; three officers and eight jawans injured