Use synthetic colours cautiously on Holi
Dr VIKAS SHARMA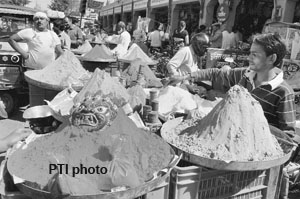 So, you're all set for the Holi bash. But enjoy Holi with certain caution. Give a thought to the chemicals used in Holi colours.  Knowledge of what damage it can cause and how you can play a safe Holi with colours will help.
Holi is a festival of colours, no doubt, but what if the colours leave their frightful signs. "Skin pigmentation, rashes and eczema are some of the after-effects of the use of synthetic colours thanks to the use of synthetic raisins, PPT and lead in them.
One should always be on alert while playing Holi because if an accident happens it can ruin the spirit of that day. Also, one should always remember to use some important precautions so that no one you know or love gets hurt unknowingly.  The chemicals used in Holi colours consist of synthetic dyes and, in many cases, mica dust too that can cause major skin allergies. Did you know that your favourite green colour contains copper sulphate? Were you aware that silver colour contains aluminium bromide, not to mention lead oxide which is so much in use in black colour?
Non-synthetic or herbal colours are safe and more environment-friendly since they're prepared from natural extracts of flowers and vegetables.
Earlier, natural colours made from flowers, leaves and seasonal herbs were used. But over the years, due to industrialisation and commercialisation, these natural colours have been replaced by synthetic colours.
The synthetic colours contain toxic and poisonous chemicals. Often, they also contain heavy metals, acids, alkalis, powdered glass, asbestos, chalk paste, etc. The black paste has lead oxide, green has copper sulphate, and red has mercury sulphate. The shimmering given to these colours is by mica and powdered glass, which are meant for industrial use.
These colours are used by Holi revellers, without any thought to their harmful effects on the skin. Such chemicals can wreak havoc on skin and hair, in the form of allergy, irritants, rashes, infection and much more.
The symptoms may vary from mild irritation in the form of itching or dryness, which can in turn lead to more irritation and itching, rashes or allergic dermatitis. There can be severe itching and burning sensation, redness, and in some cases, even skin burns.
Micronutrients in these chemicals, when absorbed, can lead to skin cancer. The hair damage can be in the form of itching, redness, dryness and scalp infections. The delayed effects could be loss of hair, thinning of hair, coarse, thin and lustreless hair texture, etc.
One should be extra careful for children, especially infants, as they have a very sensitive skin. Caution is also essential for pregnant women as chemicals get absorbed in the skin and can affect the normal course of pregnancy.
It is ironical that while the whole year we take good care of our skin and appearance, on Holi we joyfully damage it with toxic colours. So, this Holi let's say no to these harmful colours, and instead use natural colours made from flowers, leaves and herbs. These may cost you more than the synthetic colours, but they ensure good health, skin and safety. 
Play safe
Apply sunscreen and a skin barrier cream on the face and exposed parts for extra protection.
Protect your hair by applying a leave-on conditioner, coconut oil or olive oil. This forms a thin layer over the hair, which acts as a barrier to chemicals in colours.
After taking a bath post-festival, moisturise the skin well. Even while removing colours, keep your eyes and mouth closed. Do not forget to condition your hair.
In case of mild irritation or rash, use calamine lotion. In severe cases, consult a dermatologist. 
DO's
Dental caps are a good idea to protect your teeth from staining.
Sunglasses go a long way in keeping your eyes safe from the harmful chemicals of the colours.
Wear full-sleeved t-shirt or shirts that cover your arms fully. Socks will be a good idea too.
 Always put some amount of barrier cream on face and body. Apply thick coating of paint on your nails, both in fingers and toes, so that they remain protected.
 Granted that it is almost impossible to save you face from attack of colours, so while being attacked, keep eyes and lips tightly closed or one can apply good amount of oily body lotion or oil to the body so that it does not become dry after taking bath this procedure will help you to wash off colours easily later on.
If you are travelling, keep the car windows tightly shut. Better still; avoid travelling on Holi
Use a hat, cap or anything like that to protect your hair from being coloured with hard-to rinse dyes.
While washing off the colour, use lukewarm water and keep your eyes and lips tightly closed.
Don'ts
Discourage your children to play Holi with eggs, mud or gutter water. Never turn a blind eye to such unclean ways of celebration.
Avoid use of colours that have flakes of mica. 
Use only powdered colour and water.
 Keep a big bucket of water handy for your children so that they do not resort to gutter water and other unclean sources.
The writer is a dermatologist & dermato-laser surgeon, National Skin Hospital, Mansa Devi Complex.
E-mail: drvikas.nscindia@gmail.com