World of Vases
Crystal, ceramic, blue pottery, glass, porcelain — vases in a myriad mediums can express the quest to get a bit of nature into our rooms
Sonali Seth
There is something about vases that has attracted people for centuries. The earliest mention about vases can be found in ancient Mesopotamia, some 3000 years ago. There are also frequent references to how Romans mastered the art and technique of making glass and crystal vases.
Even today, Italians make some of the best vases in the world, with Murano leading the pack. There is an interesting history to these special vases that come in exquisite shapes and sizes. Back in the 13th century, there were so many foundries making vases in Venice that the government feared there could be a major fire due to the constantly burning glass furnaces. To safeguard against such an eventuality, the vase-making units were shifted from Venice to the nearby Murano, which is a series of islands in the Venetian lagoon linked by bridges.
Hand-blown
For more than 700 years, Murano has been producing hand-blown vases to be used for flower arrangements, as centrepieces and for decorative purposes. These also come as candle holders, and even as planters and bookends. The secret of these top quality vases is that Murano has a rich source of silica sand, which when mixed with soda ash creates a superior form of glass used for vases.
Though Murano still produces superb vases, there are now a number of other places around the world that are excelling as well. British companies like the Royal Crown Derby, Wedgwood and Royal Worcester have been producing some of the most artistic vases.
Other European companies include Lladro of Spain, Baccarat and Rene Lalique of France, Vileroy and Boch of Germany, Royal Copenhagen of Denmark, Rosenthal of Bavaria and of course, Swarovski of Austria, which specialise in crystalline vases. The prices of these high-end vases can range between Rs 15,000 and Rs 30,000 a piece.
China, too, has had a long affair with vases. Its porcelain vases fired in kilns are iconic and have been manufactured for centuries. In ancient times, the making of vases was a closely guarded secret. The art flourished during the Ming dynasty, and even today, some genuine 14th and 15th century antique vases are auctioned for millions of dollars.
Object de art
Today, there are a host of other companies and designers making vases not just from glass but in a variety of materials like ceramics, porcelain, brass and crystal. There is a mind-boggling variety in the market in terms of shape, sizes, colours and designs. Some are machine-made, others hand-painted with delicate brush strokes, some meticulously carved in glass, making these virtual objects de art. Though these make great decoratives, vases actually come alive when these are complemented with flowers. The pretty combination can bring to life even the dullest of rooms.
Affordable vases are available throughout the world but the highend ones have remained a symbol of luxury and the preserve of the wealthy. These have been treated as pieces of art to be cherished for a lifetime and passed on to future generations. Perhaps, this is what makes these such coveted collectibles.
Decoration pieces
The market today offers a wide range of vases that can start from a few thousand rupees and go up to lakhs. There are also those that are mass produced and are available in department stores, gift shops and souvenir stands from where these are bought for a few hundred rupees to be displayed in homes as decorative art.
With companies like Lalique & Daum, Swarovski and Lladro setting up shops in India, top-end vases are catching the fancy of the uber rich. The delicate porcelain and ceramic vases that could earlier be brought at high-end shops in the West are now available in India, for a price, of course.
Over the years, with the rise in demand, the value of old vases has begun spurting. Such is the revival of interest today that leading auction houses like the Sotheby's and Christie's hold auctions of rare vases that go to the highest bidder usually for millions. Several museums have sprung up around the world displaying the fine vases. There are collectors who are ready to pay enormous sums for old and rare pieces. Many such collectibles have been passed on from generation to generation like family heirlooms.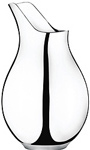 GEORG JENSEN
Created by award-winning British designer Ilse Crawford for the Danish luxury lifestyle brand Georg Jensen, this mirror-polished lustrous stainless steel Mama Vase is perfectly proportioned — voluptuous yet lean and feminine with an undulating shape that will liven up any room.
Price: Rs 20,625 $375
ARABIAN NIGHTS PYRAMID SET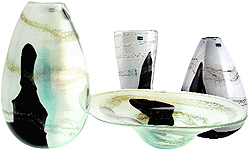 Inspired by drama and mystery, this contemporary collection of Arabian Nights glass vases are hand-blown and the design is a fusion of midnight, white and clear glass, spiced with a touch of gold sand. It will make a striking conversation piece wherever it sits in your home.
Price: Rs 9,625 & Rs 11,825
$175 for big vase or $ 215 for whole set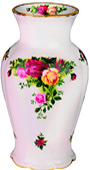 ROYAL ALBERT
This stunning Montrose vase is decorated with the 'Old Country Roses' motif of burgundy, pink and yellow roses accented with the lustrous 22-carat gold banding. The pattern is practically synonymous with Royal Albert and a testament to the timeless style and elegant craftsmanship.
Price: Rs 19,800 $360
KOSTA BODA
The Kosta Boda contrast vase features an appealing shape, with wisps of colour in each one. It's a great addition to the home or office, whether you're filling it up with real or artificial flowers. Simple shapes with clean lines combined with hazes in glass make each of these vases special.
Price: Rs 13,750 $250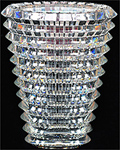 BACCARAT
French luxury crystal house Baccarat is known for its artistic craftsmanship that covers a vast repertoire. This handcrafted full-lead crystal is one of those inspired pieces. It has beautiful prisms that accent its form, making it a great addition to your home or as a gift.
Price: Rs 18,144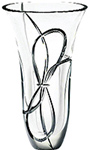 WEDGWOOD
The 10-inch vase adorned with iconic Love Knots pattern from Wedgwood will accent the home with artful style and luxury. The crystal vase is gracefully decorated with a cute bow adding a simple and creative touch to your décor.
Price: Rs 4,125 $75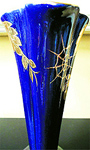 ARTHUR WOOD
This Royal Cobalt Blue & Gold vase by Arthur Wood has accents of gold, which complement the golden decorations. The vase has stylised grapes and vines and an appealing spider web motif. The golden accents decorate the vase at its top rim and base.
Price: Rs 4,950 $90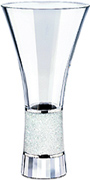 SWAROVSKI
This Swarovski crystalline vase will add to the beauty of your home. The crystalline centre has engravings of thousands of glittering chaton roses that reflect light and add sheer brilliance to any floral arrangement. The sturdy base of the faceted clear crystal vase shines through elegantly.
Price: Rs 31,625 $575

DAP
Handcrafted in Poland by master glassworkers, the Dap vase achieves its alluring pattern through the painstaking application of dabs of molten glass, one colour at a time. The exacting process of working with molten glass is a hallmark of the time-honoured Polish glassmaking tradition.
Price: Rs 4,679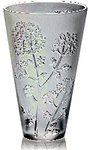 LALIQUE
Inspired by the beauty of the umbel flower, a symbol of sovereignty in Asia, the exquisite Ombelle vase is a part of the Carnet de Voyage collection. The vase features a design inspired by the accented buds of the umbel flower, which makes it a stunning decoration piece.
Price: Rs 20,625 $375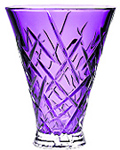 VERA WANG
Luxury meets tradition with the Duchess Encore Lavender Collection by Vera Wang. It is characterised by a contemporary take on the classic Duchesse pattern. Use it to display roses or a dry arrangement. This stunning vase is accented with a soft lavender hue.
Price: Rs 11,275 $205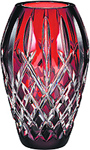 WATERFORD ARAGLIN
The Araglin collection by Waterford is characterised by diamond and vertical wedge cuts and fashioned into an elegant tulip design. This stunning vase has a variety of uses in traditional and contemporary homes. Whatever you display, it will be showcased by a bold scarlet hue.
Price: Rs 17,875 $325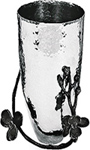 MICHAEL ARAM
The Black Orchid collection takes its inspiration from the intricacies of form and texture found in foliage from around the world. Handcrafted by American designer Michael Aram, who works primarily with craftsmen in India, the vase is an eco-inspired design.
Price: Rs 8,625 to Rs 15,315
Understanding vases
Though vases come in various shapes and sizes, one of the most important differentiators is the material these are made of. This also determines the use a vase is to be put to. Whether you are using it as a centrepiece or for an arrangement of flowers or a candle base, you should know the kind of vase to buy. Here are some most popular materials used to make vases:
Glass: One of the most widespread materials used to make vases, glass can be moulded in many shapes and sizes. It can be clear or opaque, tall or narrow and is generally used for floral arrangements.
Crystal: For years, crystal vases have tantalised the world with their exquisite shapes and sizes. Companies like Baccarat, Swarovski, Lalique and Lladro have wowed collectors with their elegant and expensive vases.
Ceramic: This is another very popular material used for making vases. The ceramic vases are usually handmade and despite it being porous, hard and brittle, vases made from ceramic are sophisticated and elegant.
Porcelain: Close to ceramic, porcelain vases usually come from China where it has flourished for eons. Porcelain reached its peak during Tang and Ming dynasties and vases made from it are highly valued even now.
Other material: Granite, marble, bronze and cast metals are other materials employed in making vases. The advantage of vases made from such material is that these look great and are less prone to breakage.