career compass: sports management
Sporting spirit
Gauri Chhabra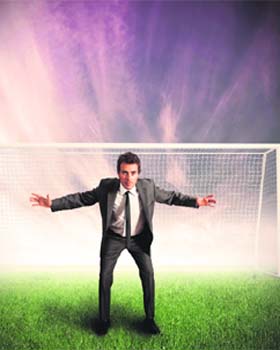 With the much-talked about Indian Premier League (IPL) just around the corner, sports is hogging the headlines everywhere. Sports is one industry that has all the hype, publicity and money and thus it attracts youngsters as a magnet.
However, making a career in this field doesn't require one to be an active sportsperson, as there are number of operations related to sports and sportspersons that need effective management by professionals. As the entire sports industry undergoes a paradigm shift, the requirement for professionals in this field has increased manifold. For those of you wanting to bask in the glory of sports without its edginess, Sports Management is a good option.
The work
Sports management involves planning, supervising, and organising and managing different sporting activities. Sports managers strike a tangential chord everywhere; at college sports, recreational sports, sports marketing, front office in professional sports, facility management, sports finance, event management, sports economics, and sports information. On the face of it, the profession seems glamorous where one gets to interact with icons, but slip into the role of an executive and the realisation will soon dawn that it is more sweat and toil than glitz and glamour.
Getting in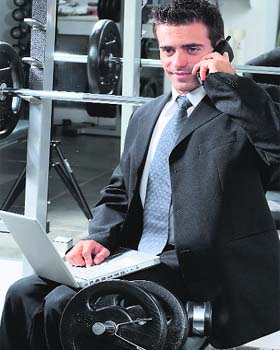 Sports management offers a broad spectrum that encompasses sports and finance, social and ethical relevance of sports management, sponsorship and broadcasting, communication with the media and press, knowledge about sports law on contracts and drug use, and sports ethics and organisation of sporting events. With this broad spectrum providing both lucre and limelight, more and more people are making a beeline for this field.
While donning the cap of a sports manager can happen naturally for players once they hang-up their boots, non-sportspersons can also get into this profession after getting proper training.
Getting into this field requires no specific course or discipline of study. However, undergraduate and graduate degree programmes are available in sports and fitness management.
These programmes offer training in personal health, nutrition, sports psychology and wellness. Students can acquire leadership skills, learn about athletics training and study legal issues in health and fitness.
Interested students can enter by taking a management degree after graduation or a PGDM. Though a candidate from any stream can take up a course in sports management, graduates in physical education are preferred.
Career pathways
Dr Manu Sood, Head, Department of Physical Education, DAV College, Jalandhar, says, "The whole gamut of sports has witnessed a paradigm shift. Today, sports hogs the limelight as people have graduated from just focusing on eating and living healthy to being fitness conscious. This has made more students opt for courses in sports and physical education. The institutes are offering short-term courses in yoga, swimming and other sports. Infrastructure and resource crunch, however, still remains a cause of concern."
"With offshoots like Sports Journalism, the discipline has seen a significant facelift. To start off with, one can work as a coach in gymnasium, sports and fitness center, sports club, schools, and colleges. With adequate experience, you can explore various other opportunities in sports management, such as athletic director, trainer, recruiter and scout," adds Dr Sood.
Being a diversified field, some other productive and suitable jobs to look for in sports management include compliance director, sports information director, agent, and sports marketer. Organisations like the Board of Control for Cricket in India (BCCI) are always in search of professionals with sponsorship leveraging, evaluation, media planning, merchandising, finance, corporate event sponsorship management, and infrastructure management.
Sports and Fitness Managers
Sports and fitness managers are trained in the operation, marketing and instruction of enterprises such as health, fitness and rehabilitation centers; college, recreational and professional sports teams; and corporate fitness and health programmes. Knowledgeable trainers, coaches and managers oversee skill development and injury prevention in increasingly competitive sports such as football, baseball and basketball. You may also market and sell retail and specialised sports and fitness equipment, products and services and get training in public relations and health and safety standards.
Whether you operate as an independent sports manager or are employed as an executive in a sports management firm, the role involves a five-fold function: business development which means signing up with sportspersons, sponsors and generating revenues for the company. Client servicing, planning, strategizing and execution of events are the other two roles. Promotion and research form the final components.
The road ahead
While the West has lineage and legacy as far as sports and sports management is concerned, India is still in its nascent stage. But with the increased thrust on various sports and with our sportspersons winning laurels in the international arena, the future of sports management appears bright and lucrative.
— The writer is a Ludhiana-based career consultant
Skill set
Good knowledge of various types of sports, networking skills, innovativeness, convincing power and leadership skills are some of the must-haves in a manager. Certain situations warrant quick decisions. There could be a situation when promised deliveries by vendors fail to happen, celebrity doesn't make a timely appearance, rain creates havoc and so on. In such cases a professional is expected to take timely decisions to avoid a crisis. Sports managers should learn to be mentally strong. A sports manager should know how to handle failure. Multi-skilling can come in handy. There are multiple role-plays for a sports professional, ranging from raising professional bills to instructing the banner people on layouts to organising extra police force for events and even taking traffic permissions.
Institute watch
There are only a handful of institutes dedicated to teaching games management as a subject. The turf is usually the bastion of professionals or former players. The students trained formally very rarely manage to break into the big league unless they are enterprising enough to crack it through hard work and work their way up. Some leading institutions offering courses in this area are:
Indira Gandhi Institute of Physical Education and Sports Science, New Delhi
Amity School of Physical Studies and Sports Sciences, Noida
Netaji Subhas National Institute of Sports, Patiala
Lakshmibai National University of Physical Education, Gwalior.
Alagappa University, Tamil Nadu
Indian Institute of Social Welfare and Business Management, Kolkata
International Institute of Sports Management, Mumbai