On a cheerful Pitch
Tri-city gears up to satisfy your love for food and cricket
Jasmine Singh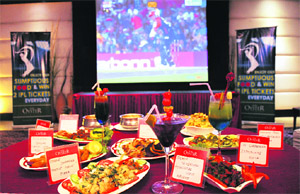 Cricket……is in the blood of every Indian, period! Bolywood movies make a giant leap to the 100 crore club, fast cars zip zap zoom on a newly made circuit, a few more cricketers join the advertising world, Rakhi Sawant offers to spend two years in jail in the place of Sanjay Dutt, Poonam Pandey awaits for another chance to rip off her clothes, Shah Rukh Khan vows to be a better man on field…
While all these might or might not happen, one thing that remains rock solid is cricket. IPL with its sixth season validates it to the pitch. The teams are back, wearing those jazzy team jerseys, film stars take sides to cheer teams, Farah Khan advocates Sirf dekhney ka nahi…., IPL strikes back again and tri-city gears up to catch every four and sixer. If you can't make it to the various venues, we suggest hop into one of the hotels and restaurants and take your position…
Name game
Hotel Oyster in Sector 17 already wears the IPL look with the staff dressed in the IPL dress, a big screen on the roof top and in the big halls, a special menu soaked in the cricket flavour. Shares Rajesh Mahajan, managing director, Hotel Oyster, "The menu that includes Sizzling Sehwag, Pathani Patka, Shane Shaandaar (Rs 295), Ponting Patakha (Rs 260), Lee Lababdaar (Rs 295), Yuvi Yalgaar (Rs 325), Dhoni Dhamaka (Rs 425), Bhajji Bhangra (Rs 415), Malinga Magic (Rs 415) and Sachin sensation (Rs 250) have been named after the cricketers. In addition to this, a lucky draw will be taken out daily where two lucky winners running a bill of more than Rs 1,500 will walk away with the premium IPL tickets of matches being played at Mohali."
Double dhamaka
Other than the interesting dishes mushroom glance, chicken square cut, sweep paneer, kalmi yorker, risotto IPL, chicken the breast choice of sauce (Chennai team and Bangalore), Vertigo Lounge at Hotel Himani, Sector 35 makes sure that you enjoy all the matches on the big screen. While you cheer for your favourite team, Ankit Gupta, director rolls out an interesting scheme. "In the power play scheme, we are offering one plus one on the entire menu. Everything on the menu that you order you get one dish free."
Fresh appeal
The newly-opened Oven Fresh in Panchkula comes up with an offer of 25 per cent off on all items, bakery, fast food and beverages.
Addictive offer
If you want to see the Kings XI team, Blue Blazer is the place where you are likely spot them. When it comes to palate pleasure, offers galore-- six beers free with every six beers you buy, five breezers free with every five breezers you buy and special discounts on food.
Live & kicking
JW Marriott-35 is all set with its special menu and beverages to make people to sit and watch the match. Adds executive chef Pallav, "We have a special beverage menu named after players and also a special skewers promotion at the Lobby Lounge. The skewers are put right in front of the display. So while watching the match, you can enjoy the food cooked in front of you. It is both veg and non-veg dishes on the menu which includes prawns, chicken lamb, fish, grilled vegetables, pineapple and soya. Some cocktails include Corridor of uncertainty 650 (it is a "surprise" from the
Bartenders, a combination of 5 deadly spirits topped up with red bull)
Pinch hitter 650, Googly 550, Paddle sweep 550, Backward "shot" leg 550, French cut 550, Night watch man 550, Siily point 550
Take a shot
The menu is at The Gaur whipped up in the IPL taste. The hotel is offering mocktails, cocktails and starters on the cricketers names — Sweet Clarke, angry Bhajji, Bryan Lara beauty, Brett Lee shots, magical Dhoni, IPL magic ball, Fish kings XI, Dare devil paneer, Rajasthani royal kebab, Chennai superking Lotus stem.
Eat & play
The Wild West Pub at Pashtun-35 has put up two TV screens. Enjoy the match and eat to your hearts delight. Special menu dedicated to Kings XI, including certain schemes during the match is on offer here.