Punjab's pioneering scientist
Professor Ruchi Ram Sahni is an important figure in the scientific, educational, cultural and political history of colonial Punjab. His contribution to the development of scientific temper is path-breaking
Rajesh Kochhar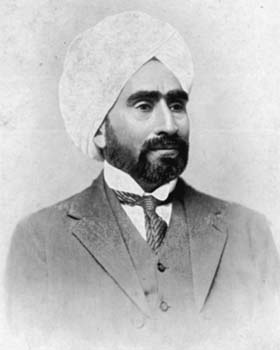 Professor Ruchi Ram Sahni (1863-1948). Photo from Government College, Lahore records.
PROFESSOR Ruchi Ram Sahni (1863-1948), whose 150th birth anniversary falls today, was the first person from Punjab to make his career in science. He was the first Indian officer in the India Meteorological Department (1885-1887) and the first Indian professor of science (physics and chemistry) in Government College, Lahore (1887-1918). He was India's first nuclear scientist who spent about a year during 1914-1915 as a guest researcher in Ernst Rutherford's world-famous laboratory in Manchester and published two well-regarded research papers on radioactivity in 1915 and 1917.
A man of many parts, Professor Sahni was, in addition, a science populariser, public speaker, writer, social and religious reformer, successful entrepreneur and commentator on educational and other issues. He made a concerted effort to propagate science through Urdu and Punjabi and integrate it into everyday life and economy. Having been a student who came up in life through scholarships and help from well-meaning people, he took his mentoring role very seriously. A bright young man whom Professor Sahni mentored was Shanti Swarup Bhatnagar, later the director of Council of Scientific and Industrial Research. He was greatly interested in encouraging future students to hone their public speaking skills. Wasim Sajjad, who served as the President of Pakistan (July-November 1993), proudly mentions in his online bio-data that he was the winner, in the early 1960s, of Ruchi Ram Sahni Declamation Prize awarded by Panjab University Lahore.
Professor Sahni was born barely 14 years after the annexation of the Punjab kingdom by the British and lived to see India become independent. His life span thus covers an important part of Punjab's and India's history. Professor Sahni was a friend of, and advisor to, the wealthy philanthropist Dyal Singh Majithia (1848-1898), with the reformist Bengal-born Brahmo Samaj serving as a unifying bond. When Dyal Singh College was established in 1910, Professor Sahni became its Trustee in accordance with the provisions of the benefactor's will. If post-Dyal Singh The Tribune did not fall into wrong hands, it was in no small measure due to the marshalling of brain and brawn resources by Professor Sahni. His formal association with the nationalist newspaper had to wait for his retirement from government service; he served on its Trust from 1918 till his death in 1948.
After retirement, Professor Sahni became active in public life. In 1909 he was awarded the title Rai Sahib which he publicly renounced in 1920 in support of the Khilafat movement at the request of one of the Ali brothers, Shaukat Ali. Professor Sahni, however, did not quite support Mahatma Gandhi's call for non-cooperation. In 1923, he entered the Punjab Legislative Council as a member of the Swaraj Party.
Early life
Professor Sahni was born in Dera Ismail Khan in an opulent merchant family which however lost its fortune when he was 10. Things came to such a pass that as a high school student, he would decide to walk a distance of 100 miles to be able to save the princely sum of a rupee. The sudden change in the family's material condition taught Professor Sahni 'the meaning and significance of wealth'. He had seen his father and brother recognise and profit from opportunities for making money through trade. Professor Sahni imbibed their philosophy and employed it in the scientific area. This is significant because most practitioners even now see science not as a vehicle for generation of wealth but as a self-contained cultural activity.
After passing his middle school examination in 1878 from Dera Ismail Khan, and armed with a scholarship of six rupees a month, Professor Sahni travelled to the nearest high school, which was located 100 miles away in Adhiwal (situated half way between Jhang and Maghiana). There arose a curious obstacle to his admission. At the time he was known as Rochi Ram. The headmaster, a learned Bengali by the name Kashi Nath Chatterjee, insisted that there was no such word as Rochi in any language and he could not possibly admit a student with a meaningless name! The crisis lasted three or four days and a way out of the impasse was suggested by the learned teacher himself. If the boy changed his name to Ruchi Ram ('one whose interest is fixed on Ram'), he would be let in.
Years in Lahore
Finding Kashi Nath's successor to be incompetent, Professor Sahni transferred to Government High School Lahore in October 1879. Lahore shaped him in three important ways: influence of the teachers and others, interaction with fellow students and access to a library. Professor Sahni became an active member of the Brahmo Samaj which had made its appearance in Lahore in 1861. Although very soon it lost ground to Arya Samaj (established at Lahore in 1877), it had a far greater impact on the Punjab than is realised. The Brahmo connection made Bengal's intellectual resources available to the Punjab.
Professor Sahni passed BA in 1884 in the third batch of Panjab University graduates. Though he was placed in the second class, he came first in the university and won Arnold Silver Medal as also a Fuller Exhibition Scholarship of Rs 35 per month. Two important developments took place when he was an MA student. He was offered an appointment in the India Meteorological Department (IMD) and promised a faculty position in his alma mater. He accepted the first in anticipation of the second. He joined IMD in January 1885 and was sent to Calcutta for three months for training as a prelude to his regular posting in Simla. He returned to Lahore in December 1885 to obtain his MA degree. Curiously, unlike his brilliant academic careers so far he passed his MA in third class, no doubt because he had been away from formal studentship for the entire year and was working full time.
Calcutta was a great all-round learning experience for Professor Sahni. He was permitted to retain his scholarship and given time off from his Met training to go to Presidency College as a guest student, where he worked in a laboratory for the first time. (Lahore did not equip a science laboratory till much later). From Calcutta, Professor Sahni would bring the culture of public science lectures to the Punjab under the auspices of Punjab Science Institute, which flourished till he got involved in Dyal Singh's will probate case.
Although later he would come across colonial arrogance and racism, Professor Sahni was fortunate to be mentored by two Europeans who were quite unlike most of their compatriots: John Campbell Oman, his science professor and later senior colleague at Lahore; and IMD chief Henry Francis Blanford. Knowledge about interdependence of the weather in different parts of the world made Professor Sahni realise that the same phenomenon operated in the cultural sphere also. Thus, sound training in science enabled him to develop a liberal worldview. Also, pursuit of science and the recognition of his worth by European men of science enhanced his sense of self-esteem as an individual and as an Indian.
Professor Sahni was a conscientious and inspiring teacher who on joining the faculty decided to learn carpentry to equip himself better for laboratory and workshop activities. His instructor Bhai Ram Singh, later the celebrated architect of Khalsa College, Amritsar, not only imparted him the necessary skills but also introduced him to the aesthetics of art. Another artistic influence on Professor Sahni was Bhai Ram Singh's colleague Sher Mohammad.
Adviser to Dyal Singh
Dyal Singh Majithia's will was probated by the Lahore Chief Court on April 19, 1900. The matter was then taken to the Privy Council, which upheld the probate on August 5, 1903. The case is historically important because it addressed the question whether a Hindu (which term included Sikh) could believe in Brahmo principles and maintain a heterodox lifestyle and still remain a Hindu (yes). Professor Sahni's arguments on this count in the Lahore Chief Court were found to be very persuasive.
In a wider context
Why is Professor Sahni not better known? No doubt the Partition introduced a sharp discontinuity, but I think the real reason lies elsewhere. Professor Sahni was a singularity; there was no pre-history leading to him. Compared to the imperial city Calcutta and the industrial centre Bombay, Lahore was the empire's backwaters. Presidency College Calcutta was the best equipped in the country and ranked among the best in the world. Bombay was not interested in academics but had an industrial climate that recognised talent and encouraged entrepreneurship. Prafulla Chandra Ray in Calcutta and Tribhuvandas Kalyandas in Bombay could train younger people. Professor Sahni did not have facilities to train young people and establish a school around himself.
Today Professor Sahni is better remembered as the world-famous paleobotanist Birbal Sahni's father than in his own right. This is unfair. Professor Sahni is an important figure in the scientific, educational, cultural, industrial and political history of the colonial Punjab. At the same time his plea for use of vernacular languages as medium of scientific thought, emphasis on practical work as part of school and college education, advocacy of vocational education, and recognition of science as a generator of wealth make him even more relevant today than he was in his own era.
The writer is Co-convenor of the Panjab University Ruchi Ram Sahni 150th Birth Anniversary Year Celebrations Committee.