M A I N N E W S
Building collapse: M'rashtra caught napping, toll rises to 57
Tribune News Service & PTI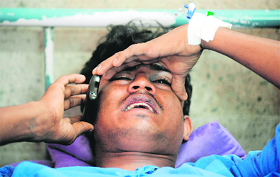 An injured person talks to his family from a hospital
Thane, April 5
At least 57 persons have died since Thursday after a seven-storey under-construction, unauthorised building collapsed in the city on the outskirts of Mumbai. The incident led to the suspension of a deputy municipal commissioner and a senior police inspector.
More bodies were pulled out of the debris today, said National Disaster Response Force sources. At least 11 children are among the dead while several people are admitted to various hospitals with serious injuries.
The seven-storey illegal building had come up in less than six months and was unfit for occupation, but builders had allowed buyers to move in. The building came up on land belonging to the forest department, said Municipal Commissioner RA Rajeev.
Chief Minister Prithviraj Chavan told the Maharashtra Assembly that an inquiry headed by the Additional Chief Secretary would fix responsibilty as to how the structure was allowed to came up at Shil Phata in Daighar.
Illegal construction
The 7-storey building had come up in less than 6 months
It was being illegally constructed on land belonging to the forest department
Five of the seven storeys were occupied even as construction work continued on the eighth floor