M A I N N E W S
Thane unfolds tales of govt neglect, family tragedies
A survivor loses 13 of his family members, including pregnant wife, in building collapse
Shiv Kumar
Tribune News Service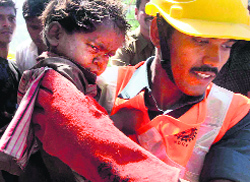 An injured child being taken away from the site. —PTI
Thane, April 5
As the death toll in the illegal building collapse in the city, on the outskirts of Mumbai, mounted to 57, horrible tales of family tragedies and government neglect have emerged.
The structure, which local residents said had come up in just two months, crashed on Thursday evening.
The National Disaster Response Force (NDRF), pressed into service to assist the local police and civic administration, has rescued 59 people from the collapsed structure located at Shil Phata in Daighar. Alok Awasthi, NDRF Commandant, said more people were feared trapped under the debris.
In the Maharashtra Assembly, not satisfied with Chief Minister Prithviraj Chavan suspending two lower-level officials, the opposition BJP and Shiv Sena demanded the suspension of the Thane Municipal Corporation commissioner.
They also demanded a white paper on all illegal construction activities in the state and stringent action against those flouting construction norms.
Officials said the lower three floors of the 7-storey building had telescoped into each other making the rescue work difficult.
Imran Siddiqui, 37, escaped with some fractures, but 13 of his family members, including his eight-month pregnant wife, died when the building collapsed.
Siddiqui, originally from Delhi, came to Mumbra sometime ago in search of a job. Lying with fractured legs at the Kalwa hospital here, he was inconsolable when Chief Minister Prithviraj Chauhan visited patients today.
"Hamare to sabhi log chale gaye. Ma, baap bhai behan, and bibi bhi. Muje kuch madad karo naa," (I have lost my entire family including my wife...Please help me) Siddqui told Chavan.
Siddiqui is so shocked that he was unable to remember the names of his relatives who died in the incident.
There were some lucky survivors like 35-year-old Sunita Devi and three-year-old Ankit Yadav. They remained trapped under the debris for hours before being rescued. Both were admitted to the Chatrapati Shivaji Civic Hospital at Kalwa, said the police.
A case has been registered against builders Salil and Khalil Jamadar under Section 304 (culpable homicide not amounting to murder) of IPC, Thane Commissioner of Police K P Raghuvanshi said, adding the two were absconding. — Agencies
Our first priority is to rescue those trapped. The police is on the lookout for the builders, Jameel Qureshi and Salim Shaikh, who are on the run.
— KP Raghuvanshi, Thane Police Commissioner