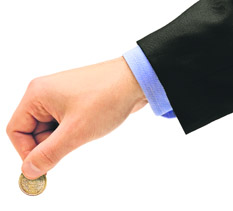 Charitable Indians
Aradhika Sharma
The perception that Indians are not liberal in donating towards charity is changing. Millionaires and achievers have been the beacons in guiding people to emulate them. Many ordinary Indians too are realising that giving away billions to help society is as cool as earning those billions through enterprise. A beginning, howsoever small, is being made

Philanthropy @ India Inc
---
ARTS
Weaving a tradition
Shama Rana
In times of powerlooms, there is a need to preserve traditional crafts like tana-bana. These offer richness of art besides the pleasure of owning a hand-woven product
The dexterous hands of 53-year-old Munesh Kumar have relentlessly been working for more than 48 years on the tana (warp), running vertically and bana (weft) running horizontally of his loom. Itís a delight to watch the pride in this old manís eyes as he shows some of his priceless testimonials and continues blabbering in Hinglish, explaining the nuances of this traditional art.

Broad brush
---
Fitness
Good health
Lose weight not your mind
Ishi Khosla
There is no magic solution for weight loss despite many fad diets promising the moon. A successful diet plan enables you to lose weight and establishes a life-long healthy eating and exercise pattern so that weight loss is permanent
---
Society
She climbs to conquer
Rakesh Kumar
Nivedita Choudhary became the first woman from the IAF to summit the Mt Everest
"It was truly a top-of-the-world feeling. Not a cloud in the sky, no obstruction between the horizon and me... Sitting on the platform I had made with my ice-axe, I had a clear, 360-degree view. I knew my life would change after that moment." Life did change. Flight Lieutenant Nivedita Choudhary became the first woman from the Indian Air Force (IAF) to summit the Mt. Everest ó and the first woman from Rajasthan to achieve this feat.
How to get your beauty sleep while flying
Experts have given tips to help business travellers get some sleep while flying amidst murmuring passengers and noisy engines. Passengers cannot control the noise and temperature of a plane but can create a more comfortable environment to enable better sleep. suitable clothes. Too many people dress inappropriately for a flight," CNN quoted Sammy Margo, sleep expert at the Physiotherapy and Pilates Practice in London.
---
TRAVEl
Resurrecting Tomar glory
Lalit Mohan
Nestled in a valley formed by three hills, time seems to have stood still in Patan Mahal which retains an old-world charm. Patan is also the site of one of the last great battles in Indian history. Called the Battle of Patan, it saw the Marathas pitted against the Rajputs of Jaipur and their Mughal allies in 1790
---
ENTERTAINMENT
Big stars on small screen
Surekha Kadapa-Bose
Filmstars, directors and music composers can be seen making a beeline for television shows and news programmes to promote their films before the release
The prime time programmes on television are a must-watch at dinner time in most Indian families today. If in such a scenario, these serials get special guests from Bollywood like the Khan triumvirates, Ranbir Kapoor, Akshay Kumar, Deepika Padukone, Katrina Kaif, Vidya Balan, what more can one expect for entertainment at home?
Celluloid shockers
Ervell E. Menezes
Film scenes, which are ahead of their times, bring out the exhilaration of the moving image and continue to thrill audiences
When Maya (Jessica Chastain) in Zero Dark Thirty comes off with that shocker, it took one down memory lane to recall other such lines that did the same. But first things first, itís during the hunt for Osama bin Laden and when asked by the CIA chief "whoís that woman?" innocuously pointing to her, she retorts "Well Iím the mother f..ker who found him." It was a virtual bolt from the blue.
---