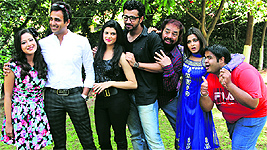 Patiala peg
Born and brought up in Canada, Garry gets dreams that take him to Patiala. Lajo, Punjab di kudi only dreams of Canada. Does Garry become her passport to the country of her dreams or not? Well, that's what Patiala Dreamz tells and more.


TEAM EFFORT: The cast and crew of the movie Patiala Dreamz

Cooking up some drama
Neither being a reality show participant is a joke nor being a judge on it! Tasks make you tense; emotions fly high and show producers as well as viewers demand drama. What we witnessed on Friday noon at The Taj Chandigarh was a show with a difference.

RECIPE TIME: (L-R) Happy Singh, Kunal Kapoor and Ripu Daman Handa

Message for life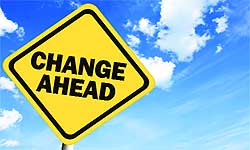 Behind me is infinite power. Before me is endless possibility. Around me is boundless opportunity. Why should I fear? … Imagine starting the day with this message; wouldn't you be in a happy frame of mind to face the trials that come along? Well, people realise the importance of positive thoughts and using them. If earlier, almost everyone prayed at the break of the dawn (now many of us sleep around this time), the rituals are no more followed by many.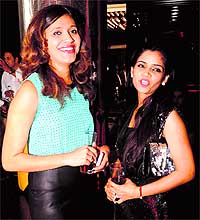 What a buzz!
They hope to stand true to the title of the property; create some flutter if not a ruckus. With a new property, there's anyway some buzz that surrounds and with an opening party all the more! Buzz, the lounge cum resto-bar, opens in the heart of Chandigarh at Sector 17 and aims to stand true to its slang name. "We have already made our presence felt in Delhi and it's been a decade since we've been there. We wanted to replicate our success in Chandigarh," says Sorabh Siag, the general manager.


ALL SMILES: Visitors at the Buzz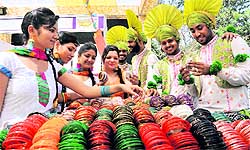 Festive cheer
A wide variety of Pakistani, Punjabi, Thai and Chinese cuisine served through the windows of a 50 feet wide and seven feet high model of a passenger train is the novelty as a four-day Baisakhi Fest 2013 opened to a riot of colour and punjabi dhol beats at Himachal Bhawan on Friday. The festival is a complete lifestyle shopping experience steeped in festivities.
Choose from a variety of products on display at Himachal Bhawan in Chandigarh

Feast on Baisakhi
JW Marriott Chandigarh celebrates Baisakhi Food Festival by indulging in the authentic Punjabi specialties at its award winning authentic North Indian restaurant, Saffron. The festival starts from April 12 till April 22 and promises a delightful gastronomical journey to the foodies.
Gauahar's style secrets
When it comes to fashion, actress and model Gauahar Khan listens to her heart. In a quick chat, she dishes out her style mantra, fashion secrets and the most common mistake that women commit when following fashion trends.
Kunal Kapoor speaks up
Kunal Kapoor is happily romancing Naina Bachchan who is Amitabh Bachchan's niece. He shares little known facts about himself and his quirks.

Of gold and glitter
Bollywood fashionista Sonam Kapoor opened the capital's first ever India International Jewellery week (IIJW). Kapoor, who is the brand ambassador of Gems and Jewellery Export Promotion Council (GJEPC), inaugurated the two-day event by lighting the traditional lamp.

shining bright: Sonam Kapoor

Miley Cyrus, Liam Hemsworth postpone wedding
Miley Cyrus and Liam Hemsworth have reportedly decided to postpone their wedding in order to work on their relationship. The couple, who got engaged last summer, were planning to tie the knot in June this year in California, reported a magazine.

Fairy tale: Miley Cyrus

Throwing weight around
Pregnant reality TV star Kim Kardashian is reportedly gaining weight intentionally to get a profitable diet deal. The 32-year-old Keeping Up With the Kardashian star is expecting her first child with rapper Kanye West and has been spotted gorging on ice creams and frozen yogurt, reported a publication online.
Net profit: Kim Kardashian

Lull before the storm
Although pop star Lady Gaga is back on her feet after recovering from a hip surgery, doctors are yet to give her a clean chit to get back to work. The 27-year-old Judas hit maker is focusing on her songwriting while she is on recovery, reported a publication.

Pause button: Lady Gaga
Dress circle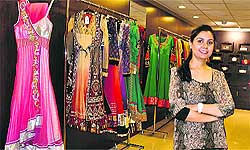 The in-depth analysis, sifting the fake from the real…Nivedita Sharma brings her study of law to her newly opened designer-wear store - Niveaz Ensemble - at MDC, Sector-5, Panchkula. It is the same keen eye that she would study the detail of cases that she checks the intricate work on her designer suits, sarees and dresses. Every detail is taken care of, nothing is left to chance.
Fashion fiesta: Nivedita Sharma poses with her collection

Road to Moksha
Displaying the variety of rudraksha at an exhibition cum sale at The Piccadily, Sector-22, Chandigarh, Tanay Seethi, Founder of Rudralife, adds, "Wearing all Rudraksha is considered the best route for Dharm, Arth, Kaam and Moksh. According to our ancient epics, all desires and worldly pleasures can be attained by wearing all varieties of Rudraksha."
Glass apart
Glass Palace, launched its much-awaited Summer Collection 2013' in sector 7. The products at display cover the entire range of ergonomic furniture for an urban home in all its exquisiteness. This is suitable for round the year use too.

Scientific thought
Kuldip Singh Dhir's choice in reading and writing is eclectic, so is his trajectory. An engineer to begin with, he started all over again to pursue Punjabi literature and teach it as well.

write approach: Kuldip Singh
Taylor Swift wants a movie career
Country star Taylor Swift is reportedly eager to start her career in Hollywood. The 23-year-old Love Story singer feels that she has conquered the music world and is now ready to take on Hollywood, reported a magazine.
No plastic girl this
Actress Gwyneth Paltrow has ruled out having Botox injections again because she doesn't want to look like veteran comedienne Joan Rivers.
star track
To each his own
Tom Cruise is one of the biggest movie stars in the world, but he is not so sure if he wants his kids to follow him into the show business.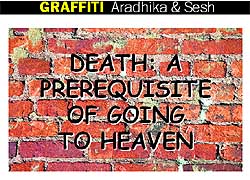 chatter box
Spicy Sherlyn
Starlet Sherlyn Chopra is all set to host MTV Splitsvilla 6. Her sexy image combined with her popularity took her to this platform. This season also brings a new twist in the show called Hotness Quotient, under which the contestants will be judged on the factor of desirability. And this aspect is not limited to brawn and beauty alone.Overall, it seems that this season of Splitsvilla is going to get all spicy with Sherlyn's entry!
Astro turf
ARIES: Be true to your ideals and don't sell yourself off for money or glamour. A secret arrangement comes to light. The search for your soul-mate gathers momentum today. Friends will be helpful. Tarot message: Stay positive for best results. Lucky colour: Olive. Magic number: 58
it's rocking
Breath of fresh air
All you Ranbir Kapoor fans-now there is an ultimate song coming your way for he is back with a yet another electrifying number, Badtameez Dil, from his upcoming movie, Yeh Jawaani Hai Deewani. The music of the film has been directed by Pritam Chakraborty and Amitabh Bhattacharya has written the lyrics of the song that has been sung by Benny Dayal.