Liberal Lahore
The liberal tradition is being carried forward in Lahore, even in the face of stiff opposition. Perhaps it has to do with how Lahore remains a magical city and its essence is personified by three great souls: Saeen Miãn Mir, Shah Hussain and Guru Arjan Dev – apostles of tolerance, love and peace
Nirupama Dutt
THERE is an interesting tale about the famous 16th Century Punjabi Sufi poet Shah Hussain, whom the Lahoris still refer to as Madho Lal Husain. Madho Lal, a Hindu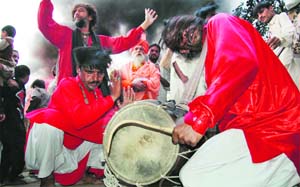 Brahmin, was the closest friend and companion of Shah Hussain. However, there was a vast age difference between them. Shah Hussain was a celebrated and seasoned poet with a large following and Madho was but a boy. One day Madho said to his friend, "You are famous but what will become of me when you are no longer there? No one will ever know me." That instant, the great master of the kaafi changed his name to honour his friend.
Music and dance during the Mela Chiragan at the mazaar of 16th century Sufi saint Shah Hussain, the master of kaafi. He is called Madho Lal Husain by Lahoris. Photo: mani Imran Rana

---
'ART & SOUL
Humayun and his painters
In the history of Indian painting, Mughal emperor Humayun occupies a secure place. It was during his exile from India in Persia that he established contact with great painters there and was instrumental in bringing them to India
b.n.goswamy
Nearly everyone knows — everyone who is interested in this field, that is — about the great work associated with Mughal ateliers that flourished under emperor Akbar (1556-1605): all those extraordinary illustrated manuscripts, the Hamzanama, the Akbarnama, the Baburnama, the Anwar-i Suhaili, the Jog Bashisht, the Tawarikh-i Khandan-i Timuriya, the Ramayana, the Razmnama, to name some. And all those countless dispersed album leaves and moving portraits. One has only to read Abu'l Fazl in his Ain-i-Akbari to learn how passionately fond "His Majesty" was of painting, and how sedulously he nurtured it, picking up painters from all over the country and placing them under the tutelage of great ustads who headed the imperial studios.

broad brush
---
Fitness
Hale & heart(y)
A wholesome, balanced diet, daily exercise and a few lifestyle modifications can keep your ticker beating comfortably for a long time
Mickey Mehta
Many people resort to following rigid
diets of just soups or fruits for weight loss but find it difficult to sustain these for a long period. So they binge, go on a food-gorging spree or completely go off everything. This just might increase their chances of coronary heart diseases (CHD) or strokes. According to studies, binge eating causes damage to the cells that line the walls of the blood vessels, leading to thickening of the arterial walls and obstruction of blood flow.
Some asanas can benefit the cardiovascular system and reduce the risk of coronary heart diseases


Health Capsules
---
Society
Keeping the torch of heroism burning
Architectural symbolism for monuments needs to change with times. War memorials should not evoke conflict or hatred but honour and glory for the nation's bravehearts
Rajnish Wattas
From time immemorial, architecture has been used to express the power, glory and triumphs of the rulers. After ravaging conquests, it was customary for the victors to build imposing gateways, triumphal arches, victory towers or lofty columns marking the epoch event.
---
TRAVEl
Isle of happiness
In Penang, a small island in Malaysia, old cultural traditions and modern-day attractions co-exist side by side
Hugh & Colleen Gantzer
WE celebrated a wonderful wedding in a multi-ethnic way. We were in Penang staying in Shangri-la's five-star deluxe resort of Rasa Sayang which means 'feeling of love'. A beautiful Malaysian girl had married a handsome Norwegian man. Rasa Sayang was living up to its name.



A view of the Penang skyline

Globetrotting
---
ENTERTAINMENT
Past forward
Music of the 1970s and 1980s is back in favour. Adaptation of compositions by masters like R. D. Burman, Laxmikant Pyarelal and Kalyanji-Anandji are ruling Bollywood soundscape
Saibal Chatterjee
Mumbai moviedom seems to have rediscovered the sounds of the 1980s. The industry is currently remaking many a Hindi superhit of the past. It is but natural that many of its leading composers are swaying to beats that ruled the film music charts several decades ago.


Left: "Na jaane kahaan se aayi hai" from Chaalbaaz made a comeback in I, Me Aur Main; (centre) "Fevicol se", performed by Kareena Kapoor in Dabangg 2, had strains of "Jhoom barabar jhoom sharabi"; and Karan Johar used the title track from 1981 pop album Disco Deewane in a contemporary setting in Student of the Year

The vocalist who loves to experiment
The world might be going ga ga over the gifted Carnatic vocalist Bombay Jayashri after she won an Oscar nomination, the singer, however, is already planning ahead
Nonika Singh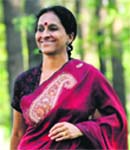 Carnatic vocalist Bombay Jayashri might have been working for 15 years by 15 hours a day yet one moment changed the way people looked at her. It was the moment this gifted singer won an Oscar nomination for her song in Life of Pi. With this, she not only sang her way into history and became media's darling, but also had other opportunities knocking her door. She reveals how she was being invited to China not to sing the Life of Pi lullaby but what she is adept at, Carnatic vocal music. "Now that is a huge recognition for a classical artist."
The versatile Bombay Jayashri is taking Carnatic music to new highs. Tribune photo: Pradeep Tewari
---